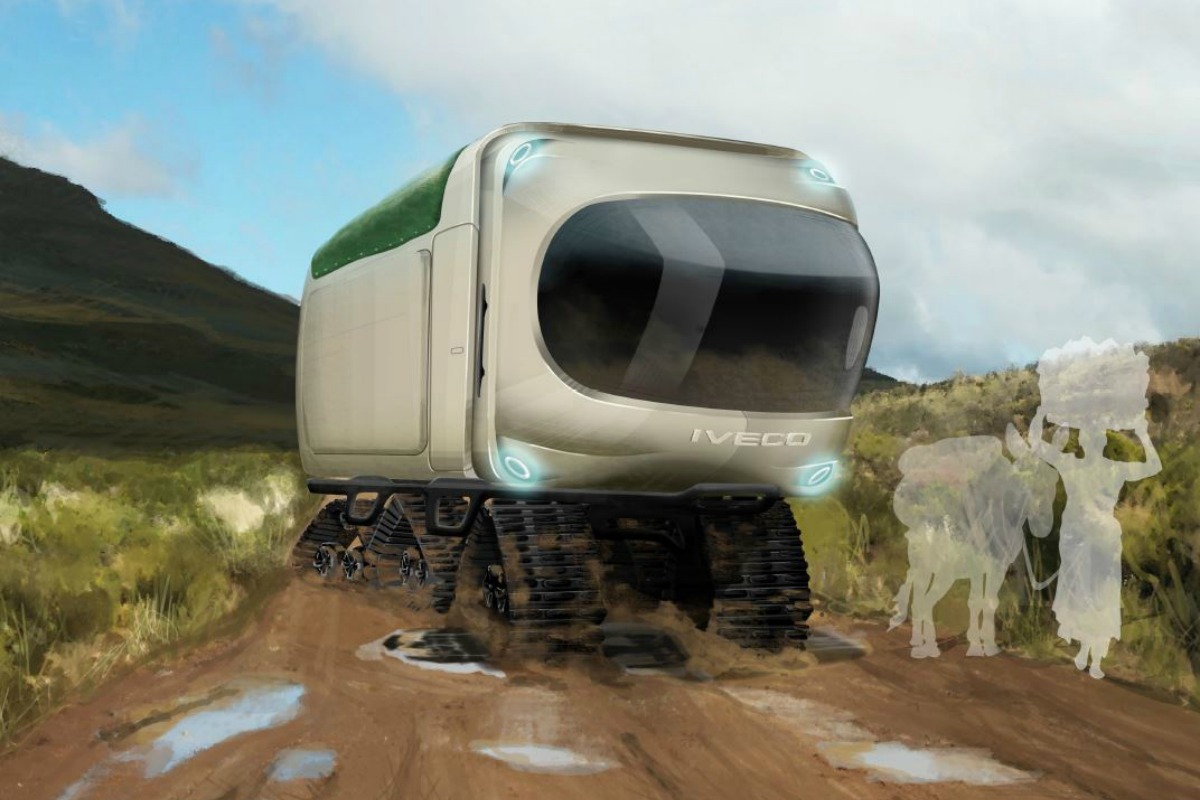 Austin Dewees wet and dry transport vehicle project was the overall winner
A wet and dry season transport vehicle has won the Royal College of Art (RCA) industrial design competition.
Some 30 students from the RCA's vehicle and service design programmes were challenged to develop sustainable industrial products and services to match local needs and existing infrastructure in developing nations.
The aim was to create a concept that would succeed in low capital, low income and low skills environments through ease of low cost manufacturing, maintenance and sustainable local use.
The competition was held in partnership with CNH Industrial, a global manufacturer of agricultural machinery and commercial vehicles.
One winner was chosen from each design category while Austin Dewees was named overall winner for his transporter project.
The four distinct design categories were:
The Automark group focused on identifying a commercial need and designing a vehicle that is easy to make, maintain and operate, that will generate brand value;
Inside Out covered isolating rescue priorities, and designing a vehicle that is simple to understand, operate and apply, that will harness local materials;
The Urban Flow category required the students to explore basic passenger and goods journey needs, and design a vehicle that will improve the quality of life for local people;
Service Design required the students to recognise opportunities to enhance efficiency within the markets and develop an easy and sustainable solution to help users.
The winners from each category were: Automark: Jonathan Stoker for his compost production system project; Inside Out: Stavros Mavrakis for his hovercraft rescue vehicle; Urban Flow: Austin Dewees for his wet and dry season transport vehicle project; Service Design: Harsh Kumar for his BUG-E modular electric cart and dedicated digital platform for rural farmers.
David Wilkie, head of design at CNH Industrial, together with the CNH industrial design team, selected the winners. Wilkie graduated from the RCA with a Master's Degree in Automotive Design. joined CNH Industrial in 2014 to lead the design teams for the company's four segments: agricultural machinery; construction equipment; commercial vehicles and Powertrain.
If you like this, you might be interested in reading the following:
Smart cities demand smart public transport
The intelligent transport systems market will continue to expand and will see increased competition and integration, says report
smartcitiesworld.net/news/news/smart-cities-demand-smart-public-transport-1170
Columbus wins Smart Cities Challenge
City secures $50 million after being judged the winner of the Department of Transportation challenge to develop a first-of-its-kind fully integrated transportation network
smartcitiesworld.net/connectivity/connectivity/columbus-wins-smart-cities-challenge
Citizens hold key to efficient transport infrastructures
Understanding how people use transport networks is an important part of developing more durable solutions
smartcitiesworld.net/news/news/citizens-hold-key-to-efficient-transport-infrastructures-858