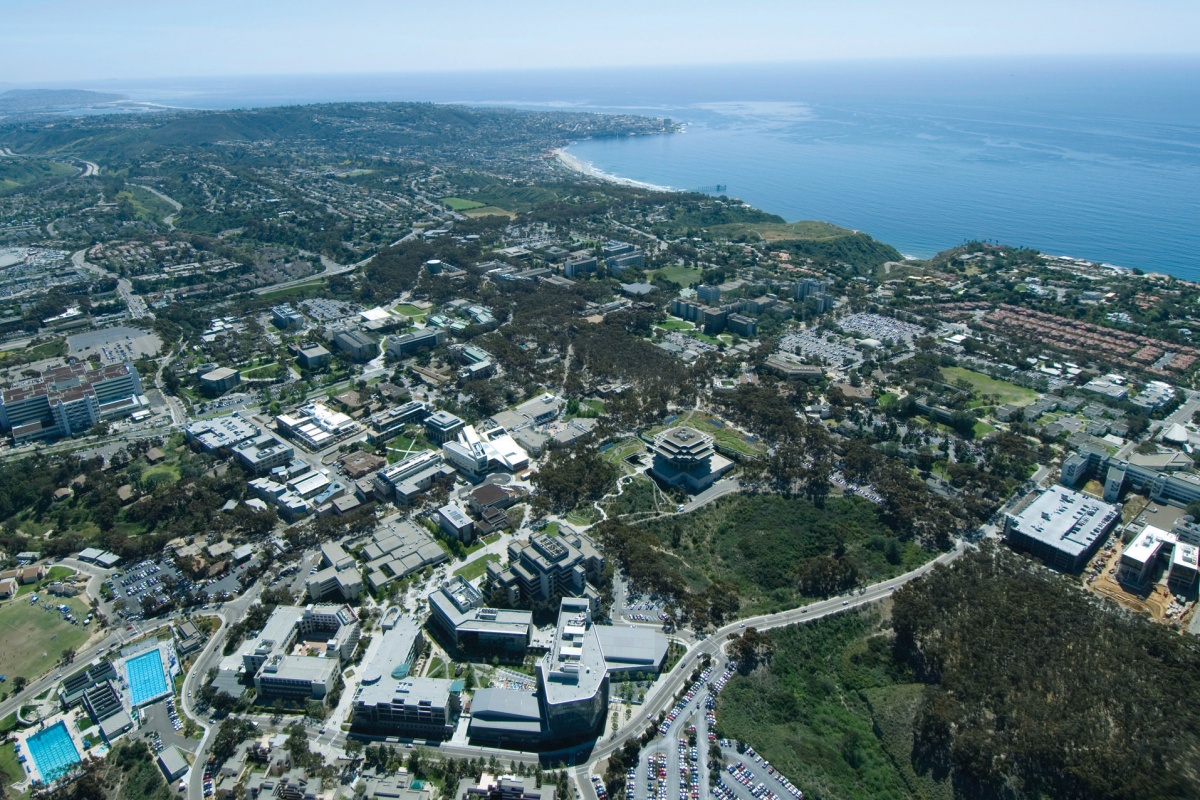 The UCSD campus in California. Image courtesy: UC San Diego Publications
Students from the University of California, San Diego (UCSD), are investing $1m to help speed the roll-out of DigitalTown's global smart city network across university communities.
The backing for the blockchain-based platform, powered by DigitalTown, comes via Triton Funds, a private investment fund launched by students from UCSD.
DigitalTown helps people search, connect, and buy local in more than 13,000 cities globally. The company's search technology is branded in the identity of each city and creates discoverable online communities on web and mobile where residents and visitors take part in local economic success.
Any member of any DigitalTown is also able to access the services of any other DigitalTown through a single login that empowers residents and visitors to see the world through local eyes, according to the company.
"DigitalTown is one of the few companies that is making progress towards the evolution of the modern city. [It] understands the big picture of implementing a seamless platform for locals and visitors," said Sam Yaffa, one of three co-founders of Triton Funds.
"In addition, the company gives municipalities the opportunity to fund operations through revenue rather than tax. This feat should be applauded, particularly when compared to modern corporate conglomerates that often fail to invest in communities."
DigitalTown said it has embarked on an ambitious plan for the future of communities. The company envisions a global network of thriving sovereign local economies where residents and visitors buy local and buy direct. In effect, every city, town or village becomes its own Google, Amazon, Expedia, OpenTable, AirBnB, PayPal and Coinbase, all in one, branded in the identity of the city, and owned by locals through Blockchain-based CityShares.
"Momentum is building for the global adoption of our blockchain-based platform for empowering thriving local economies built on the decentralised internet," added Rob Monster, CEO of DigitalTown.
"The values of DigitalTown and Triton Funds are perfectly aligned. The Triton team is a timely accelerator in our efforts to engage youth, notably in university communities, in San Diego and beyond.
"Looking ahead, this partnership will help us to more effectively activate the millennial age cohort who have much to gain from the shift to a decentralised internet based on blockchain."
If you like this, you might be interested in reading the following:
San Antonio goes digital
Each resident is given a secure blockchain smart wallet to send and receive money digitally and without fees
Platforms and blockchain could see local economies scale
All kinds of economic innovation are underway in many towns and smaller cities that are often overlooked. Annie Turner reports.
Blockchain for smart cities
Smart city solutions provider, DigitalTown, is launching a distributed ledger platform for managing shared ownership in its network of city portals