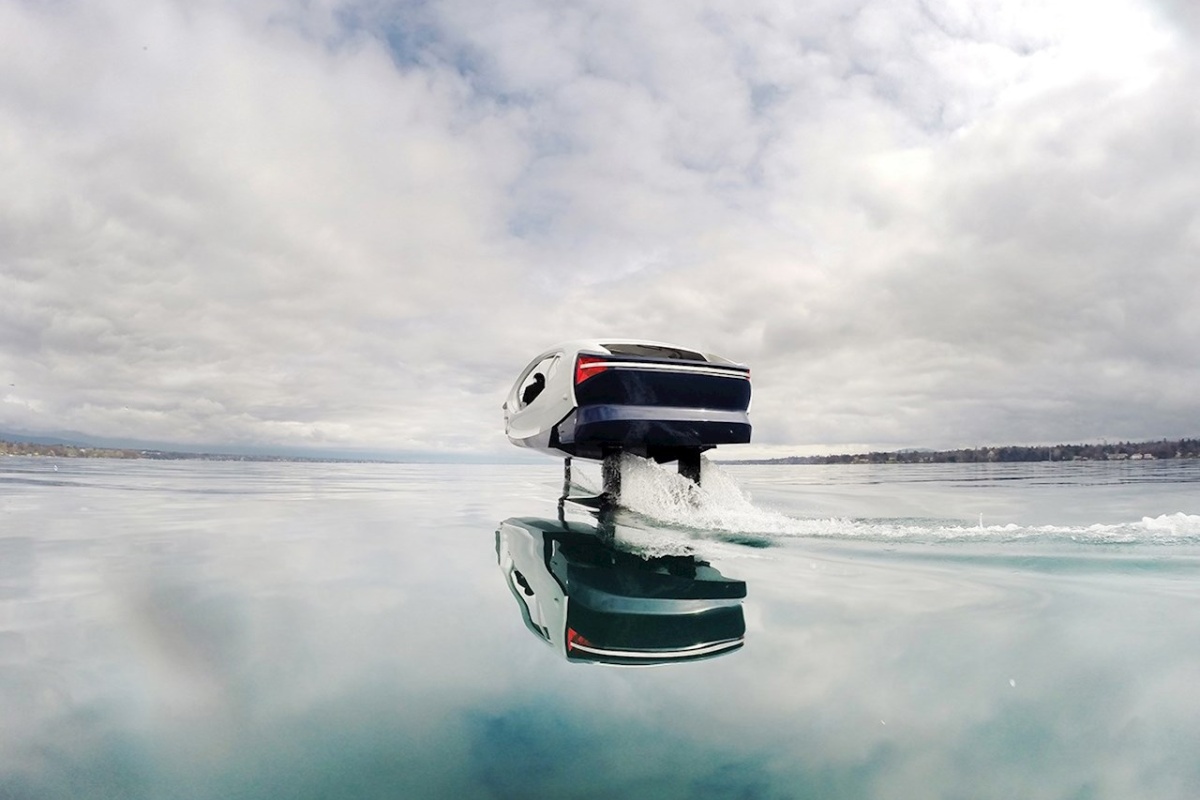 The futuristic Sea Bubbles is demonstrated on Lake Geneva
The futuristic, zero-emission water taxi, SeaBubbles, has been demonstrated on Lake Geneva in Switzerland.
The team behind SeaBubbles believe pollution and global gridlock are not only threatening people's welfare but ultimately "people's freedom of mobility". The developers want to open up the waterways for everyone around the world by creating a new way to move people "at car speed, for the price of a regular cab" and with no impact on the city's infrastructure.
Founder and vice-president Alain Thébault devotes his life to his biggest dream: making a boat fly on the water while co-founder and president Anders Bringdal is a two-times windsurf champion.
The 100 per cent electric Bubble is autonomous during its rides and, when it reaches 12 km/h (7.5 mph), the craft starts flying above the water. Once the ride is over, the Bubble slowly comes back to the water level. It is part of its own ecosystem that includes the Dock where passengers get on and off and where the Bubble is charged.
The Dock itself is powered by water, sun and the wind: solar tiles capture the sun's energy; underwater generators harness the strength of the water; and wind turbines catch the energy of the wind. These energies are stored into existing batteries at the Dock.
The ecosystem also includes an app for online booking which uses a geolocation system that allows the user to see which Docks are the nearest.
SeaBubbles will shortly be equipped with the ABB Ability Marine Advisory System – Octopus – which helps vessel operators gather and analyse all relevant data to optimise water travel and further trials will continue in the months ahead. The system will enable ABB to provide real-time data to the SeaBubbles control centre, covering virtually every aspect of the vessel's operating status.
The development of the demonstration craft was supported by the Geneva cantonal authorities and the Department of Energy, Transport and Agriculture (DETA).
ABB specialises in electrification products, robotics and motion, industrial automation and power grids. It is the title partner of Formula E, the fully electric international FIA motorsport class.
If you like this, you might be interested in reading the following:
World's first full-scale hyperloop prototype under construction
Hold tight: US firm Hyperloop Transportation Technologies has begun construction of the first hyperloop test system.
Cities without cars
Sarah Wray looks at how Madrid and Oslo are making their cities more people-friendly by reducing the amount of cars on the roads
Electric cars: Leading the charge
Electric vehicles hold enormous potential but their deployment so far has fallen short. Jacob Klimstra, Senior Energy Consultant and Member of the Advisory Board for Electrify Europe, looks at how...