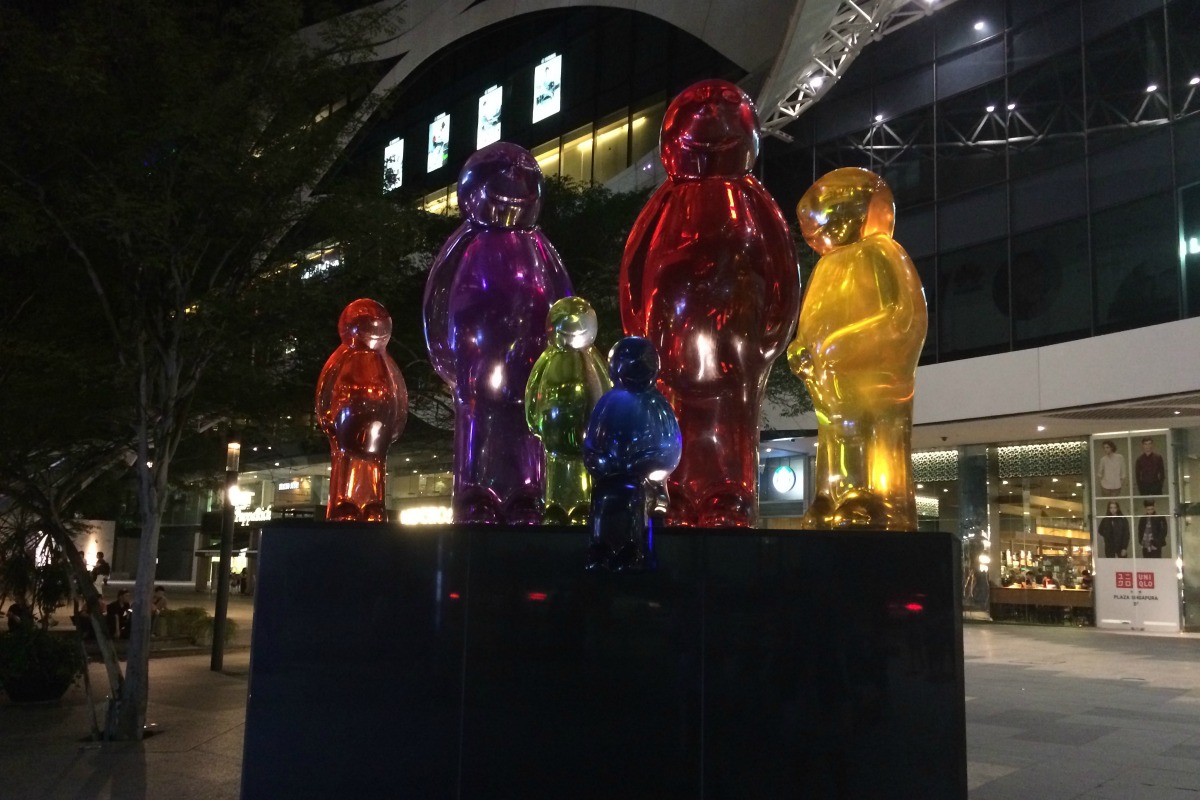 A striking statue displaying the idea of inclusivity outside one of Singapore's many shopping malls
Singapore's newly formed Media Development Authority (IMDA) in collaboration with National Council of Social Services (NCSS) has announced new measures designed to further tackle the digital divide for low income and elderly households.
These new measures fall under the already established Home Access programme that was launched back in November 2014. This aims to make internet connectivity accessible and affordable to low – income and elderly households by providing a basic mobile computing device (usually a tablet) and fibre-based internet connection for the heavily subsidised fee S$6 a month for 48 months.
The new measures have been put in place to ensure the practical effectiveness of the Home Access initiative.
Now, three non-profit, social service organisations have been appointed by the NCSS to provide assistance to different areas of the programme. These are TOUCH community services, Chinese Development Assistance Council (CDAC) and Lions Befrienders Service.
In addition, a starter kit available in four languages has also been launched. This easy to use self-help tutorial contains instructions on mobile tablet use as well as a list of recommended apps for social networking and government services.
TOUCH will send out the starter kits and introduce the programme to beneficiaries and those interested will be referred to CDAC for introductory training workshops held at local community centres. Lion Befrienders will organise home-based sessions, if travel to centres is too difficult.
Wan Sha Ping from the IMDA social inclusion team said, "We felt just by closing the financial gap was not enough. People may get the tablet but are not to sure of how to use it properly, so today we have a new programme that we are rolling out after the pilot.
"We work with NCSS who appointed three social service organisations who are non-profit. The social services call up the beneficiaries and ask: "Do you know how to use the tablet, do you need help? I can offer you centre based training or if you are immobile, I can even bring someone into your home to offer you home training."
Speaking at the launch of the newly created Info-communications Media Development Authority (IMDA) that is charged with delivering the Singapore' smart 2025 masterplan, Dr. Yaacob Ibrahim, minister for communications and information said: "IMDA's success ultimately depends on whether it has used ICM to empower possibilities for all Singaporeans and not just a few. While other countries grapple with digital divides, IMDA will help us generate a digital multiplier for our people."
The Care & Share movement, a national fund raising and volunteering movement led by Community Chest for the social service sector is funding the new programme.
Home Access set out to benefit 8,000 households over a four-year period with 6,000 approved as beneficiaries as of the end of September.
If you liked this, you might be interested in the following:
IoT is helping address South Africa's national priorities
IBM Research has opened another research location where it will focus on data-driven healthcare and digital urban ecosystems
smartcitiesworld.net/news/news/iot-is-helping-address-south-africas-national-priorities-873
SINGAPORE REPORT: IMDA partners with non-profit organisations and IT providers for smart healthcare delivery
TGLC offers a self-health monitoring service for pro-active care while SATA trials its telehealth solutions
smartcitiesworld.net/news/news/singapore-report-imda-partners-with-non-profit-organisations-and-it-providers-for-smart-healthcare-delivery--985