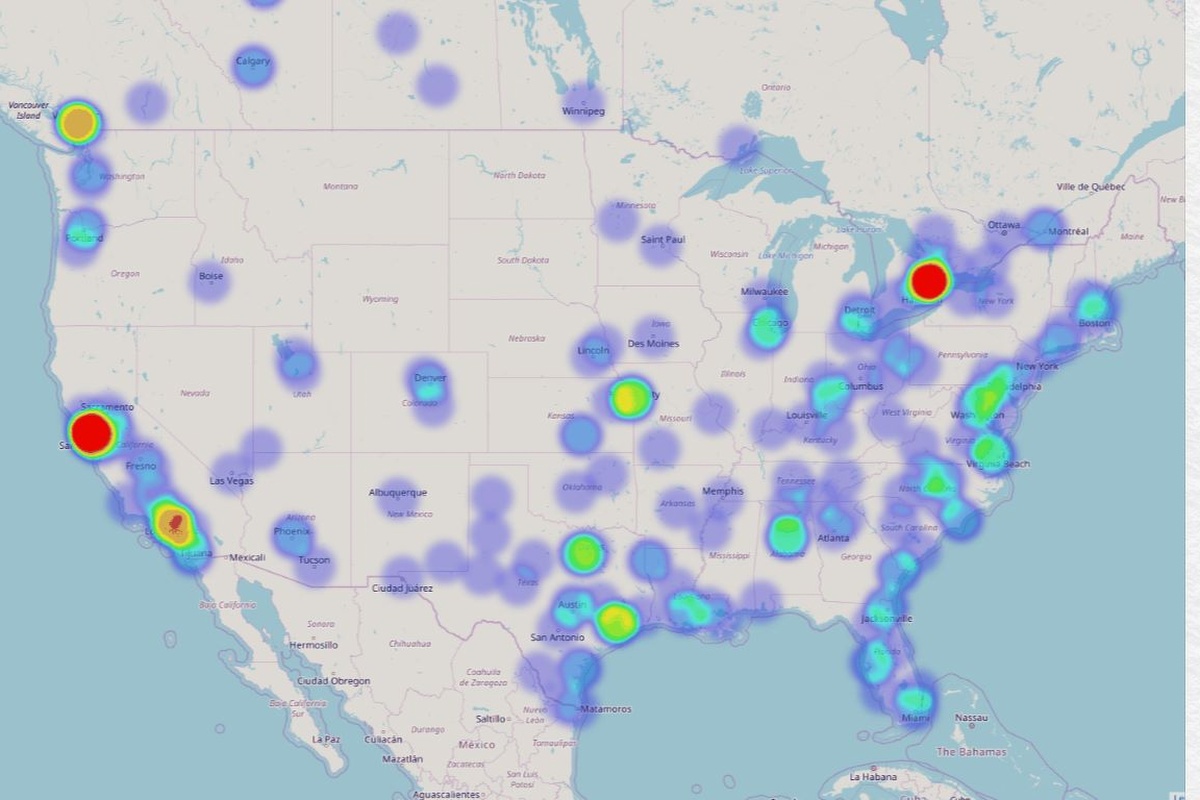 The graphic derives from Geotab's parking dataset
Geotab, a global IoT and connected transportation provider, has introduced a data website to help accelerate development of smart cities.
Seeking to empower organisations and municipalities, data.geotab.com grants public access to intelligent datasets which provide insights surrounding smart city planning, improved productivity for businesses and safer communities.
According to Geotab, the enriched, aggregated data available on data.geotab.com leverages billions of data points collected daily from more than one million vehicles equipped with Geotab telematics devices.
Datasets are categorised under 'urban infrastructure', 'location analytics' and 'weather' and are aggregated to preserve privacy. The datasets accessible on data.geotab.com can be leveraged to help improve city-wide efficiency, discover key infrastructure challenges and guide deployment of automated solutions for issues such as congestion, parking and poor road conditions, said Geotab.
"Earlier this year, we became the first fleet telematics company to achieve one million connected commercial vehicles built on a single, open platform," said Neil Cawse, CEO, Geotab, which is headquartered in Ontario, Canada, and has offices in the US, UK, Germany and Spain.
"Now, we're proud to be the one of the first resources to provide actionable insights from our global sensor network to help empower businesses and contribute to a rich data ecosystem that will further innovate the world – one community at a time."
In addition to capturing a vehicle's GPS and accelerometer data, telematics also pulls information surrounding speed, seat belt usage, engine diagnostics and more from the vehicle's computer. An example of the datasets available on data.geotab.com include:
Hazardous driving area: this dataset helps identify hazardous areas for driving according to harsh braking and accident level events within a specific area. While communities may already be aware of the locations of significant road collisions, the hazardous driving areas dataset identifies locations that are also prone to near misses, resulting in the ability to prioritise and develop risk mitigation strategies
Road impediments: collecting and combining vehicle movement and GPS data, this dataset aims to indicate locations of abnormalities on driving surfaces such as potholes, speed bumps and general surface issues. Examining a vehicle's up and down movements (z-axis), this dataset examines z-axis variations and location data to help identify potential road impediments
Searching for parking: searching for parking not only causes frustration, but also contributes to traffic congestion and additional greenhouse gas (GHG) emissions; this dataset identifies areas within a city where drivers experience difficulty in finding parking. Analysis of this data could assist with optimised route planning, help guide the development of additional parking spaces and signage and help to facilitate plans for new road infrastructure.
Geotab was recently engaged by the city of Columbus to integrate its smart city dataset into its Smart Columbus Operating System (SCOS). Through this partnership, Columbus aims to utilise data that is compiled through the SCOS and combined with data.geotab.com datasets to help improve city operations in an economical and sustainable manner.
If you like this, you might be interested in reading the following:
Columbus unveils smart city operating system
The platform can be used by private and public sectors and it will serve as the technical backbone for projects within the USDOT portfolio
Geotab maps activity ahead of Irma
Data from new timelapse map provides key fleet activity insights from Florida and revealed devastating impact on Puerto Rico
Smart intersection aims to increase safety
US city of Columbus will be the beneficiary of one of the first real-world implementations of the technology