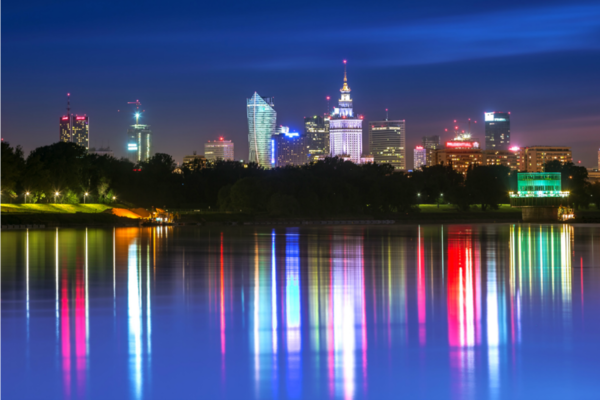 Warsaw lit up by night. Poland plans to increase renewables energy ratio in its power system
The Ministry of Energy of Poland and the Japanese New Energy and Industrial Technology Development Organisation (NEDO) have formed a consortium with six other organisations to jointly undertake a smart grid demonstration project in Poland.
The project's aim is to evaluate assigned grid area functionalities of a special protection scheme (SPS) and hybrid battery energy storage system (BESS) with a view to upgrading power system protection against overload on transmission and distribution lines.
The proposed solution will make use of Japanese state-of-art network stabilisation and battery storage technologies.
Poland plans to increase renewables energy ratio in its power system. To enable it to cope with the additional burden on the electricity networks, essential work is required to upgrade and enhance the grid.
This will be supported by utilisation of advanced grid automatics such as the SPS preventing the grid overloading and allowing for optimal management of renewables generation, especially wind power generation.
In order to carry out the project, consortium members Hitachi, Hitachi Chemical and Sumitomo Mitsui Banking Corporation (SMBC) will each sign an entrustment agreement with NEDO. Alongside this, Hitachi and Hitachi Chemical today signed an implementation document to realise the project in cooperation with Polskie Sieci Elektroenergetyczne (PSE), Energa-Operator (EOP) and Energa Wytwarzanie (EW).
A 19-month feasibility study has already been undertaken by Hitachi, Hitachi Chemical, SMBC and other companies. Hitachi working with PSE, EOP and EW will build the SPS solution while Hitachi Chemical will be responsible for provision of hybrid BESS equipped with lithium-ion and lead-acid batteries. In addition, Hitachi, Hitachi Chemical and SMBC will explore business models for network protection systems and battery energy storage systems.
NEDO is a Japanese national research and development agency which falls under the Ministry of Economy, Trade and Industry. It was established in 1980 following the two oil crises of the 1970s to promote the development of oil-alternative energy technologies.

If you liked this, you might be interested in reading the following:

'Largest' smart grid implemented in India
Benefits include improved network performance, faster outage restoration, and more efficient power management and delivery

smartcitiesworld.net/news/news/largest-smart-grid-implemented-in-india-1225


China launches another smart grid initiative
OSIsoft's operational intelligence technology will help to establish best practices for creating an Internet of Energy
smartcitiesworld.net/news/news/china-launches-another-smart-grid-initiative-580

Making energy sense in Nevada
NV Energy announces a new smart grid sensor initiative to improve electricity reliability for 1.2 million customers

smartcitiesworld.net/news/news/making-energy-sense-in-nevada-1060