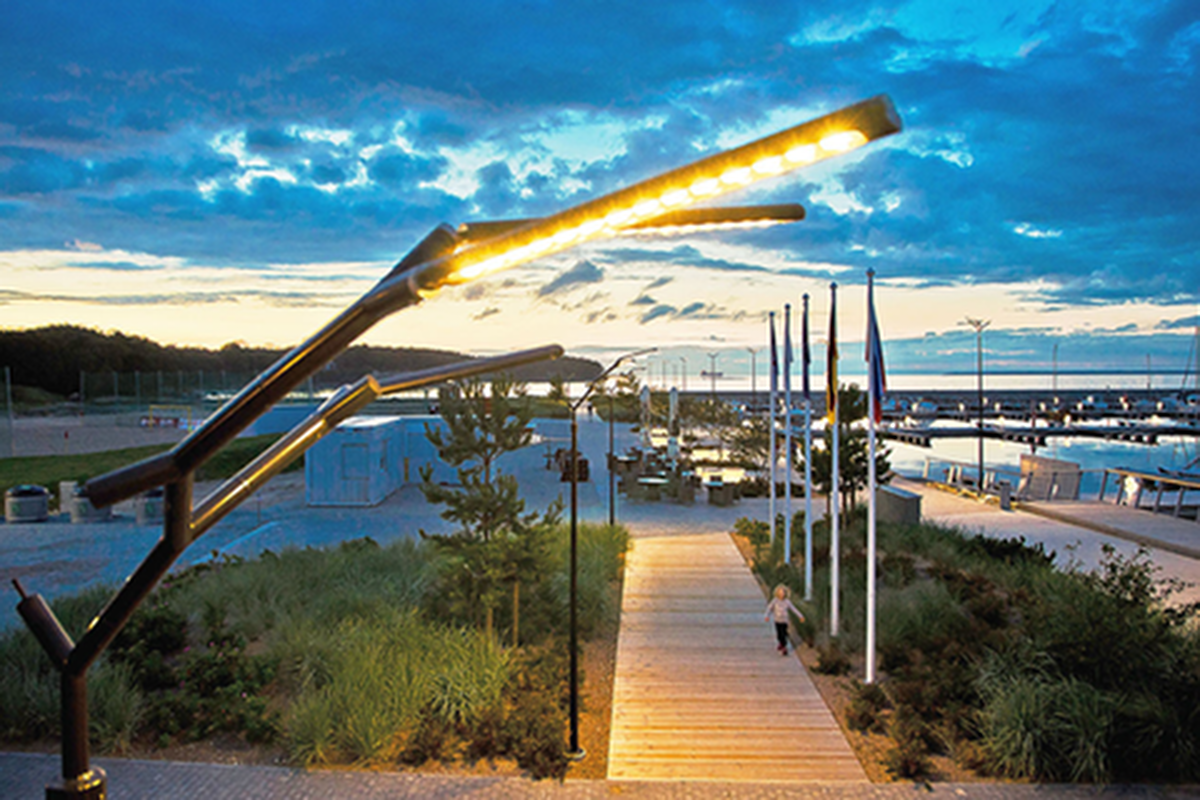 Haven Kakumäe marina serves as an example of what future ports could look like
A LoRaWAN network has been rolled out in the Haven Kakumäe marina in Tallinn, Estonia, making it one of the first "intelligent harbours" in Northern Europe using LoRa technology, it is claimed.
Luminaire controllers manufactured by Nordic Automation Systems (NAS) are installed on more than 45 outdoor lamps at the harbour location.
The remotely controllable LoRaWAN-based IP68 rated luminaire controllers enable autonomous operation according to configured lighting profiles.
The controller enables the marina to reduce energy consumption by optimal on/off and dimming profiles as well efficient maintenance cycles. LED luminaires are controlled using the DALI interface. The device also has secondary duplex bus for controlling other electronic devices besides DALI drivers/ballasts.
The luminaire controllers are connected to the LoRaWAN gateway over the radio. While the gateway is situated at the harbour, the connection is also supported by other near gateways.
The network server communicating to the gateway (via ethernet or optional 3G,4G card) has the data available to the application. According to NAS, the fully secure IoT hub platform visualises encrypted data from the end-nodes via LoRaWAN backend.
Haven Kakumäe also has the option to connect with external applications via application programming interfaces (APIs) to use the data in third-party systems.
With the intelligent and lighting management system, the marina is able to make more informed decisions towards energy and cost-efficiency. Although the harbour is still testing the full solution, the controllers are already, reportedly, providing better control over lighting allowing real-time control of street lights on calendar and time basis.
The ability to monitor light intensity, work mode and movement means that unnecessary over-lighting can be avoided, which in turn allows it to save energy, NAS said.
NAS is an industrial automation company, specialising in end-to-end smart city and remote metering solutions. The company's smart gas, water and heat metering solutions include full vertical LoRaWAN infrastructure: end-nodes, gateways, IoT hub cloud platform and API.
If you like this, you might be interested in reading the following:
Remote energy monitoring for Estonia
The technology also allows Fortum to analyse the district heat substation parameters and act instantly when needed
Public access LoRaWAN for Estonia
University is regarded as a leading centre of research and training and is ideal to help develop cutting-edge Internet of Things (IoT) solution
Actility partners to deliver two IoT networks in Europe
Partnership approach also sees the introduction of the world's first "open value chain" LoRaWAN IoT network in Estonia