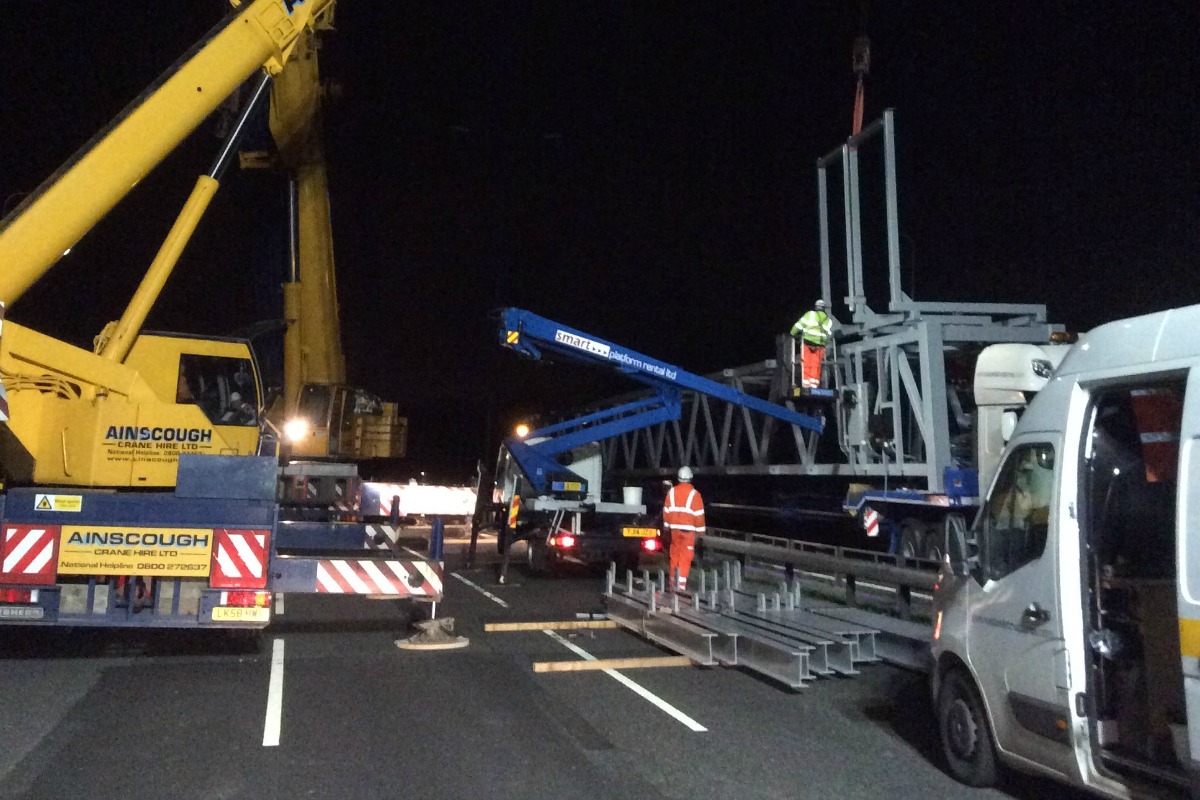 Cranes put the gantries in place on the latest smart stretch of the M60 and M62
Installation of three more 'superspan' gantries is underway along sections of the M60 and M62 in the next phase of Manchester's smart motorway upgrade programme.
Contractors for Highways England are installing the giant overhead gantries during the course of this month, which will carry message and variable speed limit signs.
The next two superspan gantries are scheduled to be erected across the M62, between junctions- 19 at Heywood and 20 at Rochdale, later today (2 June) and tomorrow night (3 June).
The gantries, which will span both the eastbound and westbound carriageways of the motorway, are 59 metres wide, weigh up to 78 tonnes and will require a special 500 tonne crane to help install them.
"We started work on installing the new gantries last month and it's going smoothly," said Stef Wilson, project manager at Highways England. "We're in quite an intensive phase of the project just now with a programme of overnight closures, so it's important for people who use the motorway at night to plan their journeys."
The smart motorway scheme, between junction 8 of the M60 near Sale and junction 20 of the M62, will see the latest technology being used to monitor traffic levels and keep vehicles moving by using variable speed limits.
The hard shoulder will also be permanently converted into an extra lane to increase capacity between junctions 18 and 20 on the M62.
The overnight closures will take place along the M62 in both directions between junctions 19 and 20 from 10pm until 6am on both nights. But if strong winds are forecast the closures could be postponed.
The smart motorway scheme is expected to be completed in autumn 2017 and will include around 200 new electronic message signs on overhead gantries.