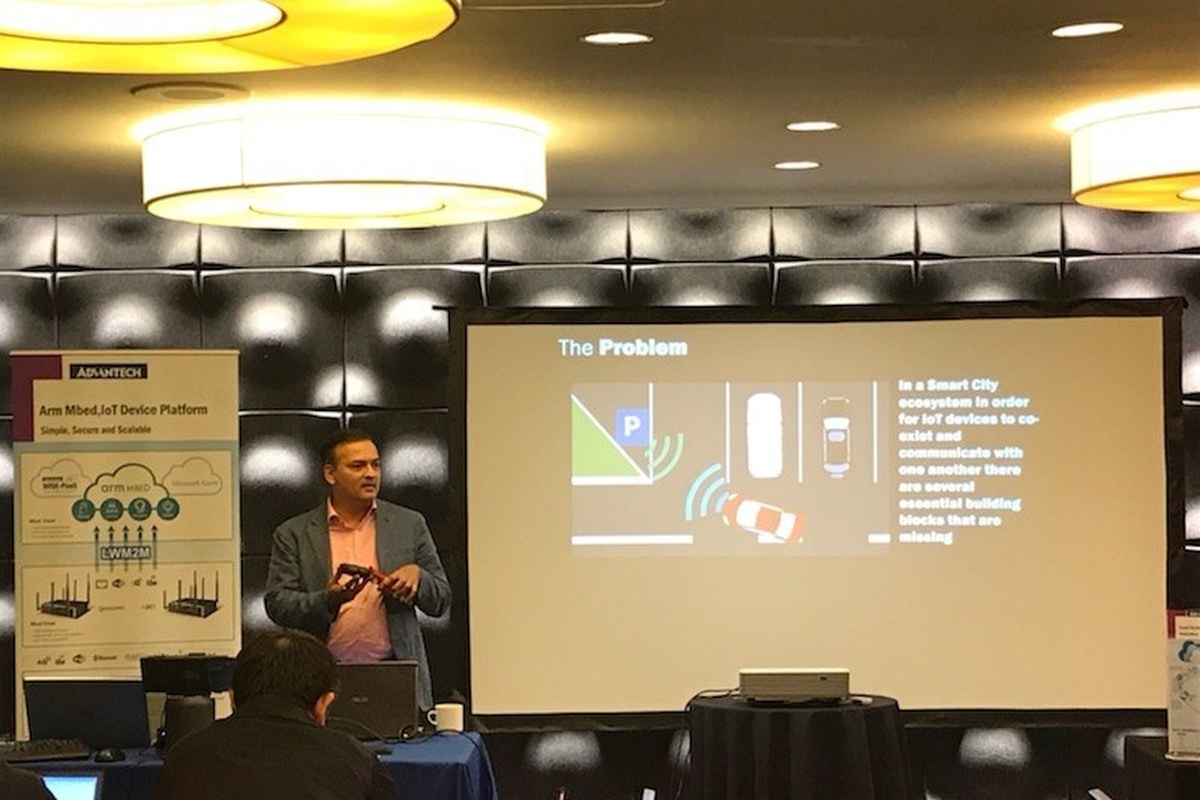 The smart parking demonstration at the IoT Developer's Forum
Internet of Things (IoT) and blockchain platform company, NetObjex, has showcased a first-of-its-kind smart parking payment solution using the IOTA decentralised network and cryptocurrency.
It demonstrated the solution at the IOT Developer's Workshop organised by Advantech, a leading manufacturer of IoT LoRa solutions, in Santa Clara, California. Also participating in the event was PNI Sensor Corporation, of Santa Rosa, California, an expert in precision location, motion-tracking, and fusion of sensor systems into real-world applications.
The demonstration showcased the ability of automobiles to autonomously pay for parking through the integration of crypto wallets. The smart parking solution utilised PNI's PlacePod smart parking sensors for accurate, real-time vehicle detention and location of available parking spaces.
Communications between PlacePod sensors and the cloud leveraged Advantech's LoRa Solutions, M2.COM standardiesd LoRa IoT Sensor Node WISE 1510 and LoRa IoT GatewayWISE-3610. In addition, car to parking meter communications utilised the Bluetooth low energy technology with digital short-range communication (DSRC) versions planned in the future.
Completing this sophisticated architecture was the use of the IOTA decentralised network by the NetObjex platform as a distributed ledger for enabling device discovery, authentication, communication and transactions.
The solution provided further evidence of the digital transformation in the transportation sector, and the interplay between various advanced technologies in bringing about effective change.
"Our goal in organising the IoT Developer's Forum is to engage the developer community in leading edge solutions that exercise all of the capabilities of our M2.COM architecture, and multi-protocol approach in enabling IoT solutions," stated Shawn Jack, director of sales & embedded ecosystems, Advantech.
"The smart parking solution is a practical demonstration of the NetObjex platform in bringing together state-of-the-art capabilities in the form of IoT sensor technology, LoRa communications, decentralised networks and cryptocurrency. Our partnership with Advantech, PNI, and IOTA augurs exciting possibilities ahead," said Raghu Bala, CEO of NetObjex, whose technology has applications in transportation, manufacturing/Industry 4.0, supply chain and logistics, and smart city ecosystems.
If you like this, you might be interested in reading the following:
Cardiff rolls out citywide smart parking tech
Vehicle detection sensors embedded in the road detect whether or not parking bays are occupied using infrared technology
Smart parking for city of Sarasota
The Florida city has partnered with Streetline to launch a parking guidance app to help find available parking spaces
Smart Parking continues Australian roll-out
The vehicle detection sensors monitor parking space availability, including mobility bays