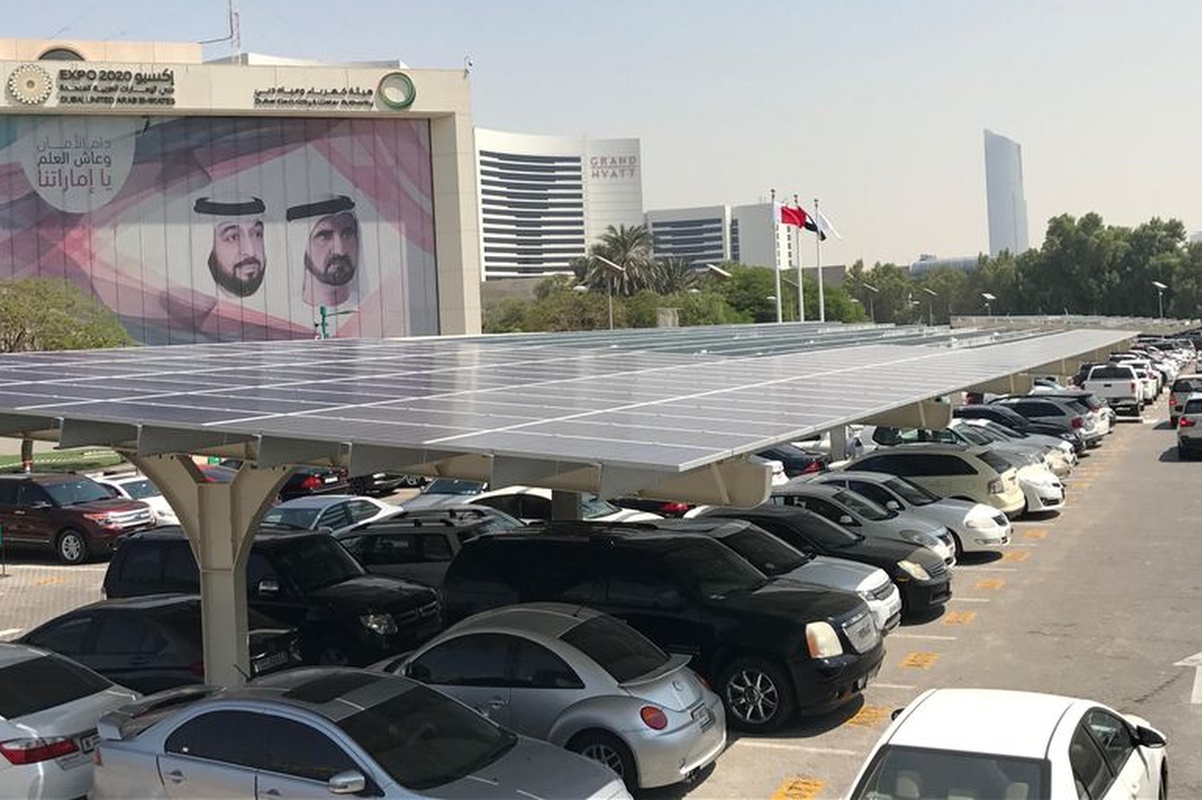 The carports project is part of the Shams Dubai initiative to increase reliance on clean energy
Dubai Electricity and Water Authority (DEWA) has launched a new project to install solar carports, at DEWA's headquarters, and at the Ministry of Climate Change and Environment building.
It is part of the Shams Dubai initiative and DEWA's efforts to increase reliance on clean energy, and support Dubai's smart transformation, in line with its vision to become a sustainable innovative world-class utility.
Electricity will be generated using photovoltaic (PV) panels connected to DEWA's network in the parking lots at the two sites, which have a total of 902 parking spaces.
The DEWA parking lot will have a capacity of 1,780 kilowatts (KW), and 220KW in the Ministry building, with a total of approximately 2,000KW in both locations. This will generate a total of 2,750 MWp, equivalent to reducing about 1,500 tonnes of carbon emissions annually.
The project supports the Smart Dubai initiative, launched by HH Sheikh Mohammed bin Rashid Al Maktoum, vice president and prime minister of the UAE and Ruler of Dubai, to make Dubai the smart and happiest city in the world, and achieve the objectives of the Dubai Clean Energy Strategy 2050.
HE Saeed Mohammed Al Tayer, MD & CEO of DEWA explains that this involves providing seven per cent of its total energy from clean energy sources by 2020, 25 per cent by 2030 and 75 per cent by 2050.
"Through the project, we intend to provide comfort and enhance the happiness of our stakeholders, to fulfil our mission, in line with our core values, as well as promote the initiative among all stakeholders, both individuals and institutions, in the public and private sectors," said HE Saeed Mohammed Al Tayer, managing director and CEO of DEWA.
"This will happen by providing practical examples of green and sustainable buildings, to spread a culture of sustainability, reduce energy consumption, and dependence on traditional energy sources, and help Dubai's government organisations achieve the goal set by the Dubai Supreme Council of Energy (DSCE) to reduce 20 per cent of the energy consumption in all government buildings, by 2020."
Al Tayer stressed that DEWA has completed linking its network with 450 residential and commercial buildings, with a total capacity of about 17.7MW, through Shams Dubai. DEWA is also working to increase this number to reach all buildings, in the Emirate, by 2030.
If you like this, you might be interested in reading the following:
Dubai Airports and DEWA work together for Smart Dubai
The airport will play a key part in supporting the Dubai Electricity and Water Authority's three smart initiatives
Dubai to install smart light poles
Dewa is also investigating solar roads as part of its plan to make Dubai a smart, integrated, and connected city
Dewa signs smart grid deal
Internet of Things networking platform will establish high-performance network to reliably deliver multiple electricity and water services