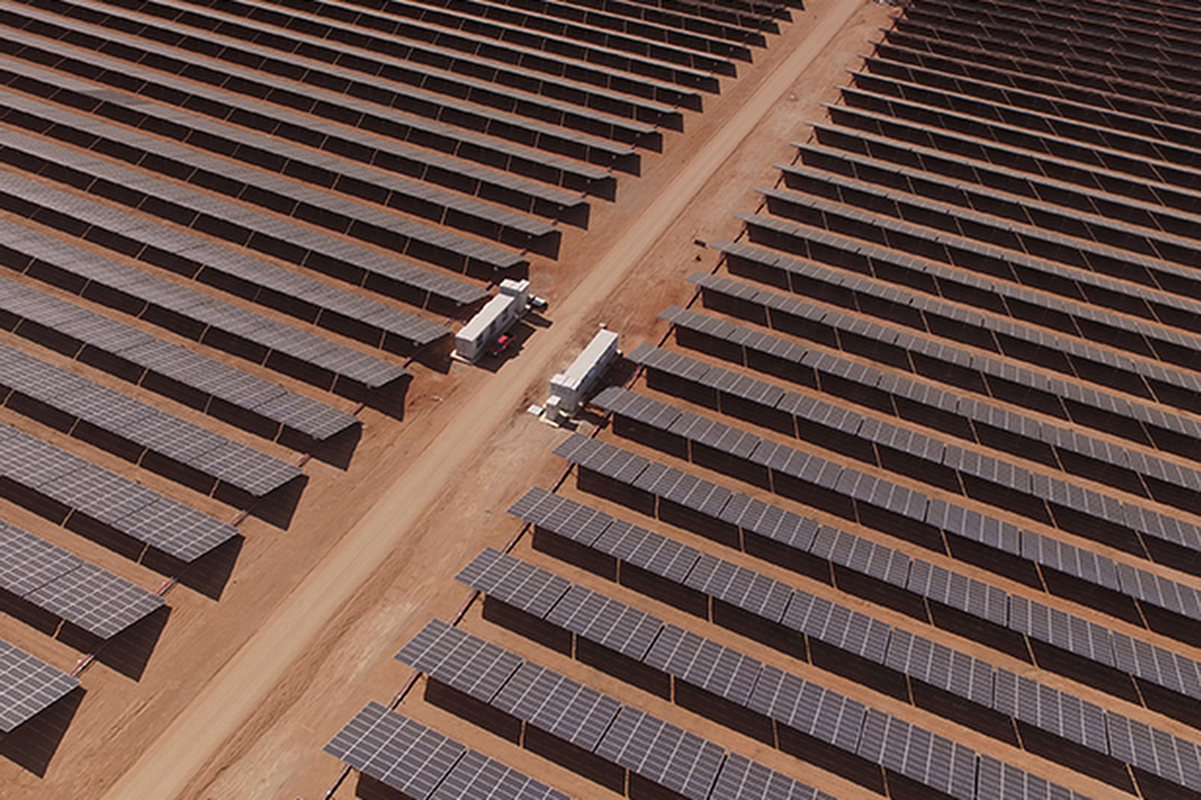 The El Romero solar plant generates 493 GWh of clean energy per year
Spanish independent power producer Acciona has selected ABB to deliver an inverter solution for its 246 MWp El Romero solar plant in the Chilean desert.
The all-in-one inverter solution provides clean energy to power the data centre for a global, leading tech giant.
According to the technology provider, the ability to deliver continuous power supply for the data centre was critical to the installation. ABB claims its UPS system, provides protection against all power failures, voltage regulation, power factor correction and harmonics.
The solar plant is situated in the harsh environment of the Atacama Desert in Chile, 645 km north of the country's capital Santiago. One of the driest places in the world, the Atacama spans 1,000km and experiences extreme temperatures from 40 °C in the day to -5 °C and below at night.
ABB said its solutions are designed to withstand extreme weather conditions. The El Romero project saw the installation of 60 ABB PVS800-IS inverter stations, each rated at 3.6MW.
The PVS800-IS inverter station is a plug-and-play solution, designed for multi-megawatt PV power plants. To allow easy and rapid connected to a medium voltage (MV) transformer station, each inverter station, which houses two to three PVS800 central inverters, also features embedded auxiliary power, monitoring and air filtration systems.

The solution also includes ABB SafePlus CCV SF6 insulated compact switchgear and power plant controller for controlling and monitoring the solar plant.
"The El Romero solar plant was a huge feat of engineering in hostile conditions, that saw ABB work closely with ACCIONA to install solar solutions that provide 100 per cent of the data centre's clean energy," Alfredo Diez-Hochleitner, ABB's product marketing director for solar in Spain.
"We are proud of our ongoing investment in energy efficient solar technology that can operate in the most challenging environments, together with our ability to work closely with our partners to develop bespoke solutions, which has created an outstanding solar plant for the future."
Covering 280 hectares, the El Romero solar plant, is the largest photovoltaic plant of its kind in Latin America.
With a peak capacity of 246 MWp, the plant generates 493 GWh of clean energy per year, the electrical demand equivalent of 240,000 homes. Saving 473,000 metric tonnes of CO2 per year from coal-fired power stations, it is a flagship example for encouraging green energy on a global scale.
"Renewable projects as ambitious as the El Romero solar plant contribute decisively, so that clean energy can occupy the place it deserves in a sustainable energy model for Chile and the rest of the world," added Jose Ignacio Escobar, general manager for Acciona Energia Chile.
If you like this, you might be interested in reading the following
Singapore boasts biggest floating solar project
The world's largest floating photovoltaic power plant testbed features ABB technology
The Moapa Southern Paiute solar project is commissioned
The energy project creates a template for other tribes to follow
Nevada solar plant goes online
Boulder Solar is one of 43 diverse renewable energy projects that are helping to meet the electricity needs of NV Energy customers