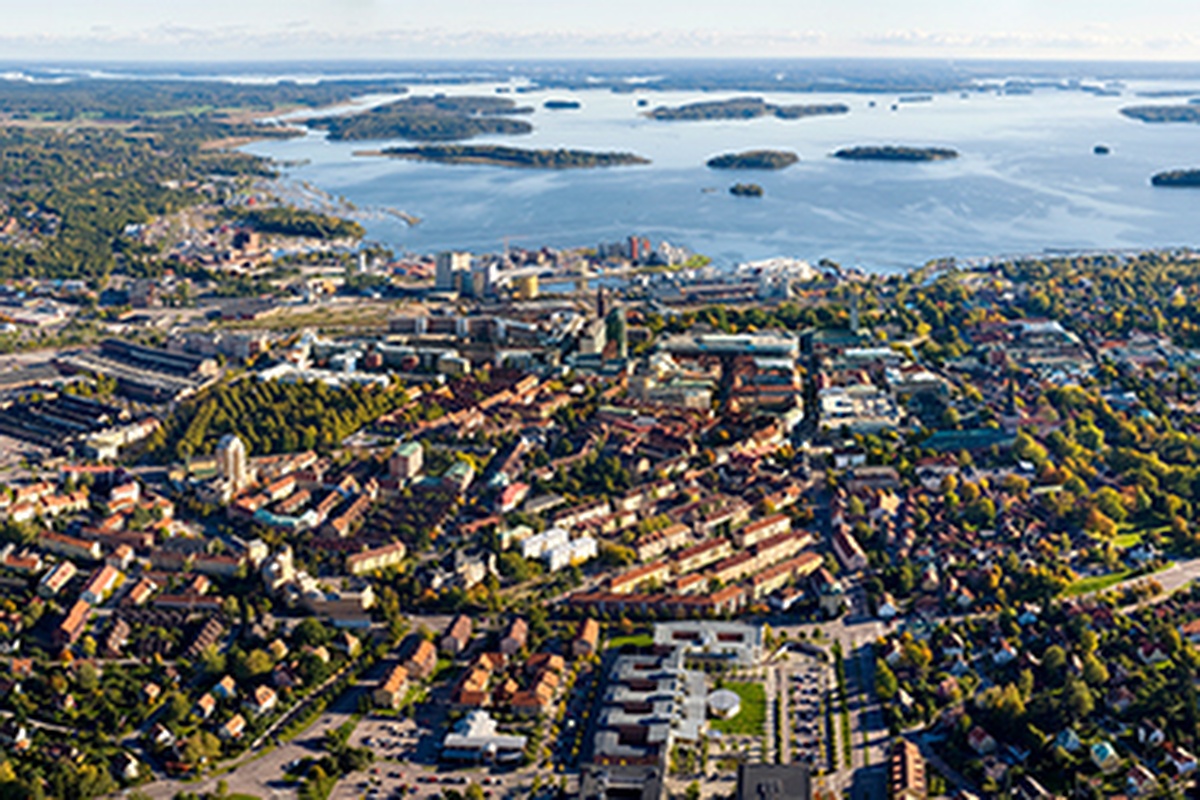 The city of Västerås is Sweden's fifth largest urban area
Swedish energy company Mälarenergi has awarded ABB a contract to develop "smart city solutions" with the aim of making Västerås, Sweden's fifth largest urban area, more attractive as a community for citizens and industry.
Mälarenergi provides a range of essential services for Västerås's 150,000 residents and businesses. The utility operates hydropower plants, the local power grid, a waste-to-energy plant, heating and cooling networks, water and wastewater treatment plants, a water distribution network and a fibre optic network.
In 2017, Mälarenergi and ABB formed a team to develop digital solutions that will minimise environmental impact and create high-value digital services for customers. A key objective of this digital investment is to integrate the control rooms of the many automation systems that manage these expansive operations to create one unified operating environment.
"The cost and environmental benefits of using ABB's digital technologies to reduce our operating footprint is remarkable," said Niklas Gunnar, CEO at Mälarenergi "This will free up financial resources currently being used inefficiently to run different facilities, and instead be invested in areas that will truly benefit our customers."
ABB said the "smart city solution" will leverage its Ability collaborative operations approach to integrating technologies and services with Mälarenergi's existing operational expertise.
Collaborative operations combines deep control and domain knowledge of both parties, to make more useful information available faster, so Mälarenergi and ABB can know more, do more and do better, together, it said. This approach will transform Mälarenergi from a traditional utility infrastructure company to a provider of integrated "infraservices" with the end-user experience in mind.
Applied to the district heating network, for example, which serves 98 per cent of the city's buildings, collaborative operations will optimise operational performance and reduce energy consumption. Data analytics will make it easier for operators to identify, categorise and prioritise potential issues with assets, processes and risk areas, so they can increase efficiency and reduce costs.
ABB Ability collaborative operations is part of the company's portfolio of digital solutions. It provides performance management, remote monitoring and preventive analysis technologies to ensure security, improve efficiency and increase productivity in many industries globally.
Collaborative operations centres connect people in enterprise-wide production facilities and headquarters to ABB's domain and technology experts, shortening time-to-resolution for operational issues.
"We are proud to partner with Mälarenergi on [its] digital transformation, and create tangible benefits for Västerås's residents and businesses," added Kevin Kosisko, managing director of ABB's power generation and water business.
"Our record of driving digitalisation and delivering smart city solutions will help Västerås operate at high levels of efficiency, sustainability and resilience."
If you like this, you might be interested in reading the following:
Software underpins Poland's national electricity market
The system will help to balance national electricity demand and supply in real time while maximising capacity utilisation
ABB's view of a smarter future
The company used its 2018 Pre-Light + Building media event to show how building, e-mobility and other solutions will change how we live
Critical infrastructure for Ecuador
Local engineering company I2E is working with ABB to provide reliable power to regional hospitals and national financial institutions