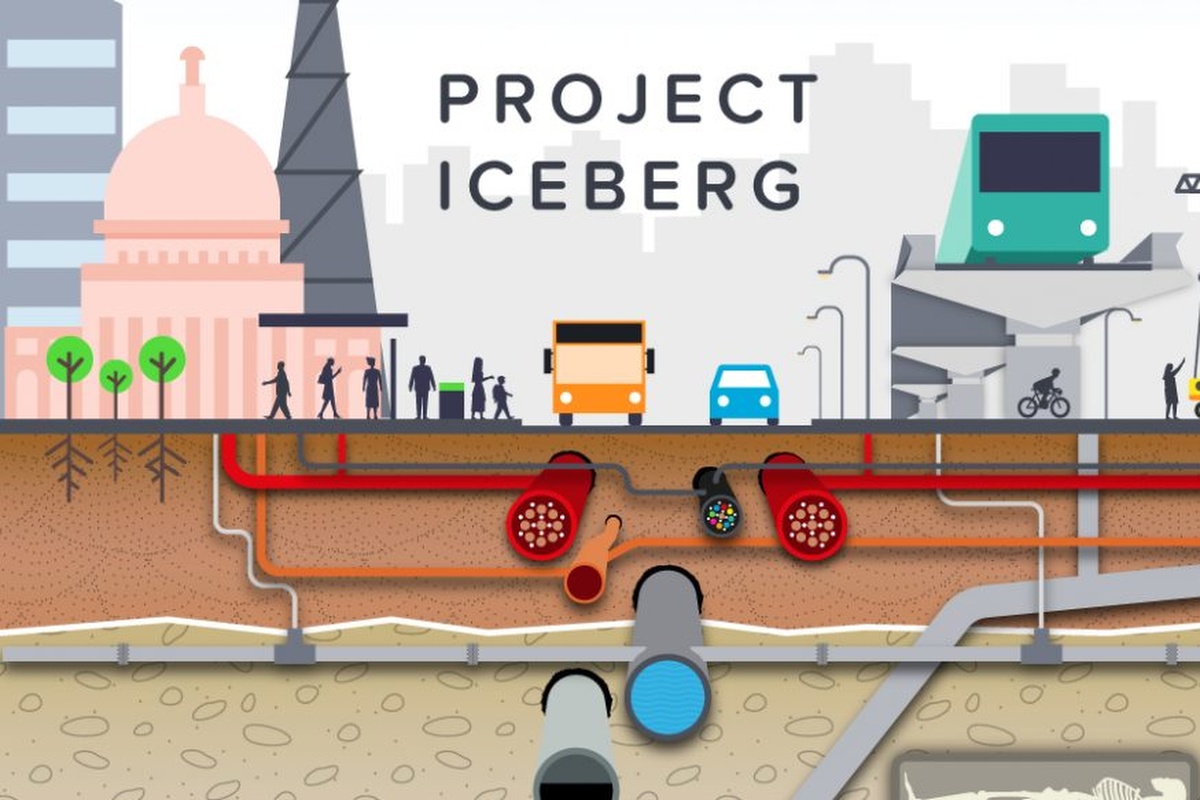 Project Iceberg aims to help increase the viability of land for development
The British Geological Survey, Ordnance Survey and Future Cities Catapult are working on a project to give planners, utility companies and developers a better idea of what lies beneath the ground by building a more complete picture of our cities with digital data.
Project Iceberg has the long-term aim of helping to increase the viability of land for development and de-risk future investment through better use of subsurface information.
To realise the full potential of subsurface data, Iceberg has investigated ways to join up data and services delivered by a range of organisations and integrate it with other city data.
Today there is a great deal of data about the subsurface and there are various standards that set out how information should be captured but the information is dispersed amongst many different parties. This lack of coordination and collaboration has costs.
For example, the direct costs associated with 'normal' maintenance of underground electricity, gas and water assets runs into the billions of pounds a year without considering indirect costs such as increased road congestion during ground works.
Project Iceberg has found that there is a need for a public data-exchange framework for the subsurface that can be integrated with existing city data systems. This isn't a single map of the subsurface but a consistent framework into which data is supplied, assured, stored, accessed and analysed by a multitude of users in the short term, whilst appropriately safeguarding privacy and security.
"The absence of standards governing the collection of underground data means decision-makers working on cross-sector domain projects face a challenge to untangle the web of data that is available," said Rollo Home, content strategy lead at Ordnance Survey. "Not knowing what's buried and where it's buried causes significant disruption, wasted time, delays in street works, possible damage to other utilities and unnecessary extra repair and compensation costs.
"This lack of knowledge also presents very real health and safety risks to utility employees and the public. It's in the interests of Great Britain to resolve this by getting a detailed and accurate picture of the subsurface space and to combine it with the above ground data model for shared operational and innovation activities."
Nicola Yates, CEO at Future Cities Catapult said: "We are very excited about the potential impact of this project. Helping innovative businesses solve complex city challenges is core to our mission.
"As well as bringing together Ordnance Survey and British Geological Survey, what is required is much enhanced data-sharing between industry, government and academic bodies who understand our subsurface. The potential savings and impact demand it."
If you like this, you might be interested in reading the following:
Mapping service enlisted for driverless vehicle project
Project will focus on the challenges of creating effective connected environments using OS digital data expertise
Catapult announces city challenge hackathon
Hackathon participants will explore real city challenges through the insight gained from connecting real data-sets
UK launches new digital planning tool
The Land Information Platform aims to help planners, real estate developers and citizens pinpoint land for development