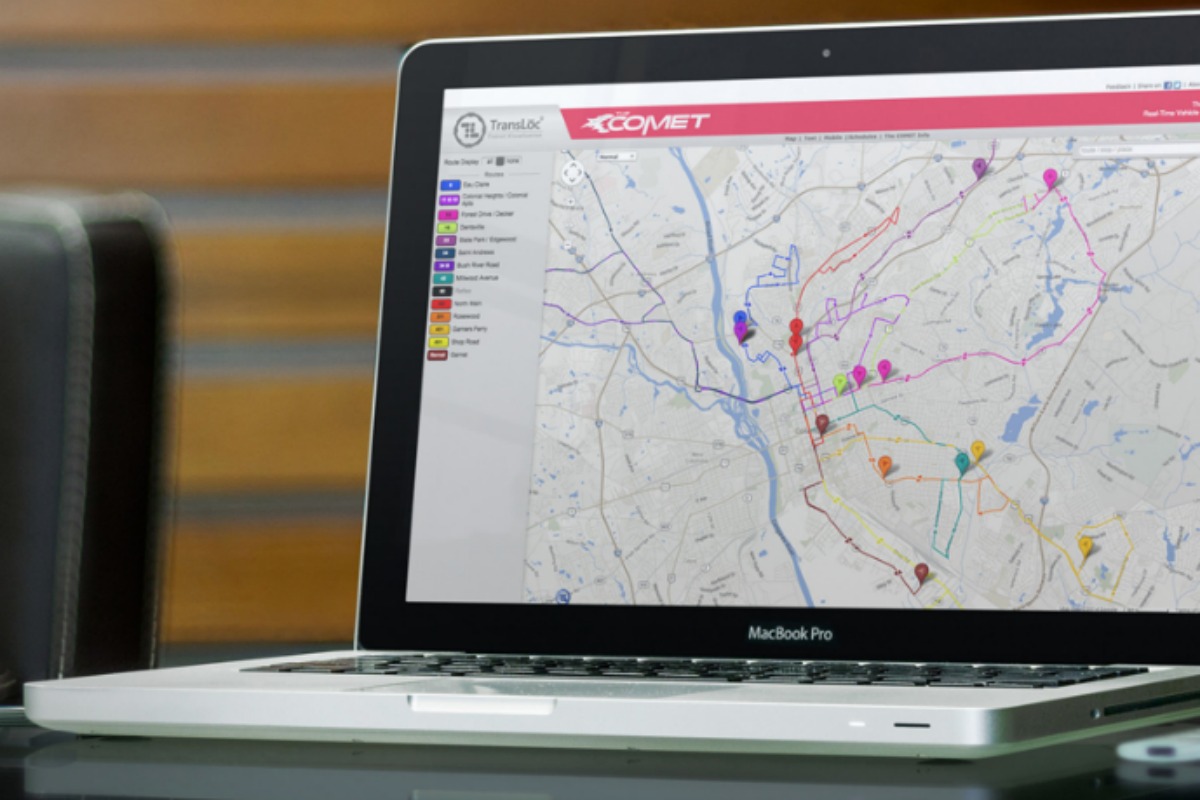 TransLoc's real-time tracking application in action
Transloc, which provides city-owned microtransit solutions, has launched its first-ever MicroTransit Accelerator Challenge. The competition aims to identify and reward the nation's most visionary transit agencies and municipalities.
Three winners will be awarded comprehensive microtransit consultation and data analytics services from the experts at TransLoc. The deadline for applying is October 27, 2017. Challenge entries will be judged by a panel of world-class public transportation and smart city experts, including Gabe Klein and Peter Hirshberg. Winners will be announced on November 17, 2017.
"One of the most daunting challenges transit agencies face when considering flexible transit solutions – from agency-owned first mile/last mile, demand response ride-hailing and beyond – is access to the data and insights that can help ensure successful services, even before they put a single vehicle on the road," said TransLoc vice president Rahul Kumar.
He added: "The Accelerator Challenge brings TransLoc's mission to life. We are convinced that the future of both fixed and flexible transit and all its benefits rests squarely with the agencies themselves. We want to be another positive force to accelerate the exciting new future of smarter American cities."
The MicroTransit Accelerator Challenge builds on TransLoc's commitment to helping cities and transit agencies deliver the ultimate rider experience through the use of big data, simulation, predictive modelling and innovative technology.
Earlier this year, it announced the availability of a new predictive modelling service to help municipal transit agencies with rapid simulation of potential new demand-response transit services.
Leveraging big data and proprietary, market-tested scheduling algorithms, TransLoc's MicroTransit Simulator, agencies can determine successful approaches to enhancing fixed-route services with new flexible transit alternatives to better serve their communities.
Entries will be evaluated against any of four criteria:
Increased ridership: how ridership can be improved by reaching new and underserved areas, expanding access to existing transit service areas, or introducing new communities to existing services.
Social and community value: how agencies believe they can leverage microtransit to embrace social challenges and support the economic vitality of the communities they serve.
Environmental impact: how agencies envision microtransit supporting efforts to reduce emissions or deploy environmentally-friendly vehicles, promoting green mobility initiatives and reducing vehicle miles travelled.
Improved efficiency: how agencies plan to increase efficiency of current or future transit plans, ridership, route utilisation and more using microtransit.
In sponsoring this contest, TransLoc hopes to gain a deeper understanding of the challenges transit agencies are trying to solve using microtransit as well as inspire municipalities to consider how both fixed and flexible transit can work in concert to usher in a greener, smarter future for their communities.
The grand prize will include: a full-day MicroTransit planning workshop; a data-gathering diagnostic session; and a custom MicroTransit simulator presentation. There are also two runner-up prizes which will comprise a data-gathering session and simulator presentation.
Transit agencies and cities are invited to submit an application (comprised of short answers and essay questions). To learn more and to apply, visit go.transloc.com/microtransit-accelerator.
If you like this, you might be interested in reading the following:
Has the micro-transit revolution arrived?
TransLoc's new predictive modelling service claims to enable rapid simulation of potential demand-response transit services for cities
Smart cities demand smart public transport
The intelligent transport systems market will continue to expand and will see increased competition and integration, says report
Citizens hold key to efficient transport infrastructures
Understanding how people use transport networks is an important part of developing more durable solutions