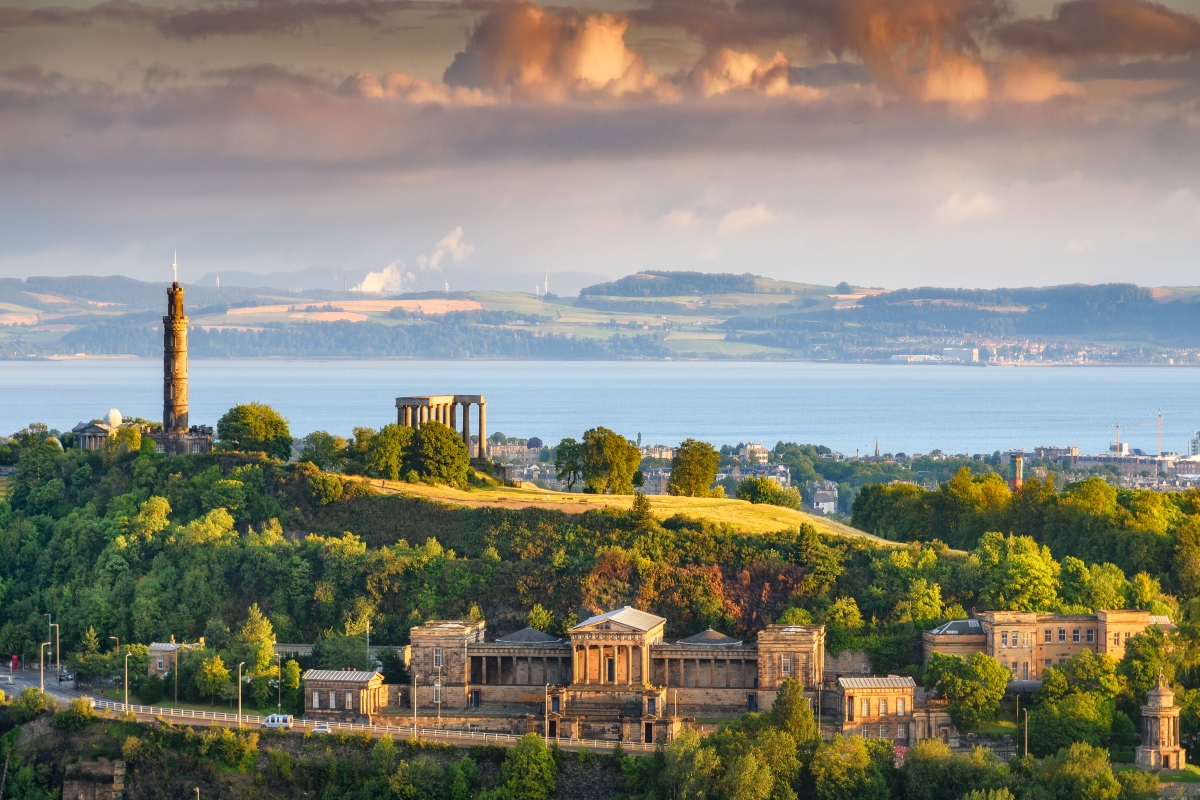 Edinburgh is aiming to become a million-tree city
Edinburgh is set to be home to one million trees by the end of the decade.
City council leaders want Scotland's capital to join the likes of New York, Shanghai and Los Angeles in becoming a "million-tree city" and help it meet its carbon neutral target by 2030.
In a separate initiative, London has announced that thousands of new street trees will be planted across 20 boroughs.
Climate change
The million-tree initiative is part of global efforts to substantially reduce carbon dioxide in the atmosphere and counteract the effects of climate change.
Edinburgh claims it already outstrips other Scottish cities by having more trees per head of population, with some 730,000 urban trees, compared to around 519,000 residents.
Council leaders are working on an "action plan" to achieve the one million tree target in urban Edinburgh. This will include tree planting opportunities on both public and private land, via new developments and to replace trees lost to age, disease and damage.
"It is a great opportunity to raise awareness and promote the benefits that trees provide, especially for our urban environments."
An Edinburgh Million Tree Forum, made up of representatives from a range of organisations, will set an updated vision for trees in Edinburgh and finding ways of planting more trees, more quickly.
"We are delighted to be part of the million-tree city initiative that will contribute to a significant increase in the number of trees being planted in the city," said Charlie Cumming, chief executive, Edinburgh & Lothians Greenspace Trust (ELGT).
"It is a great opportunity to raise awareness and promote the benefits that trees provide, especially for our urban environments. ELGT [is] always keen to work in partnership with individuals and organisations to deliver environmental improvements such as the million-tree city project."
London's tree canopy
In London, the tree planting is part of Mayor Sadiq Khan's commitment to increase the capital's existing tree canopy cover by 10 per cent by 2050.
London has secured over £2 million from the Forestry Commission as part of the Government's Urban Tree Challenge Fund, having received one-fifth of the national fund to plant almost 7,000 street trees across the capital.
The funding was secured in collaboration with London boroughs, which will plant and maintain the new trees.
"London's trees are the lungs of our city and they can make a real difference improving quality of life in local neighbourhoods."
Khan has matched funding from the Forestry Commission with over £1 million from his Greener City Fund, alongside £280,000 from the Royal Docks Enterprise Zone, and £1 million from participating boroughs.
As a result of the funding, 2,898 trees will be planted in London by the end of March 2020, and a further 4,040 trees will be planted next winter.
According to City Hall, more trees have been planted in the mayor's first term than the previous mayor achieved in eight years with more than 250,000 trees planted since May 2016.
London zero-carbon
"I'm doing everything in my power to make London zero-carbon and one of the greenest, most sustainable cities in the world. London's trees are the lungs of our city and they can make a real difference improving quality of life in local neighbourhoods," said Khan.

He continued: "Simple steps like planting trees help us address the climate and ecological crisis. These additional street trees and improvements to green spaces are targeted in areas where they're most needed. As the world's first National Park City, we will continue our bold action to preserve and increase tree coverage across London."
You might also like: