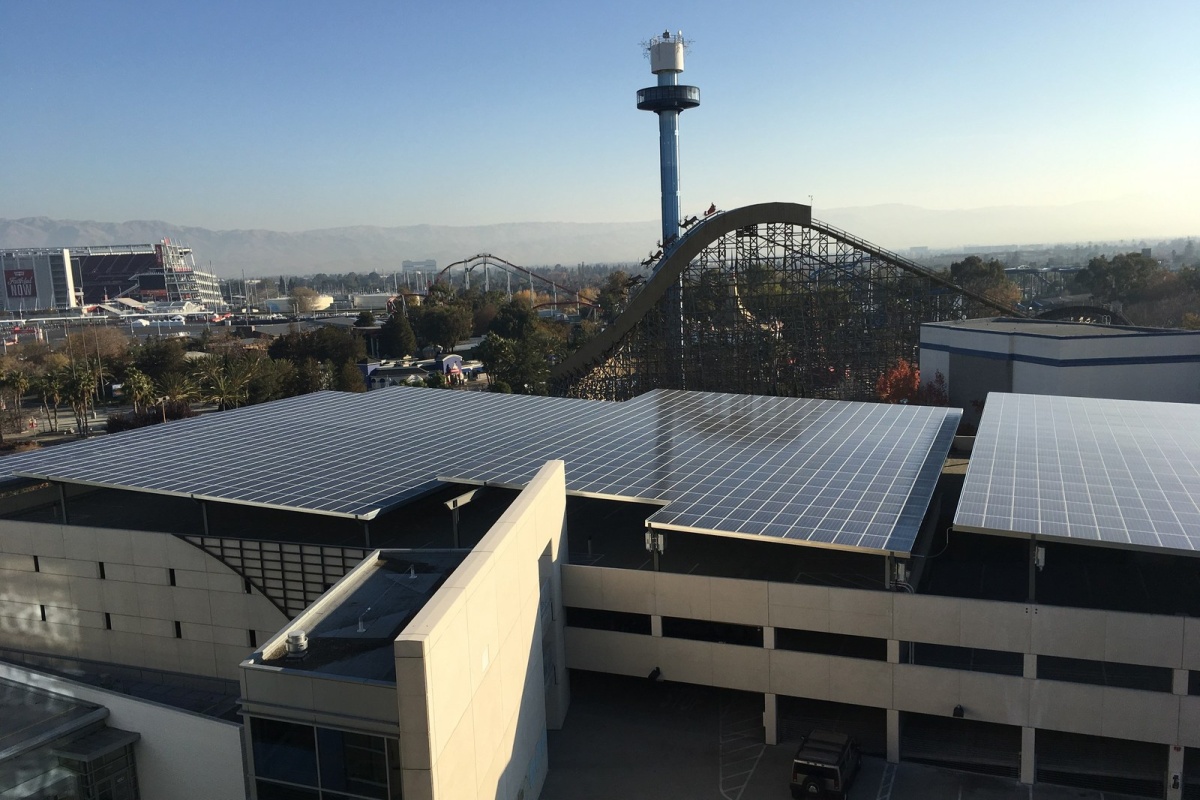 The solar parking canopy at The Towers at Great America
Installation of a 1.4 MW solar parking canopy system at the Towers at Great America in Santa Clara, California, has been completed.
The work, led by sustainable energy advisory and procurement services provider Alta Energy, will enable the class A office property to meet its goal of supplying 100 per cent of the building's energy requirement with renewable energy generated on-site.
It is reportedly the first building owned by an institutional commercial real estate investor to be included in the New Buildings Institute's registry of emerging and verified zero energy retrofit buildings.
The Towers at Great America comprises two six-storey office buildings with approximately 630,000 square feet of rentable space, two five-level stand-alone parking structures, and the 24,000 square-foot amenities building, which serves as a meeting area, café, and fitness center for tenants of the two office towers located adjacent to the site.
The solar parking canopies covering the upper levels of both parking structures total 1,388 kW in solar generating capacity.
These canopies were completed without a capital investment by the building owner, while generating incremental roof rent to benefit investors. These solar arrays will produce approximately 2.4 MWh of electricity each year, exceeding the amount of energy consumed by the amenities building and the parking structures.
"PGIM Real Estate is committed to incorporating sustainability into our real estate investment processes in a manner that benefits our investors, our building's occupants, and the communities that we serve," said David DeVos, director of sustainability for PGIM Real Estate, which advises the building's owners.
"In addition to electricity, the solar panels provide shaded parking on the upper decks of both parking structures. To further deliver high performing space to our tenants, the amenities building and parking garages each feature advanced energy technologies including LED lighting and advanced lighting controls, electric vehicle charging stations, and a plan to replace the HVAC with a high-efficiency unit, all of which contribute to the facility's emerging zero energy status."
Alta Energy worked with PGIM Real Estate and property management firm Harvest Properties to develop the solar project. Alta said its services included analysing energy bills, assessing the feasibility of a solar power system, securing an incentive from the local electric utility, and helping PGIM Real Estate select a renewable energy provider to finance, construct, and operate the system.
If you like this, you might be interested in reading the following:
Microsoft harnesses the Singapore sun
The deal is another milestone in Singapore's journey to grow the clean energy industry
The world's most sustainable office
The building's distinctive bronze blades can open and close, allowing the building to operate in 'breathable' natural ventilation mode
Altair and Candi collaborate on smart buildings
Users can aggregate live and historical data from HVAC, energy, lighting, temperature, air quality and other devices