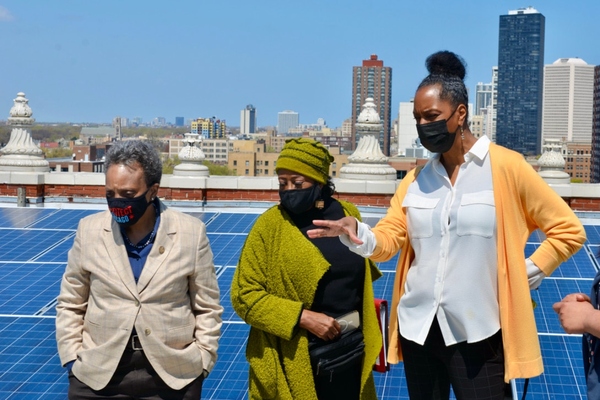 Lesley Showers briefs mayor and Blacks In Green founder Naomi Davis on GreenRise's solar
The City of Chicago has announced new strategic priorities to help shape its green economic and social recovery from the Covid-19 pandemic, and to reduce reliance on fossil fuels.
According to the City, a green recovery will significantly strengthen local communities, provide critical relief for residents, generate quality jobs as well as workforce development opportunities, and improve overall liveability.
Clean energy targets
Mayor Lori Lightfoot is advancing four strategies that will position Chicago to achieve its 2025 and 2035 clean energy targets and maximise local benefits to communities beginning first with those that are historically underserved.
"A significant portion of the emissions in Chicago are from the built environment," said Lightfoot. "That's why it is absolutely critical that we double down on our efforts to drastically reduce carbon emissions and invest in our local green economy.
"By creating and supporting more sustainable and equitable solutions for our city, we will be able to keep our communities healthy, provide residents with good-paying jobs and further ensure that our recovery from this pandemic is both equitable and inclusive."
"This is our opportunity to chart a path forward for an equitable climate future and to develop the deep hyper-local benefits that our neighbourhoods need now more than ever"
The four strategic pillars for Chicago's green recovery are:
Climate action plan: the City's forthcoming plan will identify strategies, in close coordination with community stakeholders, to equitably reduce emissions, achieve community-level climate adaptation, and chart pathways to a green recovery through providing high-quality jobs to residents
Building decarbonisation strategy: currently, buildings account for 70 per cent of Chicago's greenhouse gas emissions and the City must reduce energy consumption in buildings to meet our long-term climate goals. The City is developing an equity-focused building emission reduction strategy that lowers economic burdens on residents and businesses through energy efficiency, electrification, renewable energy, and innovation in new construction. This effort will lead to a significant step towards the City's commitment to the Paris Climate Agreement
Electricity franchise: for the first time in nearly 30 years, the City of Chicago reports it will renegotiate or replace its franchise agreement with a public utility to operate and manage the electric distribution system that serves residents and businesses. The next franchise agreement will ensure that in addition to delivering safe and reliable service, residents will benefit from increased programs that reduce household electricity costs and fight climate change
Renewable electricity supply: this year, the City will sign a new contract to power municipal buildings and operations with 100 per cent renewable energy by 2025, with at least half of the supply sourced from new renewable energy sources in the region.
"The exciting package of initiatives under the Green Recovery Agenda will drastically transform our energy system and spur new opportunities for a local green economy," said Angela Tovar, chief sustainability officer for the City of Chicago.
"This is our opportunity to chart a path forward for an equitable climate future and to develop the deep hyper-local benefits that our neighbourhoods need now more than ever."
Model retrofit
The announcement was made at ICA GreenRise, a historic building that is regarded as a model for high-efficiency retrofits and onsite renewable energy generation.
The eight-floor, 166,000-square-foot building is home to many, including two intentional residential living communities and 25 different non-profits and social service providers. For the thousands of Chicagoans who live, work, or visit the building for services, this investment improves air quality, health, and quality of life, the City claims.
Mayor Lightfoot was joined by Lesley Showers, chief operating officer of the ICA, and Naomi Davis, founder and CEO of Blacks in Green, two leaders driving the green recovery locally.
You might also like: