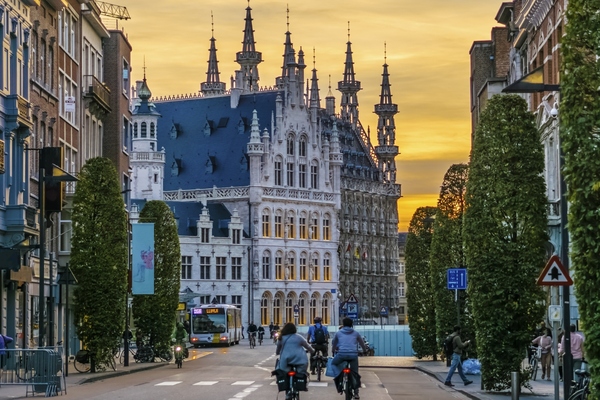 Leuven's model of radical cooperation aims to be a blueprint for other European cities
The European Commission (EC) has named the Belgian city of Leuven as the European Capital of Innovation.
The award recognises the city that best exploits innovation to improve the quality of life for its citizens and the municipality was praised for its ground-breaking collaboration model.
It receives a €1m prize funded under Horizon 2020, the EU research and innovation programme. The five runner-up cities were Cluj-Napoca (Romania), Espoo (Finland), Helsingborg (Sweden), Valencia (Spain) and Vienna (Austria), which each receive €100,000.
Collaborative innovation
Leuven is the sixth city to win the award and the third non-capital city after Barcelona and Nantes. It aims to become one of Europe's Labs of the Future through an operating model that facilitates collaborative innovation. Different groups of stakeholders come together, with the common purpose of innovating around complex challenges from climate change and the shift to a circular economy to ensuring high-quality education and care.
Leuven is not only providing increased opportunities for innovating to its citizens, but also actively involving them in testing their ideas in the city.
"Our innovation model goes beyond technological progress. Together with residents, organisations, businesses and knowledge institutions we are working every day towards a better future – for Leuven and far beyond," said mayor Mohamed Ridouani.
He added: "This type of in-depth cooperation is now being acknowledged and rewarded by Europe. By constantly reconnecting the many diverse forces in our city, the solutions of tomorrow first take shape here. Our mission is to lead the way towards a sustainable and prosperous future with and for everyone."
Leuven's key innovative projects and initiatives include:
Leuven 2030: more than 600 partners, including governments, knowledge institutions, companies, organisations and citizens, work together to develop and implement a climate transition strategy. This includes a roadmap on carbon neutrality, developed with more than 70 experts and a set of strategic experiments done in collaboration with the European Institute of Innovation and Technology's Climate-KIC which identifies levers across multiple domains (citizen engagement, governance, data and monitoring, finance) to unlock change. For instance, one experiment aims to rapidly scale up retrofit in one of Leuven's districts and achieve a lasting structural acceleration of residential renovations
Tomorrow: a Horizon 2020 project, which made Leuven a lighthouse for ambitious cities such as Niš and Dublin for the development of a city climate roadmap
Leuven MindGate:

an innovation ecosystem composed of companies, knowledge institutions and the government, which creates a breeding ground for talent, entrepreneurship and investments, and makes Leuven one of the world's prime regions for health, high-tech and creativity

Leuven, Co-Create!: the initiative launched an open call for citizens to submit their ideas on how to make Leuven a better place to live, work and play
The transformation of Leuven's Frederik Lintsstraat into a 'climate street' thanks to neighbourhood actions addressing sustainable homes, mobility, consumption and more
Leuven Helps: an online platform launched during the Covid-19 crisis, which connected residents in need with thousands of volunteers ready to help. Leuven was one of the first cities to set up a platform of this kind, later adopted by 280 cities around the world
Co-creating education: the citywide network, which aims to enhance equal learning opportunities and promote diversity, developed Leuven Learns during the Covid-19 crisis. The tool connects teachers, students, experts, and volunteers to facilitate the transition to e-learning.
"Leuven is a future laboratory for Europe. The solutions for the future happen here first and are tested here"
Ridouani described the iCapital award is a symbol of hope "for a better shared future", especially in these challenging times.
He added: "Our mission is to lead the way towards a just, sustainable and prosperous future. 'Innovate for the better and for all' is our motto."
Ridouani wants to strengthen the Leuven model as much as possible and aims to establish a City Transformation Academy to serve as an urban laboratory for the future.
He continued: "Leuven is a future laboratory for Europe. The solutions for the future happen here first and are tested here. We are a city of students, researchers, entrepreneurs and residents spanning 163 different nationalities. By constantly reconnecting these diverse forces in Leuven, the solutions of tomorrow take shape here. Our model of radical cooperation and engaged leadership can be a blueprint for other European cities."
You might also like: