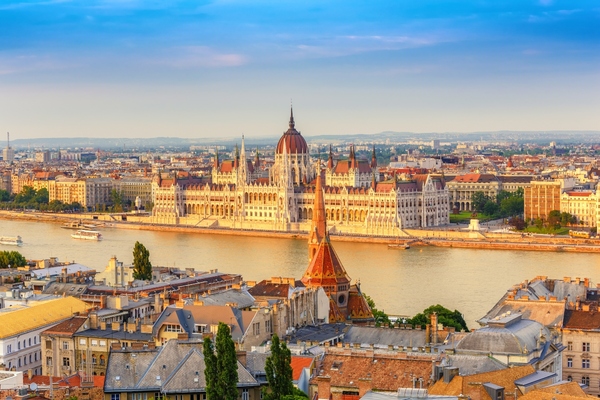 Budapest's mayor has become one of the first to sign the declaration
Oslo, Los Angeles, Mexico City and Budapest are initial signatories to the C40 Clean Construction Declaration and have pledged to halve emissions from all construction activities in their cities by 2030.
Through the targets in the declaration, city mayors pledge to revolutionise the global construction industry and shift it towards a more sustainable future, to achieve "a thriving, resilient and healthy life for everyone in our cities, especially our most vulnerable communities".
GHG emissions
According to C40, the construction industry, in its current form, is responsible for more than 23 per cent of the world's greenhouse gas (GHG) emissions and 30 per cent of global resource consumption. If the construction industry continues to take a business as usual approach, the world is on track for a global temperature increase of 3°C, C40 warns.
The declaration sets bold targets to develop the net-zero emission buildings and infrastructure of the future by:
reducing embodied emissions by at least half for all new buildings and retrofits by 2030
reducing embodied emissions by at least half of all infrastructure projects by 2030
procuring and when possible using only zero emission construction machinery from 2025.
Recognising that cities cannot tackle the climate crisis alone, the declaration places the circular economy as its core and calls for innovation and collaboration across cities, businesses, regional, national and supranational government and industry.
"The climate crisis affects every facet of our lives and every sector of our cities – that means we have to fundamentally change the way we operate across the board and revolutionise how we power our neighbourhoods, consume natural resources, construct buildings, commute, travel, and lead," said Eric Garcetti, Los Angeles mayor and C40 chair.
"With the Clean Construction Declaration, Los Angeles is doubling down on the commitments of our local Green New Deal – and all of the signatories are laying the foundation for sustainable communities, standing up the pillars of green jobs, and drawing the blueprint for a just, healthy, and equitable future."
"The climate crisis affects every facet of our lives and every sector of our cities – that means we have to fundamentally change the way we operate across the board"
The declaration commits cities to repurposing and retrofitting building stock to make better use of the buildings and infrastructure that currently exist, which also has huge potential to create new green jobs. Retrofitting reduces the need for raw building materials that have a high carbon footprint – concrete production alone is responsible for 8 per cent of the world's GHG emissions.
The mayors also commit to lead by example on clean construction, using their purchasing power and normalising the use of zero emission construction machinery, and demanding transparency and accountability in their supply chains. They aim to achieve this by embedding clean construction policies into design and planning, procurement and contracting processes, as well as building codes.
Finally, by signing the declaration, mayors promise to approve at least one net-zero emission flagship construction project by 2025 and to produce annual reports on their progress.
"Cities have a vital role to play in accelerating the built environment transition to net zero through policy, influence, collaboration and advocacy for climate action," added Nigel Topping, the UK's high level climate action champion, United Nations Framework Convention on Climate Change (UNFCCC) COP26.
"Committing to the Clean Construction Declaration is a step cities must take to fulfil this role and show leadership through dramatically reducing embodied carbon emissions from buildings and infrastructure. I implore all cities to commit to this declaration."
You might also like: