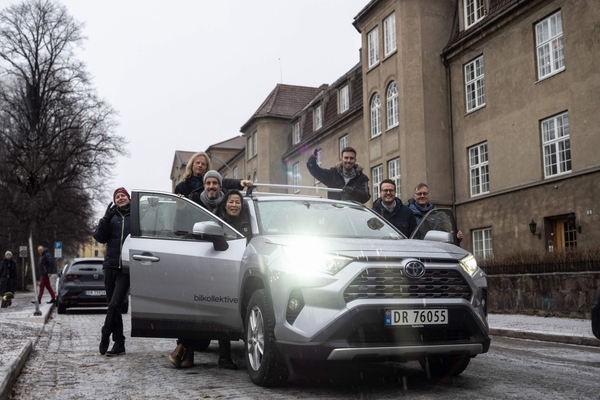 Bilkollektivet operates its car-sharing service in Oslo and Stavanger
Oslo's oldest car-sharing provider, Bilkollektivet, is collaborating with the German shared mobility specialist, Digital Mobility Solutions, to provide a more convenient and transparent service for both operators and its 11,000 users as well as provide a total package for Norwegian municipalities.
It will make use of the Aachen-based company's smart app MOQO, which digitally maps all the processes necessary for shared mobility both for the car-sharing provider and for the customer.
This ranges from information about the availability of vehicles, registrations and driver's licence validations to booking requests and billing processes through to services such as cleaning and recording damage or vehicle status.
Working cooperative
Bilkollektivet, a cooperative founded 25 years ago, has 603 cars operating in the Norwegian capital of Oslo and 15 cars in Stavanger. It works as a cooperative with members becoming shareholders when they join. Between 400 to 500 people register for the growing pool of vehicles monthly. They pay a monthly fee to use the car-sharing service and otherwise pay only the fees per booking. Fuel and tolls are included.
"Our mission is to offer an alternative to owning a car and to enable mobility with a non-profit car-sharing service. Everything we generate as a non-profit organisation is dedicated to expanding the vehicle fleet and providing even more benefits for members," said Morten Munch-Olsen, CEO of Bilkollektivet.
He characterises his co-op members as "people who have a genuine interest in reducing unnecessary journeys by car and the number of cars in the city".
Munch-Olsen chose to collaborate with Digital Mobility Solutions because of its modern system architecture and the user-friendliness of the app. In 2020, user numbers for the MOQO app grew by 100 per cent to more than 40,000 users across Europe.
MOQO will be available for Bilkollektivet from 18 January 2021. It wants to offer the total package – cooperative car-sharing with the MOQO app – to Norwegian municipalities not yet equipped for car-sharing.
Dr Michael Minis, managing director of Digital Mobility Solutions, sees MOQO as a central software building block for shared mobility solutions: "With MOQO, shared mobility offers are easily customisable. They also work for large vehicle fleets as will be the case in future with our partner Bilkollektivet in Norway."
He added: "MOQO is ideal for mobility concepts that are designed for growth and profitability for locally operating mobility initiatives as well as for municipal companies or internationally operating companies that have mobility as their business core."
The MOQO app also enables the sharing of other vehicles such as bikes and scooters as well as cars.
You might also like: