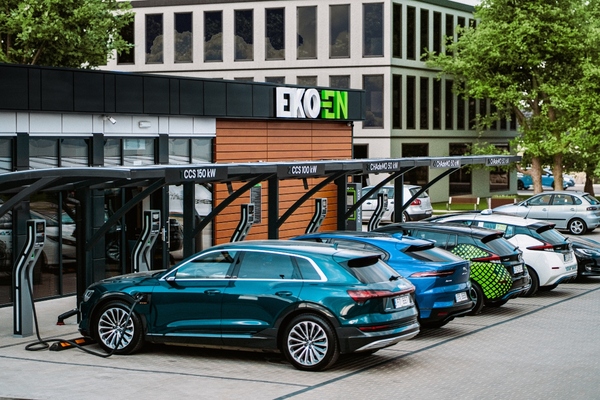 One of the Ekoen charging hubs in the Polish city of Zielona Góra
Following installation of the first electric vehicle (EV) charging hub in Zielona Góra city in Poland's Lubusz province, start-up Ekoen plans to deploy 100 new generation EV charging hubs across the country.
Ultrafast charge points
Each of the ultrafast charging stations will comprise of multiple fast and ultrafast charge points. The company claims it intends to place the comfort of the EV driver at the core of its charging network by providing open access, driver lounges open 24/7 and cafes.
"We are proud to announce the creation of a new network of charging stations [that are] true e-mobility hubs," said Bartosz Kubik, CEO of Ekoen.
"[The] E-mobility market is entering a new stage. Users will no longer accept a lone charger on a dark car park that is too often out of order and has no facilities to satisfy the most basic needs. I know, because I am this user, and that is why we created Ekoen."
The charging technology backbone of Ekoen comes from Ekoenergetyka-Polska, a manufacturer of charging infrastructure for electric buses, founded by Kubik.
"With our modular design we will adapt to the charging capacities of vehicles, growing the charging speed as their capacities to accept higher power grows"
Ekeon reports its association with the company will ensure its charging hubs will always be equipped with the latest charging technologies.
"When opening the first Ekoen charging hub in Zielona Góra at the beginning of 2020, we wanted to test a solution that would change attitudes towards electromobility, by putting the user of an electric car at the centre," continued Kubik.
"In 2020 we served almost 10,000 vehicles and now we want to bring it to the biggest group of them possible."
Ekoen claims its charging hubs will be key to accelerating electric mobility in Poland as well as in Europe, where EVs are mostly developing in cities, but where parking space for charging to serve the rising demand is in short supply. Providing charging not only for individual city dwellers, but taxis and last-mile delivery companies, will also be an important tool for cities' clean mobility transition.
"Building one Ekoen station on a new plot of land will 'save' up to one hundred spaces as we do not block city car parks," added Kubik. "With our modular design we will adapt to the charging capacities of vehicles, growing the charging speed as their capacities to accept higher power grows."
You might also like: