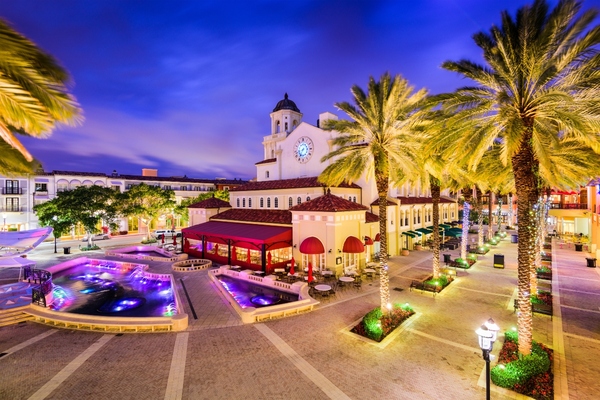 Rosemary Square in the downtown West Palm Beach is the focus of the pilot
The City of West Palm Beach, in partnership with Coord and real estate firm Related Companies, has launched its first ever Smart Zone pilot programme to better manage the city's kerbs.
This follows West Palm Beach's selection by Coord as one of four US cities to participate in the company's inaugural Digital Curb (kerb) Challenge to undertake an entirely new kerb management programme.
Walkable destination
In the heart of West Palm Beach, the City plans to use the Smart Zones to streamline the downtown area's commercial deliveries that serve the restaurants, retailers, cultural institutions, and other businesses and "build an even more walkable destination".
Writing in a blog post about the pilot, Doneliza Joaquin, programme manager, Coord, noted this would further improve on the momentum of the "dramatic streetscape improvements" West Palm Beach has made over the last year.
The pilot aims to build upon the recent switch to flex zones, rather than metered parking, in Rosemary Square as part of efforts to modernise the City's kerb management strategy and provide an enjoyable and safe public space for all users.
The Smart Zones, powered by Coord's technology, will enable commercial drivers to use the mobile devices they already use every day to locate nearby available loading zones and to hold, book, and pay for time in them. According to Coord, as a result, Smart Zones promote the economic vitality of commercial areas by making it easier for businesses to receive supplies and fulfil customer requests for deliveries.
"This new technology will help make our downtown streets safer for our businesses, residents and drivers and will make visiting Rosemary Square even more enjoyable"
While offering a more streamlined experience for drivers, Coord claims the seven zones can improve mobility for everyone visiting the downtown neighbourhood by reducing safety and congestion challenges, such as double-parking and blocked pedestrian access.
"As the county seat and region's economic driver, West Palm Beach is a vibrant, growing city that is committed to utilising the latest in technology," said Keith James, mayor of West Palm Beach.
"We are pleased to participate in Coord's new Smart Zones pilot programme to help improve the mobility experience for residents, visitors and our business community."