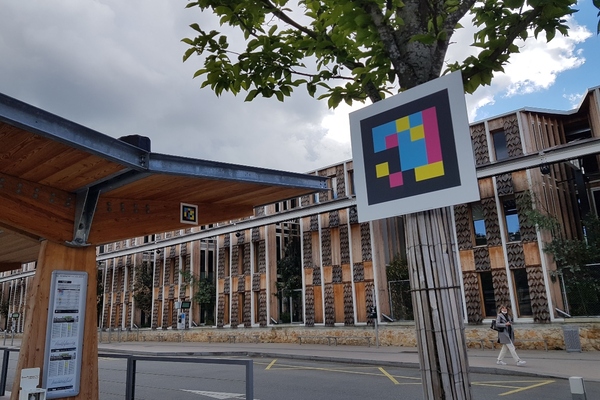 Users can capture the QR codes at distances and wide angles. Copyright: Keolis
An experiment to assess how a navigation app could help blind and partially sighted people become more independent when they travel is being carried out in Versailles.
Mobility specialist Keolis is working with Île-de-France Mobilités, the conurbation authority of Versailles Grand Parc, SNCF and the Valentin Haüy association – which acts on behalf of people affected by sight loss – to test the NaviLens app in the Paris region with a panel of visually impaired users until July 2021.
Connecting itineraries
This technology is being used for the first time in France along the itineraries that connect the platforms of Versailles-Chantiers station, operated by Transilien (SNCF), to the platforms of the bus station, operated by Keolis Versailles on behalf of Île-de-France Mobilités.
Already in use or undergoing trials on public transport networks in cities around the world, notably in Spain (Barcelona and Murcia) and the US (New York, Los Angeles and San Diego), NaviLens technology is based on image recognition using augmented QR codes, placed along designated customer itineraries, and a smartphone app that provides voice guidance for visually impaired passengers.
Patented technology makes it possible for the app's users to capture the QR codes at considerable distances and wide angles. Once the QR codes have been scanned, users can benefit from the help of the app's voice assistant to continue their journey. The voice assistant tells them how far away they are from the codes and the practical information those codes contain (description of a physical element, guidance indications, real-time arrivals of the next bus or train).
Interviews will be conducted with the passengers to assess the quality of the itineraries and collect their feedback on ease of use and the increased autonomy
NaviLens technology can also meet the mobility needs of passengers other than those affected by sight loss, such as tourists hampered by language barriers, or passengers unfamiliar with the area: the NaviLensGO app can transmit the information encapsulated in the QR codes in augmented reality, in 33 different languages.