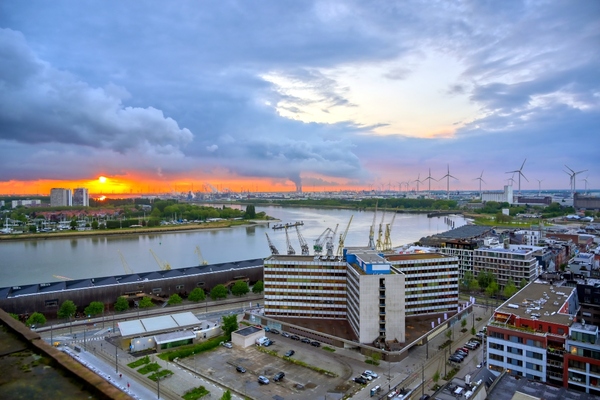 Port of Antwerp will function as a lighthouse port to demonstrate innovation
Greentech company Envision Digital is collaborating with the Port of Antwerp in Belgium to develop green port solutions to reduce greenhouse gas emissions (GHGs) and other gases in ports.
Port of Antwerp will function as a lighthouse port, hosting the majority of demonstration technologies and showcasing a real-life green port.
Pioneers project
The Portable Innovation Open Network for Efficiency and Emissions Reduction Solutions (Pioneers) project aims to rethink all aspects of port operations ranging from terminal operations, concession agreements, mobility, connectivity, fuels to models for cooperation and production, storage and use of energy.
Actions include: renewable energy generation and deployment of electric, hydrogen and methanol vehicles; building and heating networks retrofit for energy efficiency; implementation of circular economy approaches in infrastructure works; automation; and deployment of digital platforms to promote modal shift and ensure optimised vehicle, vessel and container movements.
The project will receive a €25m grant from the European Horizon 2020 programme and has a timeframe of five years starting at the end of 2021. The ports of Barcelona, Constanta and the municipality of Venlo, as fellows, will play an active role in maximising the transferability of the solutions and are engaged to implement best practices from the project.
"Net zero ports and net zero industry parks clearly constitute the next frontiers for decarbonisation"
This collaboration will use Envision Digital's EnO artificial intelligence and IoT (AIoT) technology to build a port digital twin, modelling, simulating, optimising, and monitoring port activities, including logistics, maintenance, traffic and energy consumption. Harnessing both AI and IoT, the digital twin will integrate with other innovations at the Port of Antwerp, and focus on CO2 emissions, portal logistic multimodal asset flows and portal people flow.
In addition, Envision Digital will implement a complete intelligent energy management system (iEMS) with monitoring and optimisation for the Europort terminal in the port. The AIoT software will optimise and control smart charging of a battery energy storage system (BESS) in connection with local grid metering and installed wind turbines, in order to optimise electric vehicle charging, maximise green energy self-consumption and decarbonisation.
Envision Digital's AI-based forecasting capabilities will also be leveraged to anticipate electricity demand and supply, as input into the overall electric system optimisation.
"Envision Digital is thrilled to support ambitious multi-dimensional optimisation of the port activities to drive better performance while reducing emissions," said Sylvie Ouziel, international president, Envision Digital. "Net zero ports and net zero industry parks clearly constitute the next frontiers for decarbonisation, and we are quite excited to be pioneering and partnering, in those spaces, together with prominent consortium members."
You might also like: