Join Sarah Wray, Editor at SmartCitiesWorld and Here Technologies as they discuss how public and private sectors must adapt and collaborate to achieve smarter cities.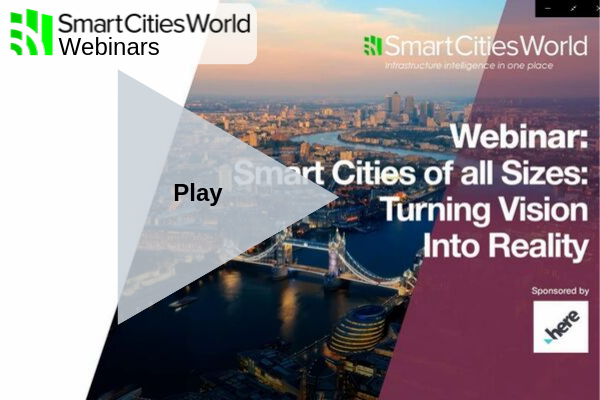 Private sector companies have been discussing the promise of smart for years. Public sector leaders have been increasingly curious to learn how to actually implement them. Both now come together around the realization that a one-size-fits-all approach does not work. The user experience, not individual technology products, should be central to the adoption of smart cities. This necessitates an approach as unique as each city itself. In order for the promise of smart cities to become reality, it is essential – now more than ever – for governments to directly engage private sector technology companies to begin to lay the groundwork for what their city needs.
Innovation and excellence leaders from HERE Technologies will outline what governments can do to make their cities smarter by balancing their goals and constraints with their vision for smart cities. This includes weighing the reality of cost cutting, phased investment, measuring the right indicators, and setting bold yet attainable goals to bring smart cities online. Topics will also include:
The current state of smart city technology and implementation, innovative trials, and practical tips to achieve smart city solutions
How cities like Chicago are testing new solutions to combat weather events, an influx of delivery vehicles and more
The platform-based support structure needed to usher in transformational change
Speakers:
Shobhit Jain, Director of Product Innovation at HERE Technologies

Shobhit Jain is Director and Head of Innovation within Product organization at HERE Technologies. He steers a team of highly passionate innovators and dreamers who engage customers and partners to identify market opportunities and next generation location-based solutions that bring long term value to HERE and its partners.

Shobhit brings 15 years of product leadership experience to HERE. Most recently, he served as Senior Director of Location and Data product development at Conversant. Prior to that, he led Gogo's next generation platform, Connected Aircraft Services, transforming the business from a connectivity provider to an aviation ecosystem enabler.

Yao Li,Senior Product Innovation Manager, HERE Technologies

Yao Li is a senior product innovation manager in charge of growth strategy and high potential customer engagements. Yao has 15 years of experience in engineering, portfolio management, corporate strategy, product management, and business planning at IBM and Hitachi. She was part of the original IBM Cloud innovation team as well as multi-core development tools.

Yao holds a Master of Business Administration from Harvard University and a Master's in Computer Science from MIT, concentrating in Artificial Intelligence.

Sarah Wray, Editor at SmartCitiesWorld

Sarah has many years of experience as a B2B journalist and editor, specialising in technological innovation and its impact in cities.