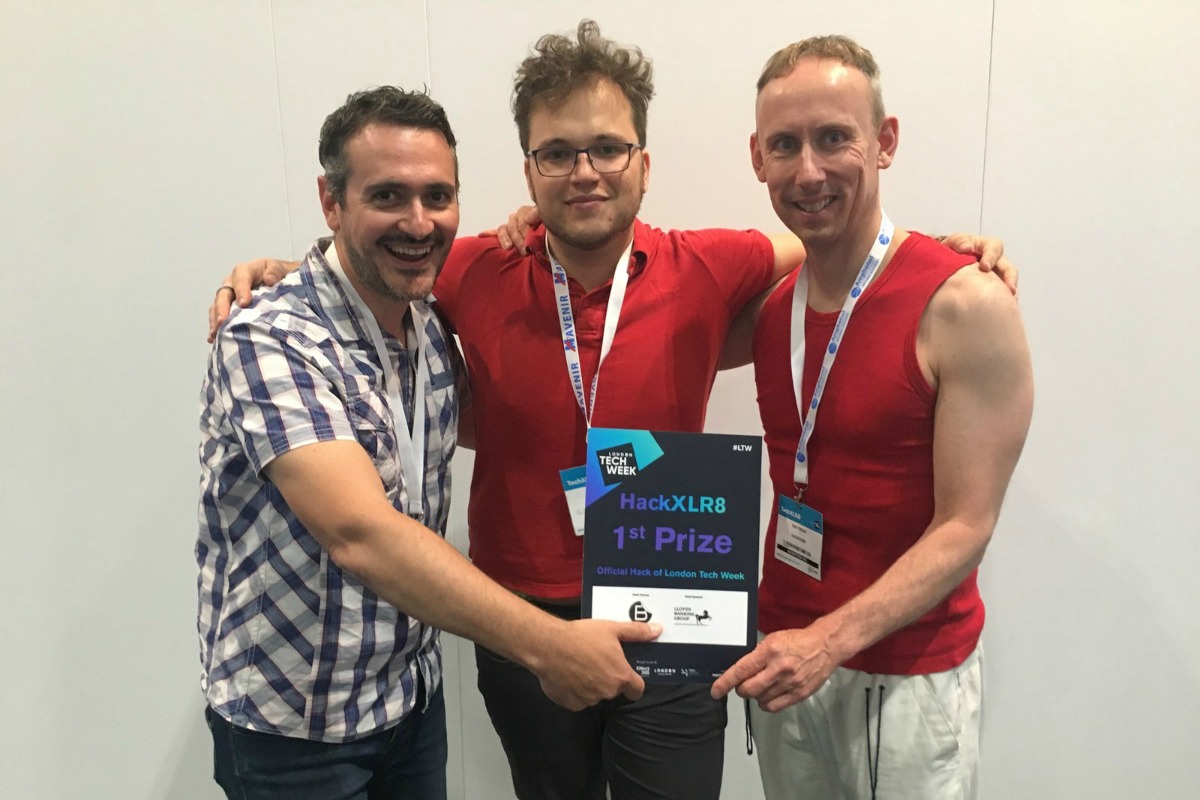 Frank Vitetta, Alessandro Francia and Rob Finean who won the Tech Week hackathon
AIRMove has picked up first prize at London Tech Week's hackathon for a solution that uses crowdsourcing to detect air pollution.
The smart Internet of Things (IoT) device collects and stores air quality data against location coordinates. The device could be fitted onto a bike or bus, as a stand-alone device, or part of a different system.
According to AIRMove, invisible pollution kills about 9,000 people every year in London. During the hackathon, the company discovered that it is extremely expensive for any city to install and maintain air quality sensors across the city with each device currently costing more than £1,000. They also need regular maintenance.
During the two-day event, team members Frank Vitetta, Alessandro Francia and Rob Finean put together a low-cost device using off-the-shelf parts bought online.
Rob Finean built a prototype using a particle detector and a hardware development board with an Arduino chip and Bluetooth, all for less than £50. Alessandro Francia built a mobile app using Reactive Native that displayed the data collected by the sensors on a Google map.
"We need help from TFL and the Mayor of London to help us to bring this idea to life," said Vitetta, who is also co-founder of smart office furniture business, modoola. "We know that citizens care about air pollution and there simply aren't currently any sources of information for real-time updates."
"If we could use the Santander bike fleet to start with, we could collect an immense amount of data that we could save lives."
AIRMove reckons the applications for the device are endless. Property search engines could use the data to display ozone levels as an additional data point to property buyers or renters. Mobile navigation apps like city mapper could also display the less polluted route to work.
If you liked this, you may wish to view the following:
Call for clean air technology
Department for Environment, Food & Rural Affairs (Defra) has finally published the consultation on its new UK Air Quality Plan
smartcitiesworld.net/news/news/call-for-clean-air-technology-1659
Tech firms partner to provide air pollution data
Moovit's public transport app encourages commuters to stay "pollution aware" as they travel
smartcitiesworld.net/connectivity/connectivity/tech-firms-partner-to-provide-air-pollution-data
CleanTech hub for Los Angeles
City authorities have joined with Los Angeles Department of Water & Power and Los Angeles Cleantech Incubator to focus on green innovation
smartcitiesworld.net/news/news/cleantech-hub-for-los-angeles-1001