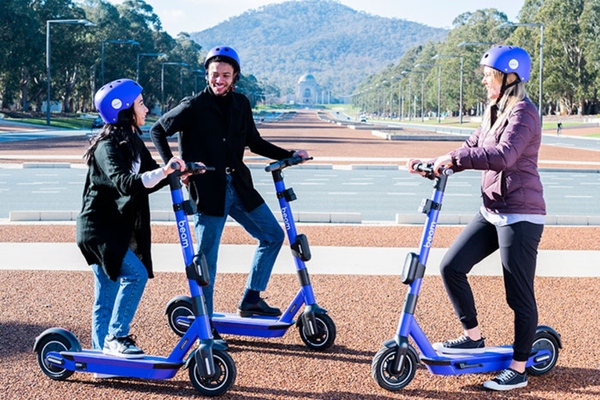 A maximum of 1,200 e-scooters will be made available in Canberra
Australian capital city Canberra will introduce an e-scooter shared scheme, next month, after the ACT Government partnered with two providers to roll out the public e-scooter network.
Micro-mobility policy
Last month, the ACT ((Australian Capital Territory Government) released a dockless shared micromobility policy and guidelines which set out expectations for the operation of a high-quality e-scooter scheme. The policy established a competitive expression of interest process to allow for two operators to be selected to operate up to 750 devices each.
The shared scheme will be run by Beam Mobility and Neuron Mobility, two companies in the ACT.
"I would like to congratulate e-scooter providers Beam Mobility and Neuron Mobility for successfully securing permits to help Canberra join other cities around the world in introducing an e-scooter share scheme," said Chris Steel, minister for roads and active travel, ACT.
"We anticipate this new form of travel will be popular with Canberrans but also tourists exploring the capital."
The e-scooters are expected to be available to rent in the city, inner north, inner south and at least one other region. The National Capital Authority and the Australian National University (ANU) have also approved the use of e-scooters in the Parliamentary Triangle and on ANU campuses.
"We anticipate this new form of travel will be popular with Canberrans but also tourists exploring the capital"
Beam and Neuron will also introduce a virtual boundary system called geofencing to help stop inappropriate parking and speeding.
Permits will specify where the e-scooters can be parked. The general principles on parking e-scooters and other personal mobility devices include:
Not parking the device on roads, within 10 metres of a roundabout, traffic island or pedestrian crossing
Not parking the device within five metres of a bus stop (except where designated), steps, ramps, public toilets or building access points
Not parking the device in bus interchanges (except where designated) or in light rail stops.
Both e-scooter operators will be required to ensure their devices are routinely cleaned, supply hand sanitiser (where possible) and provide information to riders about safe hygiene practices.
Every person riding a bike or a personal mobility device in the ACT, like an e-scooter, must wear a helmet.
Beam Mobility is a micro-mobility company based in the Asia-Pacific with operations in Auckland, Christchurch, Bunbury, Seoul, Kuala Lumpur and Taipei.
Neuron is an e-scooter operator in Australia and New Zealand. Founded in Singapore in 2016, the company operates in eight locations including Brisbane, Darwin, Adelaide and Auckland.
You might also like: