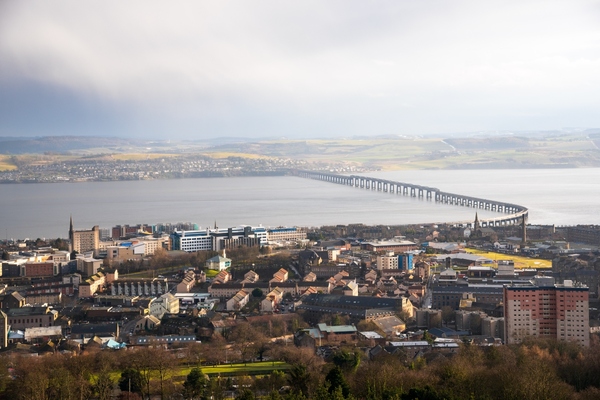 Dundee is the first local authority in Scotland to use the ClimateView platform
The Scottish city of Dundee is digitising its climate data in a bid to speed up climate action and reach its goal of net-zero emissions by 2045.
It will be using the ClimateView software platform that is designed to help cities live up to their pledges of becoming carbon neutral.
By setting up a clear visualisation of the city's climate action plan, ClimateView will help refocus the way it views, analyses, and reduces emissions acting as an empirical foundation for decision- and policy-making.
Climate emergency
In June 2019, Dundee City Council declared a climate emergency, joining more than 1,700 local governments in 30 countries in recognising the serious and accelerating environmental, social, and economic challenges posed by climate change.
Dundee will be working together with ClimateView to live up to its commitment of becoming carbon neutral by 2045 faster and more efficiently than previously possible. Having launched its Climate Action Plan last December, the ClimateView platform will provide the city of Dundee with a coherent structure for the visualisation of its climate data, including the current CO2 emissions per sector, proposed and approved policies, and indicators of the progress made.
Digitising this information with the help of ClimateView and making it accessible to the relevant stakeholders will centralise the activities of all parties within the Dundee Partnership (made up of public, private, and community organisations from across the city), and facilitate the wide-scale collaboration required to significantly speed up progress and help the city reach its goal.
In addition, this digitisation allows for the impact of policies and actions across different sectors to be evaluated, such as decarbonising transport, increasing renewables, and improving the energy efficiency of buildings. This, in turn, will enable the implementation of carbon reduction targets within the city based on scientific rigour rather than hunch-based logic.
"The community, private and public sectors have worked incredibly hard to co-design the plan and they will all play a central role in implementing this next step"
"Dundee's Climate Action Plan provides the foundation for a green recovery, however, there is still much work to be done," said Dundee City Council Leader, councillor John Alexander. "This transition can only be achieved with concerted city-wide effort and the ability to accurately measure and monitor emissions reductions from carbon-saving actions is vital to keep us on track.
"The community, private and public sectors have worked incredibly hard to co-design the plan and they will all play a central role in implementing this next step. For this reason, we are delighted to be making use of ClimateView's software platform to ensure that we can collaborate effectively and accelerate our city's progress."
Actionable solutions
The Swedish greentech company ClimateView is trying to reinvent the way society works with the climate challenge by harmonising climate data together with actionable solutions to lay the groundwork for decision-making and cross-party collaboration.
"Among the world's cities the goals are clear and the will to take action is there, but things are moving too slowly as most lack the tools and strategic capacity to actualise their climate plans," said Tomer Shalit, ClimateView CEO and co-founder.
He added: "Having already gained traction in a number of cities across the globe, we are thrilled that Dundee has become the first local authority in Scotland to deploy the ClimateView platform, as this marks yet another significant step in our mission to facilitate global carbon neutrality."
You might also like: