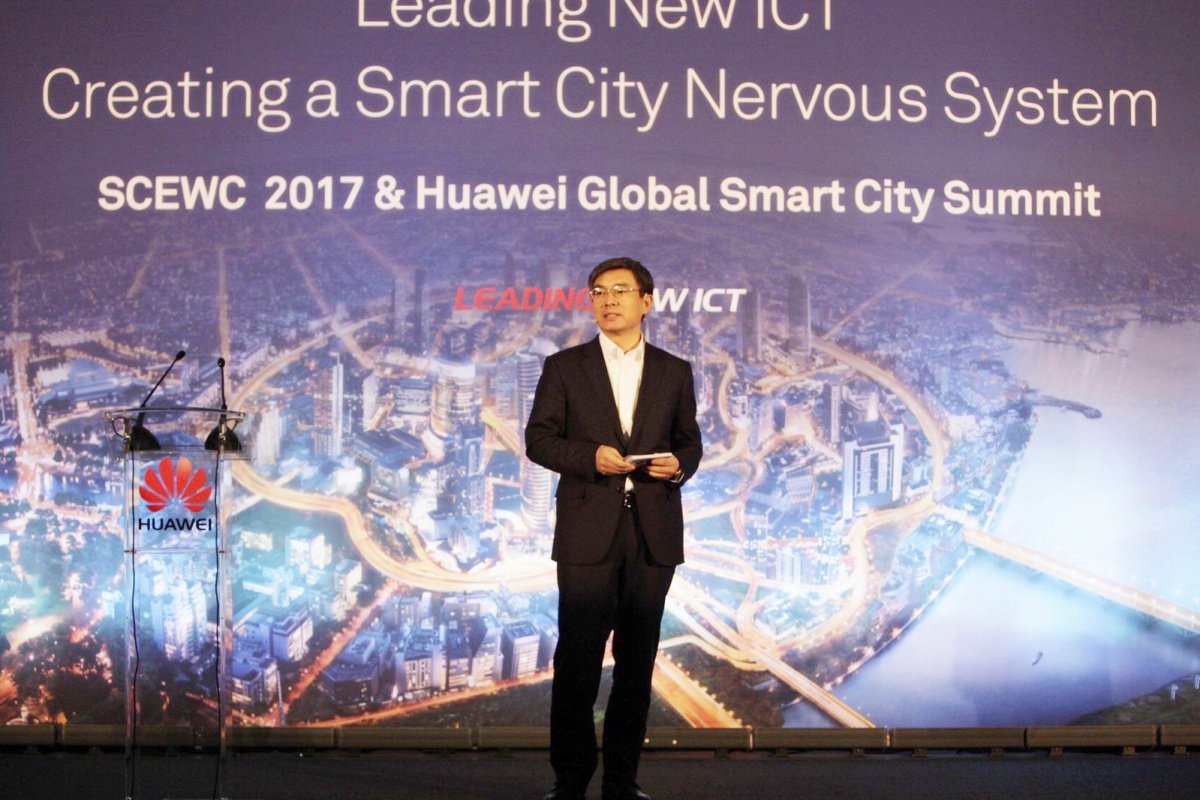 Lida: "Huawei is committed to creating a strong nervous system that powers smart cities"
Huawei is looking to build the "nervous system" of smart cities by using new information and communications technology (ICT) including cloud computing, big data, Internet of Things (IoT), and artificial intelligence (AI).
Under the theme of "Leading new ICT, creating a smart city nervous system" at Smart City Expo World Congress (SCEWC17) in Barcelona, the company said it is highlighting how a smart city can be like a "living organism" that works seamlessly to continuously learn and enhance the city's services.
Together with its global partners, Huawei is demonstrating joint ICT solutions to connect the digital and physical worlds across city administration, public services, and industrial economies.
According to Huawei, these solutions drive unified coordination, cross-sector collaboration, and intelligent analysis for effective management of city services
Huawei said a smart city is like a living organism powered by a nervous system. The city's nervous system comprises a "brain" [the control centre] and "peripheral nerves" [the network and sensors], gathering real-time information about the status of the city, transmitting the data, enabling the "brain" to analyse and make informed decisions, delivering feedback commands, and ultimately carrying out intelligent actions.
"This creates a seamless link between the physical and digital worlds. Leveraging leading new ICT such as cloud computing, IoT and AI, Huawei is committed to creating a strong nervous system that powers smart cities," said Yan Lida, president of Huawei enterprise business group.
"With our innovations and investment in various technologies, we develop an open platform for smart cities, which is compatible with various devices and supports a wide range of applications."
During the Global Smart City Summit hosted by Huawei, the company introduced the intelligent operation centre (IOC), a solution that functions as the "brain" of the smart city, connecting the digital and physical worlds.
The underlying infrastructure of the IOC comprises distributed cloud data centers and ubiquitous city networks that collect, integrate and share city information, enabling real-time visibility of the city. The IOC uses an integrated communications platform (ICP) that enables intelligent collaboration across city functions and emergency dispatch of all services.
By using big data, machine learning and AI technologies, the IOC delivers valuable insights to facilitate city planning and management of vital services such as transportation and security.
Becoming a smart city involves the digital transformation of a city to address challenges in the physical world, said Huawei. This demands data-driven systems that combine management and IoT data to help authorities manage the city and enable the physical and digital worlds to be integrated.
Smart city development requires a fundamental change to city administration and for the development to flourish it needs to be a priority for the government. In addition, there must be a strong and capable smart city project team, long-term and stable investment, and city leaders need to partner with a leading digital provider that can facilitate the transformation.
If you enjoyed this, you may wish to view the following:
Check out the latest news from Smart City Expo World Congress 2017
at our dedicated hub
Bristol overtakes London as the UK's smartest city
Index shows forward momentum in the UK smart cities movement since first Index published 18 months ago
Huawei, cheerleader for Europe
European Innovation Day in London re-affirms Huawei's commitment to Europe
Huawei and University of Edinburgh sign partnership deal
Joint lab for distributed data management and processing to open