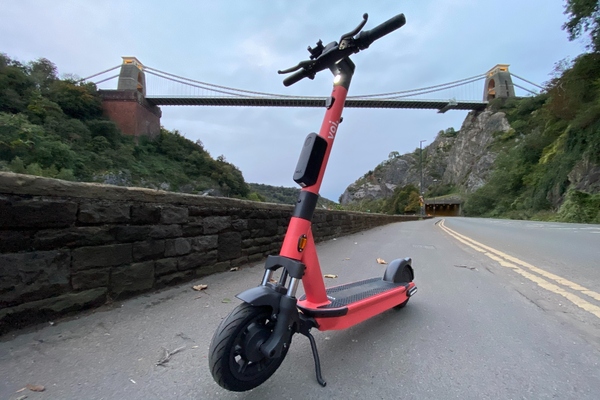 Initially, there will be 100 Voi scooters available to hire in Bristol and 50 in Bath
The UK cities of Bristol and Bath are launching an e-scooter rental trial.
The project is being led by the West of England Combined Authority (WECA) with Bath and North East Somerset, Bristol and South Gloucestershire councils.
It is the latest pilot project to be announced in the UK following the Department of Transport's move to pass new legislation to accelerate the deployment of e-scooter trials across the UK.
It will be operated by e-scooter and technology provider Voi, which is running programmes across 10 UK local authorities. It claims the trial will create more than 60 jobs in the region.
Low-carbon travel
Initially, there will be 100 Voi scooters available in Bristol and 50 available to hire in Bath with more set to be introduced. They will be available to unlock for £1 and cost 20p per minute.
"With social distancing in place on public transport, our e-scooter trial is a chance for us to try a new, low-carbon way to get our region moving, particularly up and down the big hills we have both Bristol and Bath," said West of England mayor Tim Bowles.
He added: "Alongside metrobus, our transformational MetroWest rail network and plans for a regional mass transit, we're making it easier to get to the jobs and training opportunities that will secure our recovery."
In a statement, WECA and Voi said they will continue to work closely with groups representing vulnerable road users – including the RNIB, Age UK and Disabilities Move UK – to ensure their needs are carefully considered during the trial.
Bowles said: "We will be introducing e-scooters gradually across the region, working closely with Voi, our councils and Avon & Somerset Police to ensure that e-scooters are used responsibly."
During the trial, Voi will hold weekly safety pop-up events where ambassadors will be on hand to answer any questions about how to use the scooters safely, as well as hand out free helmets for riders to use on their journeys. All new riders are encouraged to complete Voi's digital e-scooter traffic school via the link #RideLikeVoila.
"These options are more important than ever during the pandemic with reduced capacity on public transport and will contribute to a more sustainable and connected future for Bristol"
Trials in the UK are strictly governed by a set of core rules and privately owned e-scooters remain illegal to use on roads, pavements, parks and any other areas. Only e-scooters that are hired or leased through the West of England's trial can be used legally on roads, cycle lanes or cycle tracks and riders must hold a full or provisional driving licence.
In addition, Voi claims the trial will introduce several safety measures which exceed the UK government's requirements, including:
Initially, scooters will not exceed 10mph and will be slower in some areas. until people get used to them
Using GPS technology, there will be no-ride zones and slow-speed zones for some areas
When a user travels out of the operational zone, they will be blocked, and the e-scooter will slow and stop
All e-scooters will have clear number plates to help identify riders.
Driving licence and identity checks will be required
Voi ambassadors will be present on the streets to enforce safe behaviour.
Ambassadors will work with Avon and Somerset Police to restrict or ban non-compliant users
Scooters will feature copper tape on the handlebars, which reduces the risk of contamination by viruses and bacteria
All scooters will be disinfected every 24 hours, and Voi will provide Covid-19 advice and information via the Voi app.
Marvin Rees, mayor of Bristol, said proposals were made to government more than two years ago to trial e-scooters in Bristol. "E-scooters are a great way to travel and will provide a low-emission option in Bristol, alongside our improvements to buses and walking and cycling routes across the city and plans for a mass transit system," he said.
Rees added: "These options are more important than ever during the pandemic with reduced capacity on public transport and will contribute to a more sustainable and connected future for Bristol."
There are also a variety of subscriptions available, as well as discounted passes for students, key workers, and those on low-incomes. Riders can download the Voi app for free in the Apple App Store or Google Play.
Voi operates across 10 UK authorities, having launched in the UK in July 2020. Across Europe as a whole, Voi claims it operates in 45 cities across 11 countries.
You might also like: