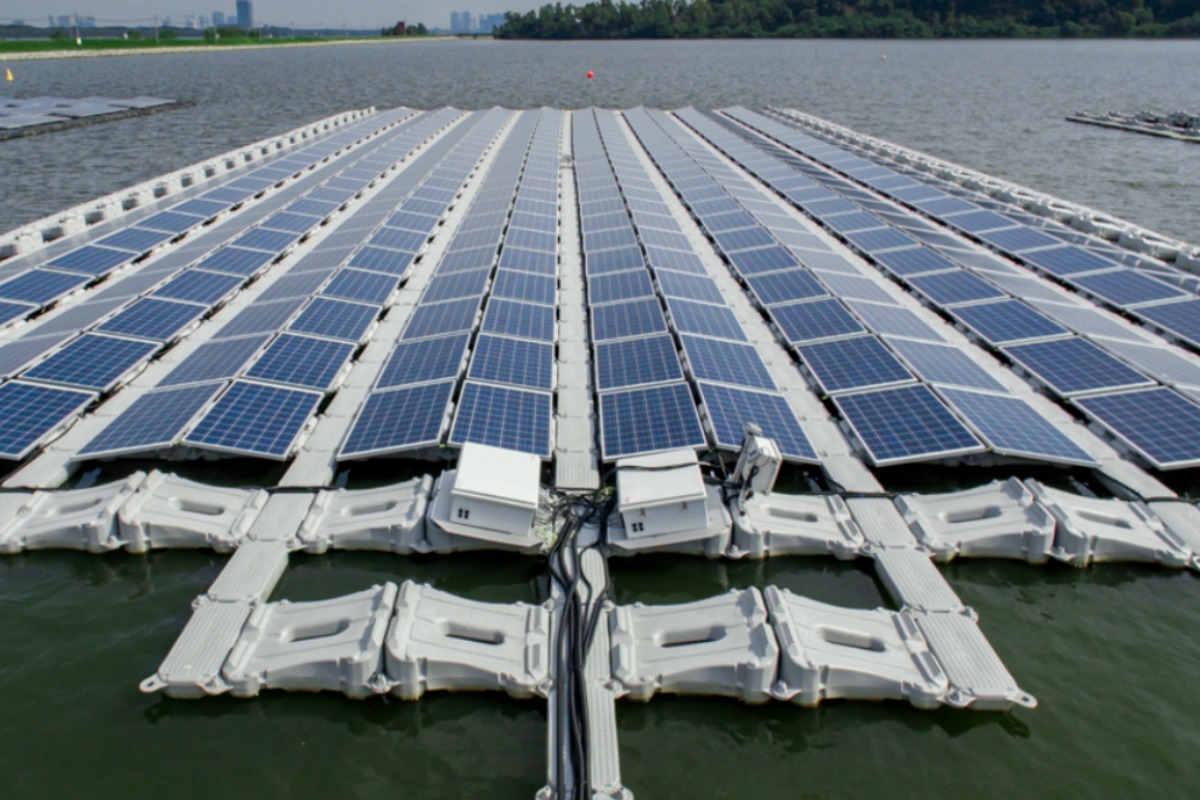 The floating test-bed measures one and a half football pitches
Swiss power and automation group ABB has delivered critical components for a one megawatt floating solar photovoltaic system in west Singapore.
The 100 kW of TRIO-50 solar inverters have been supplied to Phoenix Solar, one of several system integrators for the project. Additionally, ABB low-voltage molded case and miniature circuit breakers protect the electrical circuits on the water.
The energy generated from the testbed will be fed into the national energy grid, providing electricity for up to 250 households
"We are proud to support this important project in Singapore with our technological expertise and domain knowledge," said Tarak Mehta, president of ABB's Electrification Products division.
"This project is perfectly aligned with our next level strategy around the energy revolution and is an important step in collaborating with partners to bring more renewables into the future energy mix."
In Singapore – a country with an area of only 719 square km and a population of 5.6 million – high average annual solar irradiation of about 1,500 kWh/m2 makes solar an attractive source of renewable energy. Floating solar platforms will be naturally cooled by the surrounding water, which increases the efficiency of the energy yields significantly, said ABB.
A study has found the natural cooling effect of the water beneath the solar cells makes them up to 11 per cent more efficient than solar panels placed on land. In a synergistic effect, the floating platform helps reduce evaporation of the valuable water.
Located in the Tengeh Reservoir in west Singapore, the one hectare installation features multiple solar solutions from providers to study the performance and cost-effectiveness of floating solar platforms.
If you liked this, you may wish to view the following:
Italian firm to build 320MW solar facility in Tunisia
Order includes all engineering, procurement and construction activity, with the supply of photovoltaic modules and inverters
smartcitiesworld.net/news/news/italian-firm-to-build-320mw-solar-facility-in-tunisia-1516
The Moapa Southern Paiute solar project is commissioned
The energy project creates a template for other tribes to follow
smartcitiesworld.net/news/news/the-moapa-southern-paiute-solar-project-is-commissioned-1493
Nevada solar plant goes online
Boulder Solar is one of 43 diverse renewable energy projects that are helping to meet the electricity needs of NV Energy customers
smartcitiesworld.net/news/news/nevada-solar-plant-goes-online-1385