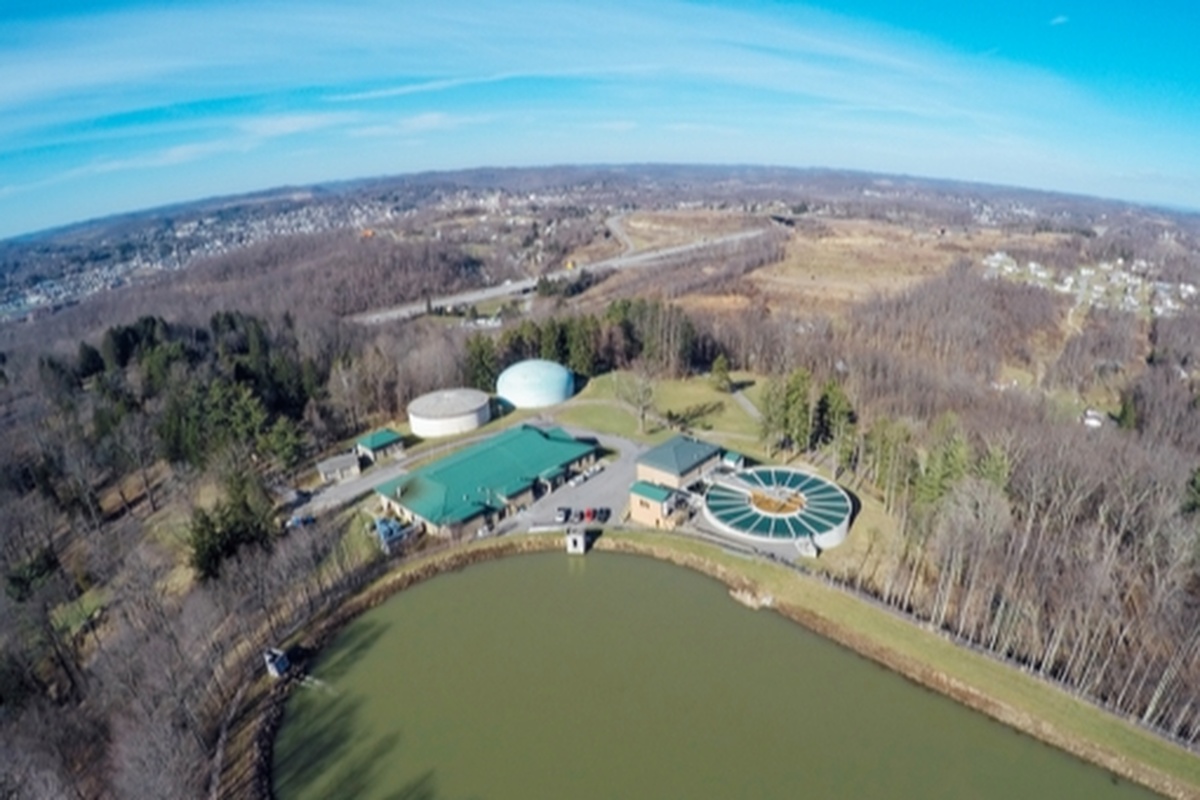 Aerial view of the filtration plant in Fairmont, West Virginia
The City of Fairmont Utilities has deployed iPERL water meters and an advanced metering solution from Sensus to reduce excess water usage by 25 million gallons per year.
Being a college town, the city experiences a high turnover of residential move-ins and move-outs which put a strain on the city's water utility resources.
"We serve many rental properties and apartments, so there's a lot to manage in terms of monitoring customer usage and handling inactive accounts," said Mark Moore, utility controller, City of Fairmont Utilities. "Additionally, it can be challenging to keep non-revenue water to a minimum while ensuring the best possible service to our customers."
The utility knew it needed a better system to monitor its 14,500 water meters and turned to Sensus, a Xylem brand, to put plans for a smart water system into action. After a thorough evaluation process, the utility determined that the Sensus AMI solution featured all the capabilities they needed to tackle non-revenue water and meet customer needs.
The company initially installed 6,500 Sensus water meters covering its two largest routes along with commercial meters, with the intention to roll-out the full solution over a five-year period. However, the benefits were realised so quickly the utility decided to shorten the implementation. "We went in and installed the rest of the meters right off the bat," said Moore.
The City of Fairmont Utilities AMI solution included 14,500 Sensus iPerl residential meters and a combined 200 OMNI Compund and OMNI Turbo commercial meters. The utility bolstered its deployment with Sensus FieldLogic and regional network interface (RNI) software, delivered via the Sensus software-as-a-service (SaaS) platform. Finally, the Sensus FlexNet communication network and Sensus Analytics served as the backbone of the utility's smart water network, enabling Moore and his team to remotely monitor water usage and increase billing accuracy.
Since launching, City of Fairmont Utilities has achieved more than 99 per cent accuracy in its meter readings while saving $30,000 a year by reducing non-revenue water, improving billing accuracy and enhancing overall system performance. Additionally, the utility has notified nearly 3,000 customers of leaks or issues with continuous usage since deployment, helping customers reduce excess water consumption by an average of 25 million gallons per year.
"With time saved on meter readings and billing, we've diverted those staff resources to an ongoing data and meter testing program," said David Sago, utility manager, City of Fairmont Utilities. "This initiative will help us ensure accuracy and great customer service for years to come."
If you like this, you might be interested in reading the following:
Iowa utility deploys Sensus FlexNet system
Three-year project is said to represent one of the company's largest communication system deployments in the US
Monroe city opts for Sensus smart water system
Using the technology, technicians can access real-time data that enables them to detect the source of water leaks in seconds
Sensus integrates PTC's ThingxWorx
The two sides hope the integration will help customers to turn their vision for a connected community into reality