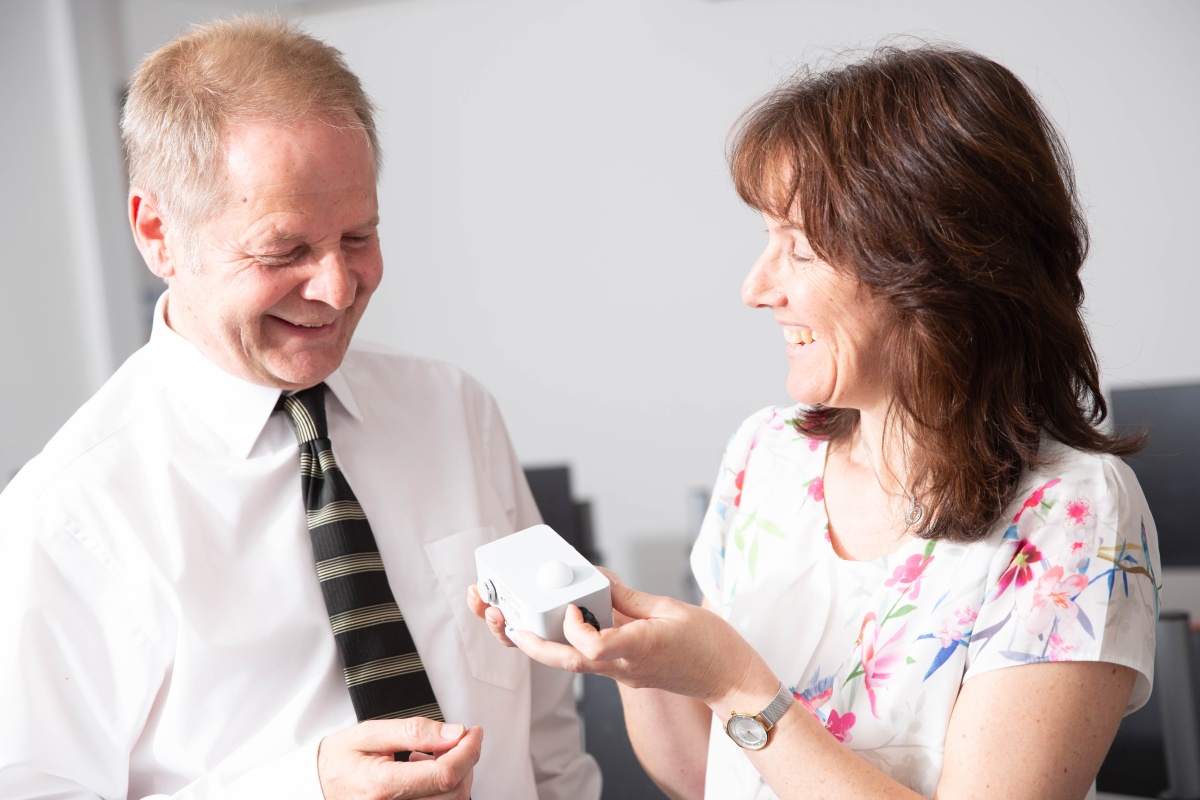 Cross Keys planning manager, Aidan Dickson, and Rebecca Stephens, city manager, CityFibre
Peterborough's largest social housing landlord, Cross Keys Homes (CKH), has undertaken a trial to explore how a network of sensors could monitor health, safety and environmental factors as well as deliver cost-savings and reduce its carbon footprint.
CKH partnered with fibre infrastructure provider CityFibre for the trial, which took place at three residential locations across the UK city.
CityFibre is currently investing more than £30m to deliver Peterborough's city-wide full fibre network through its strategic partnership with Vodafone.
Real-time data
The network of sensors transmit real-time data back to a network of antennas, which were connected to CityFibre's full fibre network in the city. The organisations also worked with Comms365, a network services company specialising in Internet of Things (IoT) sensor networks and applications.
The sensor technology was deployed to evaluate its potential in a number of scenarios. Sensors were used to effectively monitor humidity and condensation to improve the comfort of tenants while reducing the need for damp treatment or repair.
Environmental sensors were also used to address wasted heat in communal areas, contributing to reduced carbon emissions and lower energy bills.
Noise sensors also delivered further benefit by monitoring unauthorised activity in vacant properties, while parking sensors alerted staff to illegal parking in front of emergency exits.
"As an innovative organisation we are ambitious to explore Peterborough's smart city potential even further"
This real-time data enabled CKH employees to act promptly, ensuring improved tenant safety and security. Additional sensors also were also used to monitor levels in water tanks and detect fire risks such open fire doors, allowing for swift remedial action.
"At the beginning of the trial we could never have anticipated just how many uses and benefits the IoT technology would uncover," said Claire Higgins, chief executive at Cross Keys Homes. "We have been able to identify new ways to ensure our homes are comfortable, safe and green by addressing condensation, security, fire risk and energy waste, which in turn has led to significant cost and efficiency savings."
She added: "The potential for this technology to transform operations for other housing providers and different public services is immense. We are thrilled to be trialling IoT in one of the first cities to benefit from a citywide full fibre roll out.
"As an innovative organisation we are ambitious to explore Peterborough's smart city potential even further and showcase its status as one of the most digitally advanced communities in the UK."
The city's digital transformation will see almost every home and business benefit from access to gigabit-capable full fibre internet connectivity. Construction work started last July and the first residential customers connected in January this year.
Privacy concerns
Privacy group Big Brother Watch has expressed concern at the CKH trial though. In an article in the Telegraph it said it turned "Peterborough's housing estates into surveillance zones" and described residents as being treated "like lab rats" in a surveillance experiment.
In response to the claims, CKH issued the following statement: "This initial trial has not had a cost to CKH. The sensors that are placed in people's homes are done so with their full consent and they have the right to refuse them. None of the sensors collect any personal data about residents, only environmental data, and are there to help us to support our tenants, improve their lives and save money for them, and for ourselves. Any cost-savings we make will be invested back into our homes, community investment and into building more affordable homes. The Council has no involvement in this trial."
You might also like: