This article is in association with the Ferrovial Services Centre of Excellence for Cities/Amey.
Nobody needs a survey or data to tell us that there are too many vehicles on the roads – it's obvious to anyone living in a city that traffic congestion is endemic.
What's less clear is exactly how to fix it. Congestion is a highly complex problem as there is often no clear, single root cause to tackle. Multiple factors contribute, including increasing populations and urbanisation; public transport shortcomings; and major infrastructure projects and ongoing maintenance. Road incidents and accidents can further radically alter conditions at any given time.
"It is ironic that, to many, vehicle ownership is a status symbol and something to aspire to. To others, it is a necessity to access work and other services," said Mark Saunders, director of Ferrovial Services' Centre of Excellence for Cities. "But we also read that cities that promote and support cycling and walking modes have more successful economies."
Heading for trouble
The bad news is that despite the increase in tech solutions to improve mobility, the congestion problem is a persistent one.
According to the Inrix 2017 Traffic Scorecard, the largest and most detailed study of congestion, drivers across 1,360 cities spent around nine per cent of their travel time "staring at the bumper in front of them," with the average speed in congestion just 8.9mph.
Inrix calculated the economic cost of congestion across the US, UK and Germany at almost $461 billion in 2017 or $975 per capita. And there is another critical issue at stake: pollutants in vehicle emissions contribute to poorer air quality and premature deaths in cities around the world.
With the global economy expected to triple in size between now and 2050, Inrix predicts road and rail travel will double in that time.
The good news is that a number of leading cities are starting to demonstrate results with tackling congestion.
Is data the best bet?
As the saying goes, you can't manage what you can't measure. Rich data collected from sensors, smartphones, connected cars, vehicle-to-everything (V2E) and -to-infrastructure (V2I) systems is helping cities to pinpoint the biggest mobility challenges and prioritise spending.
Copenhagen, for example, has the ambition to be carbon-neutral by 2025, and it already has one of the lowest congestion rates in Scandinavia thanks to a raft of mobility initiatives which began just under ten years ago.
Data from Inrix from more than 50 sources, including connected vehicles, commercial vehicles, taxis and mobile devices, as well as road sensors, has fed into the city's transport strategy.
Initiatives include creating corridors for designated types of mobility such as cyclists, buses and cars, which are linked to specific goals for reduction of travel times.
Transport data, including travel times for cars, buses, cyclists and pedestrians, is combined with other information such as major construction works and events that influence traffic flow. The city is currently developing a traffic management system.
One of the reasons for the relatively low level of congestion is the high percentage of trips made via walking, cycling or public transport. Cycling accounts for 41 per cent of all trips to work and the city supports this by improving the cycling infrastructure and optimising traffic signals for cyclists.
Northern Virginia in the US, meanwhile, consistently ranks as one of the most congested areas in the country. Because building new roads or expanding highways isn't possible, it wanted to reduce travel demand and has been tapping into data supplied by mobility metrics specialists Streetlight Data since 2015.
Northern Virginia has been able to scan hundreds of congested road segments at different times and types of day to identify those with the highest volume of short trips and the most trips between specific origins and destinations. These segments can then be targeted for transportation demand management tactics such as bike lanes and other transit options.
"This data helped us understand the likely effects of 24 projects that were under consideration," said Keith Jasper, programme coordinator, Northern Virginia Transportation Authority. "The origin-destination information was incredibly useful for understanding behaviour in and between activity areas."
Data from Tyson's Corner in the city, for instance, identified it as one of the zones with a large number of short trips. The transportation authority calculated that bicycle and pedestrian improvements, bike-share and circulator shuttles could remove between two million and 3.8 million vehicle trips per year.
Data is also forming the backbone of transport initiatives in Columbus, through its Smart Columbus Operating System (SCOS).
The platform accepts and disseminates data from new transportation systems within the Smart Columbus portfolio, including multi-modal services and connected and autonomous vehicles. It will also make data accessible from traditional transportation resources, as well as community partners.
One of the SCOS initiatives with the Central Ohio Transit Authority (COTA) is trying to decrease congestion by increasing the likelihood that citizens will choose the bus. COTA introduced real-time bus GPS data in a transit app in 2016, and this is now shared with SCOS so riders can see all buses in the vicinity on a map visualisation. It displays every bus's current location and the direction it is moving.
A long-time question in smart cities has been: Who owns the data? While many innovative transport apps which help ease congestion have been built on city data, there's an increasing push for the private sector to give back.
A report from the London Assembly last year noted: "Transport for London (TfL) should continue to make its data open for use by app developers, but seek to enter reciprocal agreements whereby data produced by apps powered by underlying TfL data is shared with TfL. This should be a requirement for existing apps using TfL data and new apps seeking to do so."
New rules by the City of San Diego propose to mandate that dockless scooter operators provide the city with detailed monthly reports, including deployed device data; trip information; parking information, and more.
Due to commercial sensitivities, the private sector has typically been reluctant to share data but this could be starting to change. Recently, Ford Motor Company, Uber and Lyft agreed to share data through the new SharedStreets data platform. The initiative aims to make it easier for the private sector to work with cities around the world and leverage data to improve urban mobility.
SharedStreets is also involved in a project with Detroit and National Association of City Transportation Officials (Nacto). The goal is to create a data standard to give cities a universal way to collect and aggregate critical information on the operation of scooters and bikes – including trip origins and destinations, neighbourhood availability, travel times and usage.

The move to MaaS
Despite the push to tackle congestion, the RAC's latest Report on Motoring revealed that in the UK, car dependency actually increased last year, with a third of motorists saying they are more reliant on their vehicle, compared to 27 per cent in 2017.
Could mobility-as-a-service (MaaS) finally persuade people out of their cars?
MaaS is the integration of different forms of transport such as bus, train, trams, bike-share, ride-share and taxi into a single service which can be accessed on-demand. It marks a shift away from transportation that is owned by the user and can be particularly effective at solving first- and last-mile challenges.
Research from Juniper Research suggests that mobility-as-a-service (MaaS) has the potential to replace more than 2.3 billion urban private car journeys annually by 2023.
The theory behind MaaS' ability to reduce congestion is sound but implementing it in cities requires a high level of collaboration between governments, transport agencies, public and private sector transport companies and other parties.
"Stakeholder partnerships are fundamental to MaaS in order to develop a viable multi-modal system delivering significant cost- and time-savings to the user," says Juniper research analyst Nick Maynard.
Ito World's MaaS Manifesto: Accessing your city's potential urges cities to learn from the Finnish capital of Helsinki, which occupied the top slot in Juniper's MaaS rankings.
A key takeaway was to ensure public and private sectors work together, and that emerging players in the market are also engaged early. The manifesto notes that the public needs to know which transport options are available to them, based on where they are at any particular time, in order to choose the optimal mode and route.
Helsinki wants to become one of the first cities in the world that is equally accessible for all residents, whether they own a car or not, by 2025. The city introduced the Whim MaaS app in 2016, developed by MaaS Global.
The app has now been rolled out in other European cities including Birmingham in the UK, Antwerp in Belgium and shortly in Amsterdam in the Netherlands.
Vancouver integrates transport
The Canadian city of Vancouver is similarly driving shared mobility options with an app to try to ease congestion and reduce emissions. Developed by Cowlines and run by Vancouver start-up Greenlines Technology, it provides three route options: quickest, the cheapest or best. The latter is the "best" combination of transport options available for that route in terms of cost [cheapest], travel time [quickest], minimising transfers, minimising walking distance and minimising CO2 emissions.
The app also allows users to track verified emissions so they can choose environmentally friendly options.
Cowlines integrates with a number of local transport providers and once British Colombia has approved them, can also use services such as Uber and Lyft through the platform. The tech company is integrating with hundreds of public transit agencies, bike-, car, and ride-sharing programmes in preparation for expansion across North America.
More and more MaaS apps and platforms will surely follow soon. The MaaS Alliance is currently working on a MaaS API with the consortium behind the EU-funded My Corridor sustainable transport project. The consortium has developed a cross-border MaaS solution that will be piloted between Greece, Italy, Austria, Czech Republic, Germany and the Netherlands. The API will facilitate integrations with transport providers.
The MaaS Alliance is a public-private partnership which is looking to create the foundations for a common approach to MaaS. One of the conclusions from its 2018 summit, which focused on how multi-modal transport options can be brought to MaaS, is that we are currently in a "messy" transition phase and it will take several years until a generation of "MaaS Natives" exists.
The role of CAVs
While there's much excitement about the potential of connected and autonomous vehicles (CAVs), some reports say CAVs could actually make congestion worse.
A report by global design and consultancy firm Arcadis recognises CAVs' potential to reduce traffic on the roads but says if not implemented properly, they could threaten the viability of existing public transport services. The Citizens in Motion report urges governments to engage with the private sector to use CAV to strengthen not weaken transport networks.
Siemens has similarly urged cities to get into the autonomous driving seat sooner rather than later, and is concerned that a lack of mid-term planning and delayed investments in infrastructure could have negative environmental, social and economic effects.
The key, Siemens says, is to put people first, as well as see CAVs as part of the wider transformation of urban areas.
Cities have varying approaches when it comes to planning how CAVs will feature in overall transportation strategies.
According to Arcadis, San Francisco and Singapore have made CAVs central to their mass-transit options, whereas Paris and Hong Kong want to develop them as an enhanced personal transport solution.
Singapore began AV trials began back in 2015 with the Land Transport Authority (LTA) establishing test routes, and in 2017 it set up its first autonomous vehicle test centre in Jurong Innovation District with the Nanyang Technological University.
LTA has a vision for the nation to become "car lite", believing AVs can offer shared mobility options that can address first- and last-mile challenges. Alongside this, Singapore is scheduled to start autonomous electric bus trials in 2019.
While the potential for CAVs to ease congestion in many cities around the world is evident, it is an extremely complex area in which discussion around regulation, standards, safety, insurance and legal issues will dominate for some years to come. Self-driving carmakers can conduct trials and advance their technologies but true progress will only come from collaboration between governments and public sector bodies, automakers, technology companies and other third parties.
Getting there
Whilst advancing technology presents more opportunities than ever for creative ways to beat congestion, the route ahead is uncertain. What's clear is no one can go it alone. Tackling congestion requires close collaboration between cities, local authorities, private companies, start-ups and, of course, citizens.
This collaboration is not just about sharing success stories, but also challenges and failures. Further, all parties who want to play a role in future mobility will need to become much more comfortable about becoming an ecosystem player.
Saunders emphasises the importance of collaboration especially given new business models and technologies are constantly emerging.
"It's not just the complexity of the problem," he said. "It is more that few of the sectors within 'new mobility' are fixed. They are evolving and emerging. New players come out all the time so all of the parties involved need agility."
Future mobility: The road to more liveable cities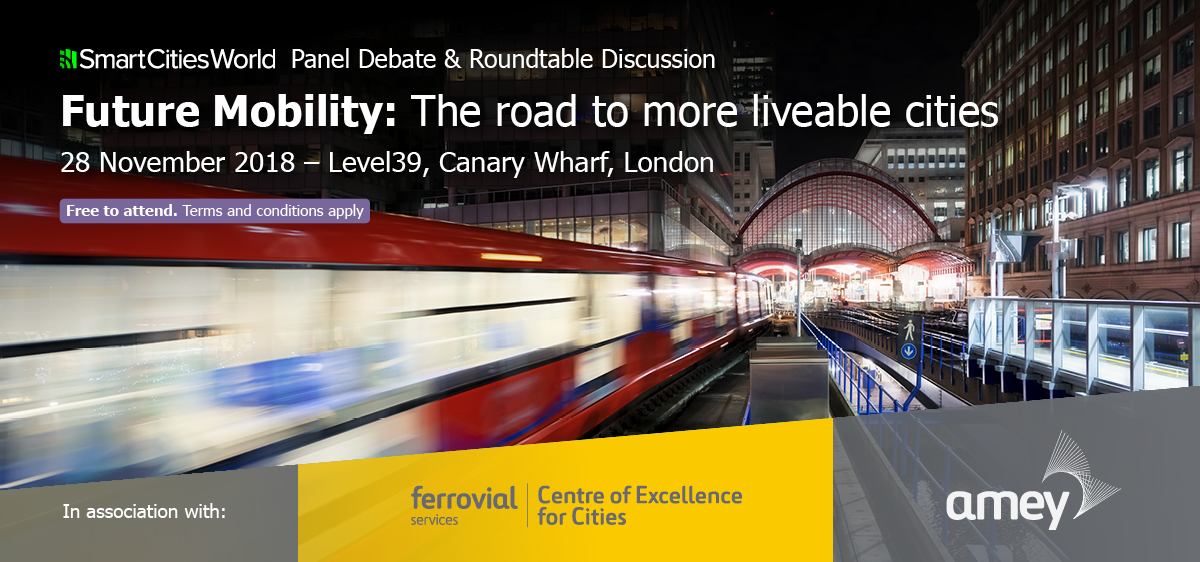 We'll explore cutting congestion and future mobility solutions further at our forthcoming event (in London, November 28).
This event, complete with panel debates and roundtable discussions, will help leaders from cities and local and regional government share knowledge and experiences, gather new ideas and find more clarity about the way ahead.