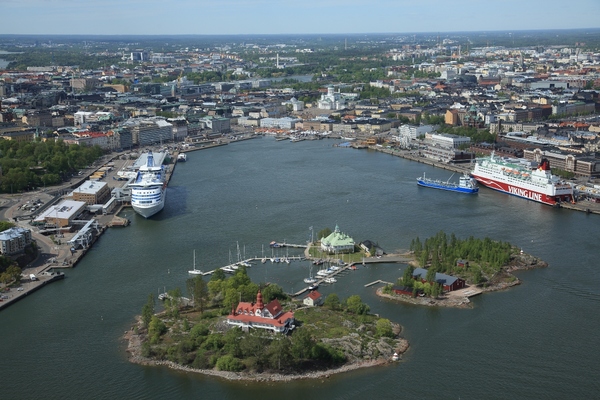 Helsinki's South Harbour area. Photography: Tietoa/Janne Hirvonen
The City of Helsinki has launched a competition inviting operators in the construction, architecture, and real estate industries to submit proposals for the redevelopment of Makasiiniranta at South Harbour.
City authorities want the plans to include a new site for the design and architecture museum as a vital aspect of the land use plan along the city's shoreline.
Under-utilised asset
South Harbour is a central part of Helsinki's maritime and national landscape, and a valuable yet under-utilised asset for the city. In a culture in which every Helsinkian lives less than 10km from the sea, the harbour mentality is a crucial characteristic and benefit of life in the city, with access to the water credited as vitally significant for the population's identity, wellbeing and vibrant lifestyle.
The designated development area of over 83,000 sq metres of waterfront land is currently used for the port's terminal operations and parking, which is to be relocated from the city centre.
According to the City, the announcement of the design competition comes at a crucial time for global cities emerging from the pandemic as urban planners are challenged to strategically reimagine how public space will be best designed and utilised in the future, with a newly informed appreciation for the health effects of green and blue areas.
Helsinki's existing relationship to liveable design is at the forefront of public services, urban environments, cultural spaces and the empowerment of communities, underpinned by a significant commitment to realising a sustainable urban structure and becoming carbon neutral by 2035.
"Every generation should have the opportunity to improve the city they live in, and the transformation of this final part of South Harbour will integrate the heart of the city with access to the sea and archipelago"
For an area of national significance and value for Helsinki, the City reports, it is imperative that a land use plan for Makasiiniranta activates and enlivens the seafront, creating a high-quality, attractive new public realm, cultural amenities and architectural layers, while better integrating into the pedestrianised city centre's urban fabric and overall vision.
Intended as a new cultural heart of Helsinki, competition plans are to allow for the creation of an internationally prominent architecture and design museum complex, which will merge the two existing museums – the Museum of Finnish Architecture and the Design Museum – across an area tentatively set at 9,000 sq metres. Further leisure uses may also be planned for the waterfront destination, including a hotel, retail space, restaurants and walkable public realm.