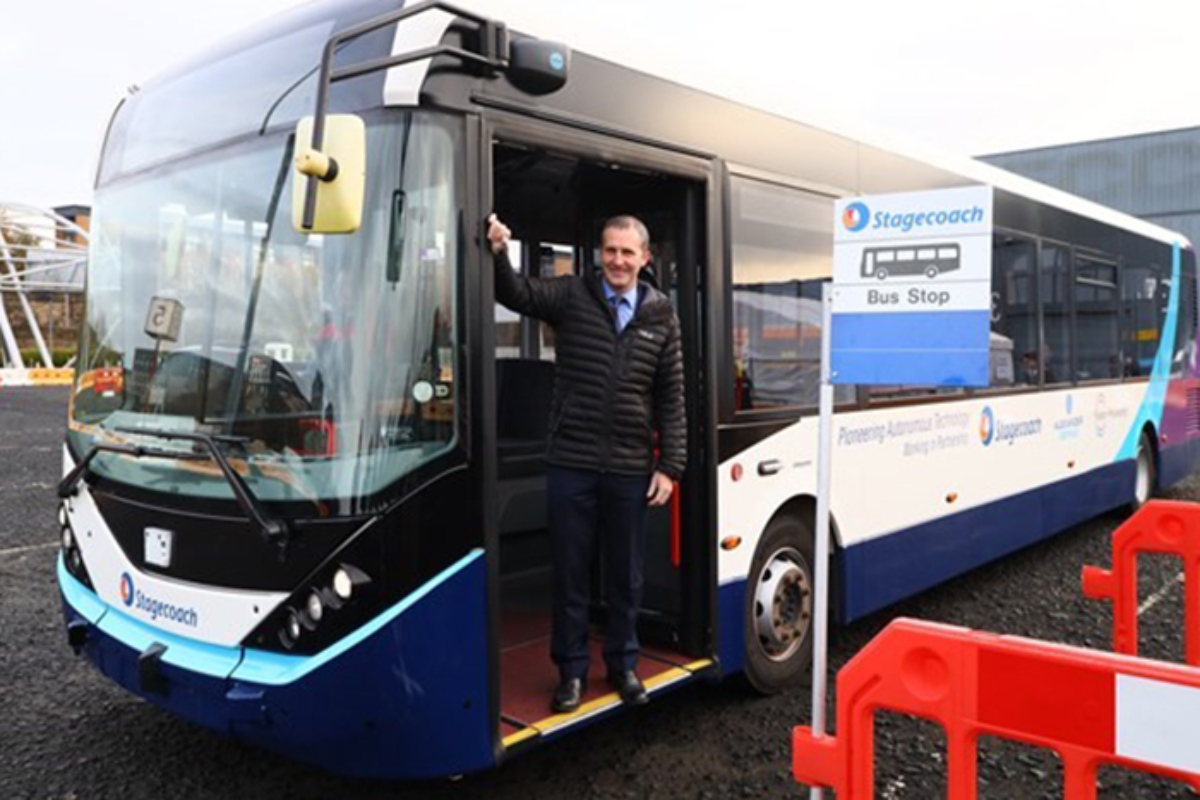 Cabinet secretary Michael Matheson with the autonomous bus
Scotland has showcased Europe's first full-sized autonomous bus, which will be used as part of a trial taking place across the Forth Road Bridge next year.
The demonstration took place as part of the Connected and Autonomous Vehicles Summit (CAV Scotland). The Alexander Dennis Enviro200 bus has already carried out trials at public transport company Stagecoach's depot in Manchester in the first part of the autonomous bus project.
Project CAVForth
Stagecoach, bus manufacturer Alexander Dennis and technology company Fusion Processing are working with Transport Scotland, Bristol Robotics Laboratory and Napier University on Project CAVForth, which will see five autonomous buses operating between Ferrytoll Park and Ride in Fife and the Edinburgh Park Train and Tram interchange in 2020.
The buses, which are currently in development, will see additional autonomous technology installed that enables them to run on selected roads.
The buses will be operated by Stagecoach East Scotland and will provide a service capable of carrying up to 42 passengers the 14 miles across the bridge, with capacity for up to 10,000 passengers a week.
"Our trunk road network can provide a wide range of environments as a diverse testing ground."
The buses will operate to Level 4 standard which means that a driver will remain onboard during any journey in line with UK regulations.
"Our trunk road network can provide a wide range of environments as a diverse testing ground, and the ground-breaking and globally significant Project CAVForth will really help Scotland establish its credentials on the world stage," said Cabinet Secretary for Transport, Infrastructure and Connectivity, Michael Matheson.
CAVForth claims to be one of the most advanced autonomous bus projects in the world. As well as providing autonomous systems, Fusion Processing will provide spin-off projects from the technology that can help today's manual-driven buses, such as tech that can recognise pedestrians and cyclists and warn the driver, automated emergency braking and replacement of external mirrors with advanced vision systems.
You might also like: