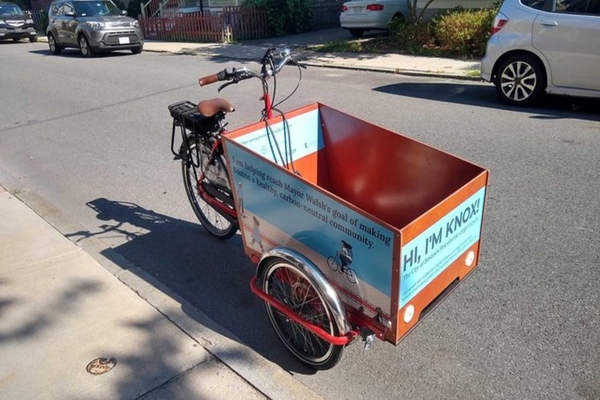 Knox, named after Kittie Knox, will support city staff in their daily tasks
Boston is rolling out its first electric-assist cargo tricycle, which supports the city's work to reduce emissions from municipal sources, a critical goal of the 2019 Climate Action Plan Update.
The Environment Department, the Office of Women's Advancement, the Streets Cabinet, and the Office of New Urban Mechanics, announced that 'Knox' has been named in honour of Katherine 'Kittie' Knox, a Black West End resident in the 1880s who confronted racial and gender stereotypes in Boston's bicycling community.
Climate action
Mayor Martin Walsh updated the climate action plan to further strengthen strengthen the city's ongoing initiatives to mitigate and adapt to climate change, including immediate steps to significantly reduce its carbon emissions and bolster the strategies needed to achieve the long-term goal of carbon neutrality by 2050.
This new tricycle also complements existing programmes such as Renew Boston Trust, Community Choice Energy, the Electric Vehicle Parking programme, and Boston's long-standing building energy benchmarking programme. The trike is intended to support city staff performing their daily tasks.
It also supports Go Boston 2030, the City of Boston's long-range, equitable transportation plan and aims to encourage a modal shift away from single-occupancy vehicle trips toward low-emission modes of walking, biking, and public transit.
To do this, the plan calls for better bike lanes, bus priority corridors, walk-friendly street design, and easy access to transit, bike share, and car-share.
In July, the City of Boston released a request for information (RFI) for using electric cargo bikes (e-cargo bikes) for delivery.
"The Knox marks an important milestone in Boston's commitment to fully decarbonise its transportation system and will serve as a reminder of the enduring legacy of Boston's trailblazing women."
It said in a statement at the time that it wants to understand how e-cargo bikes could fit into Boston's delivery landscape and identify current obstacles to adoption by private businesses, as well as other opportunities to green last-mile deliveries.
"This new tricycle is an innovative new programme as Boston continues its work towards achieving carbon neutrality in our city," said Walsh. "I'm proud this tricycle is named after Ms Knox, an early leader who championed equity in the bicycle community. In Boston, we have also proclaimed August 20 as Kittie Knox Day."
The City of Boston is receiving support on zero-emissions vehicle deployment as part of the Bloomberg Philanthropies' American Cities Climate Challenge, which it was named a winner of in October 2019. The cargo tricycle is part of that effort. It is meant to be an option to replace a trip that would otherwise be taken by an employee using a city vehicle.
"This innovative electric cargo tricycle pilot, aptly named for the pioneering Kittie Knox, reflects Boston's leadership in creating more sustainable ways for people to get around," added Amanda Eaken, director of the American Cities Climate Challenge. "It is always heartening to witness an American Cities Climate Challenge city turn a vision into reality – and even more so when it honours the life of a woman who fought valiantly for racial and gender equity.
"The Knox marks an important milestone in Boston's commitment to fully decarbonise its transportation system and will serve as a reminder of the enduring legacy of Boston's trailblazing women."
You might also like: