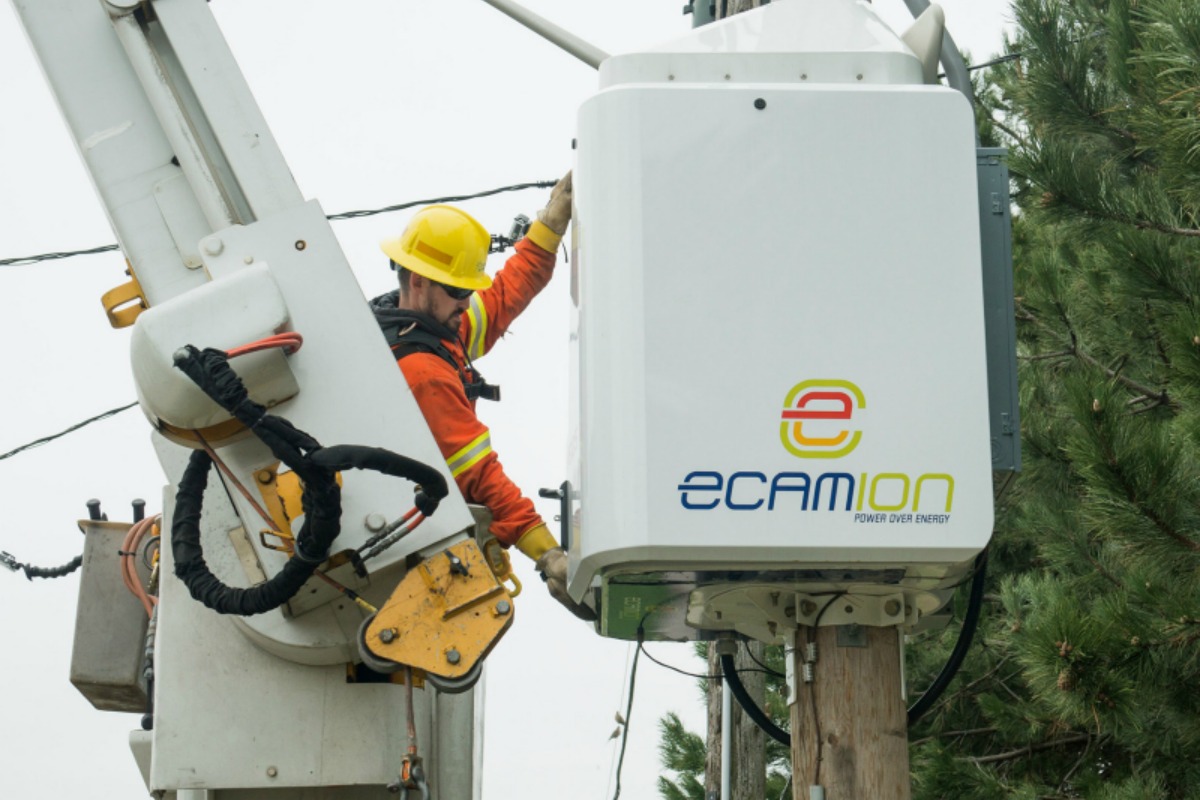 The storage unit has no footprint, being attached to existing power poles
The world's first grid-scale pole-mounted energy storage system in Canada is showing promising results.
Located in Toronto's North York neighbourhood, the system was mounted on the top of an existing hydro pole last year. It stores energy during off-peak hours and releases power as needed.
The unit was developed by Ryerson University and piloted by Toronto Hydro using eCAMION battery technology.
The project team is currently monitoring how the technology responds to real-time data. From initial results, the energy storage system has demonstrated an ability to reduce strain on the local transformer. The pilot continues to run and, if successful, it could become a standard that's rolled out with all new installations on the over 175,000 poles across the city.
Toronto Hydro is exploring energy storage as a way to extend the lifespan of some of its equipment. This energy storage device can also act as a temporary source of back-up power during outages. The unit is able to store the equivalent energy of approximately 2,100 smartphone batteries.
"This is another example of a creative and innovative energy storage system being installed on our grid," said Anthony Haines, president and CEO, Toronto Hydro. "We're focused on supporting collaborative projects like this one as it contributes to an integrated electricity system better designed to handle peak demand and improve reliability for our customers."
The innovative project was made possible with support from Ontario's Smart Grid Fund, which helps those on the leading edge of the smart grid industry to test their grid modernisation solutions in real world settings.

Bala Venkatesh, Academic Director, Centre for Urban Energy at Ryerson University commented: "The project showcases how the use of energy storage and smart grid technologies can enhance distribution system performance and reduce asset upgrade costs. It is a true made-in-Toronto success story."
If you like this, you might be interested in reading the following:
Desert provides a home for energy storage
Arizona Public Service is bringing battery-based energy storage to the desert through a 4-megawatt agreement with AES Energy Storage
smartcitiesworld.net/news/news/desert-provides-a-home-for-energy-storage-1192
Household energy bills could be cut by half through energy storage
The energy storage value chain is broken
smartcitiesworld.net/news/news/household-energy-bills-could-be-cut-by-half-through-energy-storage-274