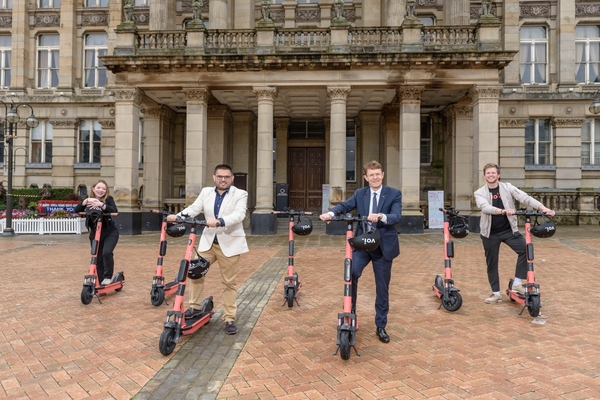 Voi e-scooters will be rolled out across towns and cities in the West Midlands
The West Midlands has become the latest UK region to announce an e-scooter roll-out following the Government's decision to allow rental scooter trials to take place on roads.
E-scooter provider Voi has been awarded an exclusive tender and will work with Transport for West Midlands to bring the mobility option to Birmingham, Coventry, Kenilworth, Sandwell (West Bromwich), Solihull, Walsall, Wolverhampton and Warwickshire.
The trial claims to cover the largest market in Europe awarded by tender to a single operator.
User feedback
As e-scooters are introduced across the region, Voi will also work closely with the West Midlands Combined Authority to make suggestions about additional infrastructure that will help communities get the best use out of this new mode of transport, based on user feedback and user journey data. The e-scooters will cost £1 to unlock, plus £0.20 per minute.
Voi will also work closely with disability group associations such as RNIB and Disabilities Move UK to make sure that vulnerable groups are not disadvantaged.
As well as provide an alternative form of travel as people return to work following the coronavirus lockdown, it is hoped the trial will show how it can address some of the other challenges faced by towns and cities in the region.
Before lockdown, air quality readings on Birmingham's Middle Ring Road were of great concern. At the end of March, a single site on this busy road hit excessive pollution levels for four days in a row. Since lockdown, this same site has seen pollution plummet, and at the start of July, it experienced its lowest recorded level for more than two years.
"E-scooters will help bring more flexibility, choice, and greener travel solutions for the West Midlands, at a time when we are facing a climate emergency and urging people to leave the car at home"
Outside of London, the West Midlands has historically had one of the worst congestion ratings in the UK. These factors have undoubtedly led to the region being listed as one of the top five in the UK that will benefit most from micro-mobility services, from shared bikes, to e-bikes and e-scooters according to research from transport analytics consultancy Inrix.

To make sure that e-scooters are introduced as safely as possible, Voi will provide in-person and online rider education, rider identity verification and will make #RideLikeVoila – its online traffic school – available to users in the West Midlands. Voi's latest e-scooter model, featuring indicators, will be introduced to the West Midlands operation in the coming months.
"The West Midlands is proud to be leading the way on future transport development, and it is great to be able to partner with Voi and reveal our plans for e-scooters across the region," said Andy Street, mayor of the West Midlands.
"E-scooters will help bring more flexibility, choice, and greener travel solutions for the West Midlands, at a time when we are facing a climate emergency and urging people to leave the car at home. E-scooters unquestionably offer a healthier, more environmentally friendly, alternative to the car for shorter journeys around our towns and cities, which will in turn help to ease traffic congestion and tackle air pollution."
He continued: "As well as the improvements to our transport network, e-scooters could also be a much needed boost for the region's economy, helping to attract people back into our town and city centres."
Covid prevention

In a statement Voi said it is also committed to upholding West Midlands Combined Authority's health and safety policy to prevent the spread of Covid-19 in the region. It is adding anti-viral Shieldex Copper-Tape to the handlebars of its e-scooters, which it claims kill 99.98 per cent of coronavirus on contact, and all e-scooters will be disinfected every 24 hours. Voi is also providing Covid-19 information and advice in its app.

"We are delighted to announce that we will soon be offering the Voi e-scooter service in the West Midlands – a region that has played a significant role in the history of transport, from cars to rail and aviation," added Fredrik Hjelm, co-founder and CEO of Voi Technology. "Today's transport innovations are all about helping people to get out of their cars and making greener choices."
The West Midlands partnership follows on the heels of Cambridgeshire and Peterborough, and Northamptonshire which have also chosen Voi to launch e-scooters and e-bike sharing schemes in their areas.
Voi operates across 10 UK authorities, having launched in the UK in July. Across Europe as a whole, Voi claims it operates in 45 cities across 11 countries.
You might also like: