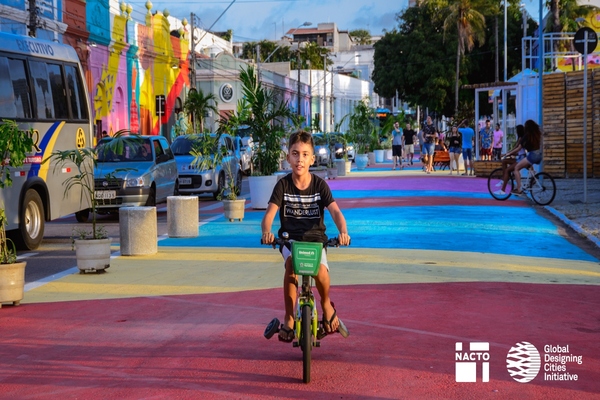 Fortaleza in Brazil's child-friendly streets. Credit_NACTO-GDCI
Children can be wonderfully direct when speaking. And insensitive. And indiscreet. But all too often their lack of social niceties means they can zero in on the crux of an issue in a way that adults can't.
Which makes them an ideal cohort to bear in mind when thinking about your city. As Janette Sadik-Khan, chair of the National Association of City Transportation Officials notes: "If you design a street that works for kids, you've designed a street that works for everyone."
This is why NACTO has launched a report called Designing Streets for Kids, aimed at making city streets safer. It focuses on the needs of children, parents and care-givers as pedestrians, cyclists and road users in urban streets.
Perhaps understandably, cities weren't and aren't built with children in mind, instead focusing on the commuter, the worker and the resident. But a child-friendly city benefits us all, from lower pollution, fewer fatalities (traffic collisions kill almost 1.5 million people each year and is the biggest killer of young people between five and 29) to encouraging us to walk and play more.
Some cities, such as Fortaleza in Brazil, Bogotá in Colombia, Moscow in Russia and Tirano in Albania are becoming more child friendly by redesigning streets around schools and high traffic areas and having children involved in the planning process.
It's a smart move. Another advantage children have over us adults is their simplicity, a massively underrated concept. Making things straightforward and stripping out complexity is much harder than it initially looks, as literally any employee would admit about their own workplace. But simplicity done correctly can have dramatic results – it gave us the music of The Ramones and the writing of Ernest Hemingway, to name two examples in the art world. Perhaps instead of sticking to the maxim "older and wiser", we should be thinking "younger and simpler".
Simplicity aside, just a quick reminder to check out our new People and Skills section. And if you want to feature in our City Lights section, which profiles those who are central to a smart cities' success, please drop me a line. As ever, it would be great to hear from you.
What I'm reading
We aren't holding the right people responsible for cancel culture (Buzzfeed)
The most overhyped planet in the galaxy (The Atlantic)
This is not recession, it's something far worse (The Times)