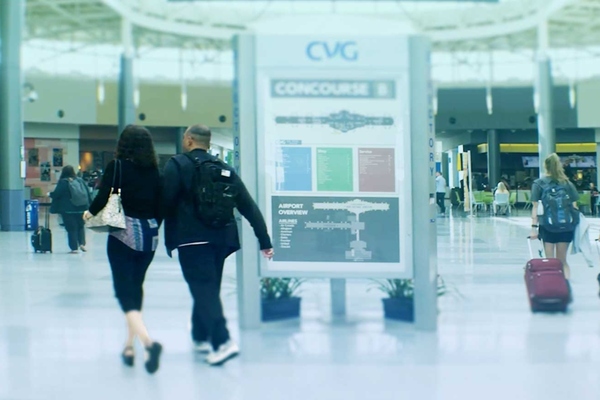 CVG wants to provide memorable and predictable journeys from the driveway to the runway
Cincinnati/Northern Kentucky International Airport (CVG) is partnering with London-based technology provider Veovo to expand data input at the airport to discover how travellers, processes and airlines interact and interconnect.
CVG claims it was the first airport in the US to deploy internet of things (IoT) sensor technology in the security checkpoint to monitor passenger wait times.
Data-driven decisions
That project and the data that was drawn allowed CVG and the Transportation Security Administration (TSA) to make data-driven decisions on staff scheduling, which improved wait times and passenger experience.
CVG is now adopting Veovo's airport-wide flow management technology to obtain greater understanding of passenger movement beyond the security checkpoint and into other areas of the terminal and concourses.
"Providing memorable and predictable journeys, from the driveway to the runway, is a top priority for CVG, and data is the key enabler for our vision," said Brian Cobb, chief innovation officer, CVG.
"Innovative solutions, like those provided by Veovo, allow us to gather and analyse data in real-time and proactively put it to work. We will be able to make better plans and improve productivity, respond to customer needs faster and tap into revenue growth opportunities."
The roll-out of the technology will be done in phases throughout the year. Once complete, historical and live data will enable CVG to make daily operational decisions as well as long-term facility improvement plans.
"Providing memorable and predictable journeys, from the driveway to the runway, is a top priority for CVG, and data is the key enabler for our vision"
For example, by understanding gate arrival patterns by flight, CVG can adjust call-to-gate times or airline gate assignments to minimise crowding. The airport can evaluate how disruptions affect passenger behaviour to prevent issues and/or mitigate their impact. Dwell and flow data can be used to drive strategic plans for layout configuration, signage, food and beverage placements and gate assignments.
As passenger traffic returns, the airport said these insights will help it grow efficiently with the right staff resourcing and concession planning to improve product offerings and placements for travellers.
AI-powered analytics
Veovo's platform bundles AI-powered analytics, data from movement sensors and rich visualisations, to provide live and historic insights into passenger occupancy, dwell times and movement patterns by flight. This data can be viewed for specific areas, grouped areas, and eventually the entire facility including the terminal and both concourses.
"CVG is one of a growing number of airports globally that have come to recognise the intrinsic value of managing and understanding passenger movements throughout [its] concourse," added James Williamson, chief executive officer, Veovo.
"Because traveller behaviour can vary, depending on volumes, time of day, travel class, destination and various other factors, this technology is invaluable in developing an even greater knowledge of the customer journey and helping to shape its future."
The Cincinnati/Northern Kentucky International Airport has been serving passengers since 1947. CVG reports serving a record number of more than 9.1 million passengers in 2019.
You might also like: