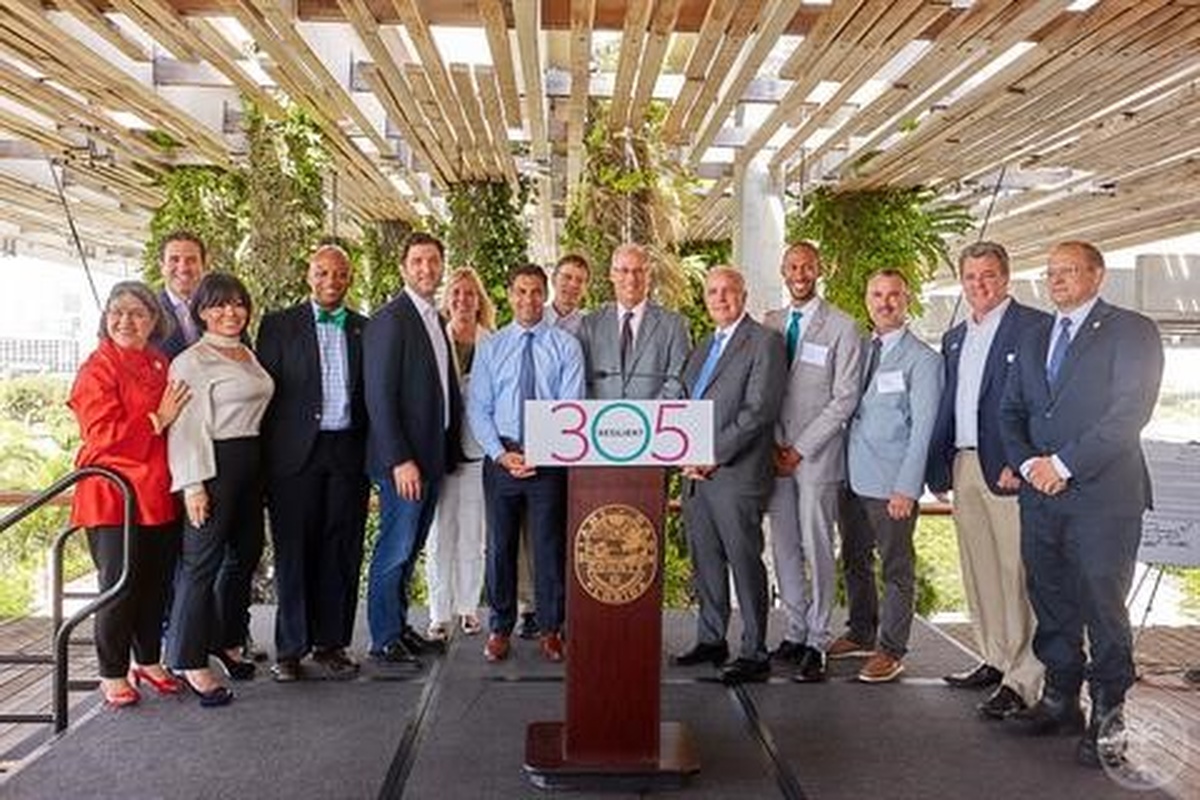 The launch of the Resilient305 Strategy, which focuses on people, places and pathways
Miami-Dade County, City of Miami and City of Miami Beach has launched its Resilient305 Strategy, which aims to ensure communities are better prepared for shocks and stresses brought about by events such as hurricanes and infrastructure failures. It is also targeting longer-term challenges like rising sea levels, traffic congestion and severe economic inequalities.
The plan supports multilateral collaboration between governmental, non-governmental, business and academic organisations in the region to ensure a resilient and thriving future for all, environmentally, economically and socially.
Places, people, pathways
The Resilient305 Strategy focuses on three main goal areas: places, people and pathways. It has been driven by Greater Miami & the Beaches (GM&B), a unique partnership of Miami-Dade County, the City of Miami, and the City of Miami Beach. To ensure the strategy has a broad impact, GM&B will continue to expand to include the other 32 municipalities, other community organisations and anchor institutions.
It has been developed over a three-year period, with the support of the 100 Resilient Cities (100RC) Network, The Miami Foundation and input from thousands of stakeholders through a series of public meetings, surveys and focus groups.
"Successfully combatting our resilience challenges, from sea level rise to job creation, depends on this unified approach"
More than 50 actions have been identified, developed and organised for the strategy in the three overarching areas:

Places: addresses location-based challenges by enhancing climate resilience through design and planning; creating, connecting and improving mobility and housing options; and safeguarding ecosystems. Actions in this goal area focus on building healthy coral reefs and ecosystems, reducing storm surge vulnerability, developing mobility hubs and connectivity, and redeveloping public housing to make it more resilient, among others.
People: aims to improve the lives of citizens every day by supporting job and wealth creation; addressing specific health needs for the most vulnerable; and preparing and empowering neighbourhoods and networks to anticipate and respond to disruptions, both large and small. The strategy will look at ensuring representation in the census, breaking the cycle of youth violence, increasing resilience through volunteer emergency training and engaging communities through public art to help enhance the region's social sustainability.

Pathways: seeks to bring together governments, businesses, community organisations, and educational institutions by setting common goals and committing to actions, such as utilising a pre-planning for post-disaster toolkit, creating an actionable science advisory panel (ASAP), and utilizing the City Water Resilience Approach to improve coordination and resilience on water issues.
Strategy implementation
Implementation of the Strategy will be overseen by the PIVOT Team (Progress, Innovation, and Vision for Our Tomorrow) led by Miami-Dade County, City of Miami, City of Miami Beach and The Miami Foundation, with the participation of municipalities countywide and a host of partners, including the Army Corps of Engineers, the Miami-Dade County Public School System, universities, non-profit organisations and other public partners.

"The launch of the Resilient305 Strategy marks a defining moment in Miami-Dade County's history. Much more than a blueprint for the future, it is a living, breathing, fully functional roadmap for the present," said Miami-Dade County mayor Carlos A. Giménez. "Best of all, it is backed by the full weight of the County's multi-year capital planning budget, which has earmarked more than $22 billion for wide-ranging resilience efforts."

You might also like: