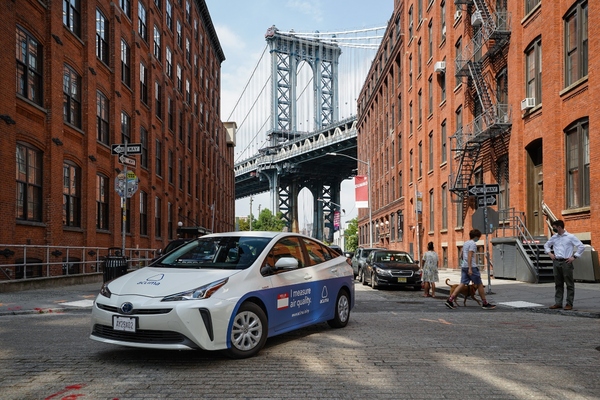 Aclima sensing vehicle that analyses air quality in Brooklyn block-by-block
Mobile sensing technology is being used to generate and analyse millions of air pollution and greenhouse gas measurements block-by-block in Brooklyn.
Environmental company Aclima has deployed its mobile sensing fleet throughout Downtown Brooklyn and nearby potential environmental justice areas (low income and minority communities experiencing disproportionate environmental impacts) including portions of Clinton Hill, Gowanus, Red Hook, and Sunset Park.
Air pollution exposure
Writing in a blog post on Medium, Davida Herzl, co-founder and CEO of Aclima, points out that air pollution exposure is not uniform. Research Aclima conducted in collaboration with the EPA, EPRI, and Envair showed that air pollution can vary by as much as eight times from one block to the next.
Understanding the localised impacts of emissions is, therefore, critical for protecting public health. In 2014, the World Health Organisation estimated that about seven million people die prematurely annually as a result of exposure to air pollution, and long-term exposure to relatively small amounts can impact every organ in the human body through every phase of life.
As the cars drive through city streets, air samples pass through a specially designed intake and are then routed to the device for initial analysis
"By measuring air pollution and greenhouse gases block by block throughout downtown Brooklyn, as well as adjacent potential environmental justice areas, we'll be able to provide key insights into the three-month average of emissions and exposures at the street-level," said Herzl.