Smart Cities Strategy Summit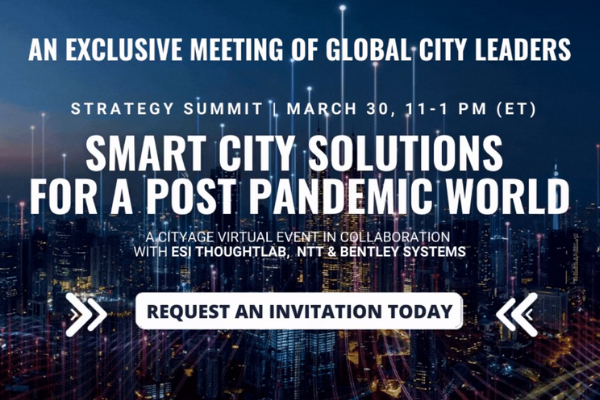 The Smart Cities Strategy Summit will bring together city leaders from around the world to exchange views on solutions for a post-pandemic world. Unlike other urban-focused events, the Smart Cities Strategy Summit is an invitation-only interchange that will provide a virtual forum for a cross-pollination of ideas and practices, drawing on our latest evidence-based research.
‍
City leaders can join the summit so that you can gather insights from your peers and our analysis to craft a successful roadmap to achieve your post-pandemic urban development goals.
Time: 11am (ET), 4pm (BST), 5pm (CST)
Length: 120 mins, including Q&A
Speakers include:
CHRIS CASTRO, Director of Sustainability & Resilience,City of Orlando

EMILY YATES, Smart City Director, City of Philadelphia
JEANNE HOLM, Deputy Mayor for Budget and Innovation, City of Los Angeles
KELVIN ZIN, Regional Vice President, Americas, Singapore Economic Development Board
LOU CELI, Chief Executive and Founder, ESI ThoughtLab
WILLIAM BAVER, VP Smart Platform, NTT
MIQUEL RODRIGUEZ, Agenda 2030 Commissioner, City of Barcelona
FILIPE ARAUJO, Vice Mayor, City of Porto
TON DE VRIES, Senior Director of Business Development, Digital Cities, Bentley Systems
HERVÉ SOLIGNAC, Founder & CEO, URBATIS, Director, Finance for Impact
ROBERT MANKOWSKI, Senior Vice President, Digital Cities, Bentley Systems
BENNETT INDART, Vice President, SMART World Solutions, NTT
JEFFREY SNODDY, Emergency Services Manager, City of Torrance, California
STEVE WRAY, MS, Vice President, Strategic Initiatives, ESI ThoughtLab
ETHAN CONNER-ROSS, Director, Economic Impact Analyst, ESI ThoughtLab
MIRIAM BERHANE RUSSOM, Principal Program Manager, Microsoft