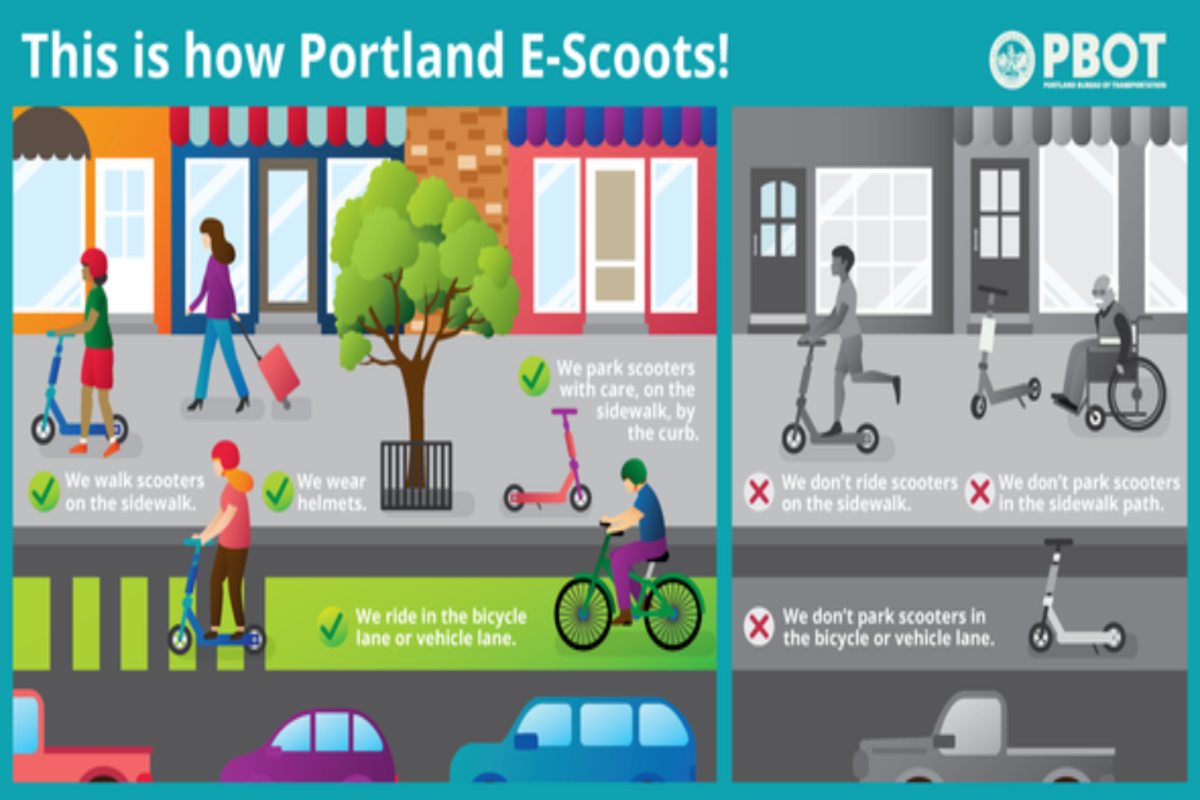 PBOT has issued guidelines for the safe integration and use of the e-scooters in the city
Portland, Oregon, has issued the first two permits to operate shared electric scooters in the city following the recent introduction of a shared scooter pilot programme.
The e-scooter permits were issued by the Portland Bureau of Transportation (PBOT) to the companies, Skip and Bird. PBOT officials expect that scooters could be available for rent as soon as this week.
Through the pilot programme, PBOT created a temporary scooter permit to allow companies to offer scooters for rent. The 120-day pilot will run until 20 November 2018.
Both during and after the pilot, PBOT will conduct an evaluation of the programme, including surveying Portlanders to determine whether scooters are compatible with the safe, efficient and equitable operation of the city's transportation system.
The programme sets specific conditions for the deployment of scooters in the city. The total number of scooters will be capped at 2,500 with each permitted company allowed a share of this total.
Companies may deploy up to 200 scooters during its first week of operation. To further citywide equity goals, PBOT requires that each company deploy a portion of their fleets in East Portland.
"I'm very happy we were able to stand up this pilot as quickly as we did. This is a rapidly changing industry, and we wanted to be flexible and nimble in setting up this pilot," said Chris Warner, interim transportation director at PBOT.
"Portlanders will now have a chance to try this new way of getting around, and we'll have the opportunity to see if scooters work in Portland and help us meet our safety, mobility, equity and climate action goals."
By state law, scooter riders must wear a helmet and cannot ride on sidewalks. According to the city's code, the scooters cannot be used in city parks. Riders will be required to park scooters on the sidewalk close to the curb, so that scooters do not interfere with pedestrians.
The electric scooters are powered by an electric motor, and in Portland, companies will be required to cap the maximum speed at 15mph.
As a condition of receiving a permit, companies are required to educate riders about safe riding and proper parking behaviour. PBOT also plans to conduct education actions to inform riders about the rules of the road.
PBOT said it will continue to issue permits to companies that qualify under the pilot rules.
If you like this, you might be interested in reading the following:
Bangalore goes electric
The company wants to eliminate electric charging anxiety with a station within 4km of any point in the city
Scoobi rolls out in Pittsburgh
The shared e-Scooter fleet aims to fill the gap between public transit and ride-share options
LimeBike adds e-scooters to its fleet
The whole fleet is available in Barcelona for demonstration and testing throughout the MWC event