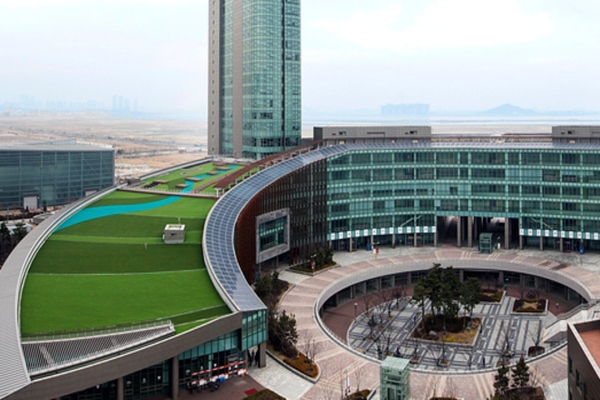 Work carried out at Incheon's living lab will help to define future cities
Researchers from Stanford University in the US are using the Korean smart city of Songdo as a living laboratory.
The Stanford Centre at the Incheon Global Campus will provide a testbed to help academic and corporate researchers develop and deploy a new generation of physical structures and electronic technologies as prototypes for the urban environments of the 21st century.
The Incheon Global Campus is a 1,500-acre business district based within the South Korean city of Incheon, a trade and transportation hub close to the nation's major international airport.
Smart, sustainable cities
The centre will bring together researchers from across Stanford's seven schools with collaborators from South Korean industry, government and universities to initially conduct research on smart, sustainable cities and urban communities, with the goal of attracting researchers throughout the university who are interested in Korean collaborations.
"While the centre's work looks to the future, it is rooted in deep, historic ties between Stanford and South Korea," said president Marc Tessier-Lavigne at a virtual ribbon-cutting ceremony.
"South Korea has been one of the top countries sending students to Stanford for more than 30 years. As a result of our decades-long relationship, Stanford alumni now serve as leaders in South Korean universities, government and private enterprise."
"Essentially, it's a city-scale lab for those of us who are interested in studying these topics"
Researchers from a variety of academic disciplines and fields will focus initially on four key areas:
improving how data is collected, stored and visualised to improve smart-city technology implementation
using data to improve wellness and quality-of-life for populations in and around urban areas
synthesising and integrating sensor data to help enable companies based in smart cities to accelerate innovation and boost profitability
and developing ways for municipalities to invest in new technologies so that they are more competitive in a global economy and financially sustainable.
Michael Lepech, faculty director of the centre and an associate professor of civil and environmental engineering, said the centre was inspired by a 2015 strategic planning initiative at the School of Engineering known as SoE-Future.
Initiated by then-dean, Stanford University provost Persis Drell, and led by an inclusive committee of faculty, staff and students, the school identified grand global challenges in which engineers could make a significant world-changing impact over the coming decades. Among them was how engineering can ensure that humanity flourishes in the cities of the future.
"This centre provides us with access to real-time smart city data, and unique infrastructure to test new technologies and ideas," said Lepech. "Essentially, it's a city-scale lab for those of us who are interested in studying these topics."
You might also like: