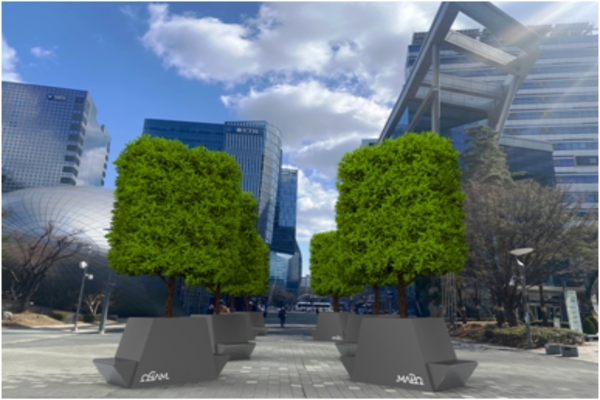 A proposed modular park for Sangam Cultural Square in Mapo-gu
The Seoul Metropolitan Government (SMG) is planning to create modular parks that can be easily installed to improve the city's landscape and reduce particulate matter levels.
The parks aim to offer shade over concrete ground and the eight planned locations include Gangnam Station, Seoul Forest Station and Bangbae Café Street.
Green shelters
Small spaces will be created for the modular parks in empty lots on, for example, the side of the road or in paved areas, by assembling multiple mobile planters (portable water foundations) and resting facilities.
It is a fast and easy way to create green shelters on the surfaces paved with concrete or asphalt, and on empty lots where it is difficult to secure a depth of soil to plant trees without the ground work.
The completed moving parks can be temporarily relocated using a crane or forklift when there are events to be held. The planters can be also rearranged to suit characteristics of each location to create unique spaces.