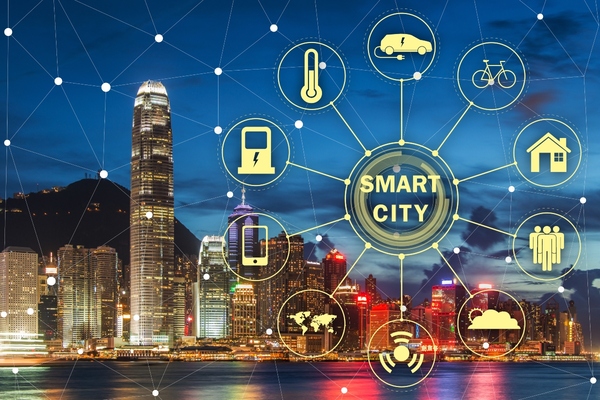 The companies chosen have a wide range of smart city capabilities
The first two cohorts of "high-performing" smart city tech firms have been enrolled in the Department for International Trade's (DIT) new Tech Export Academy programme.
Beginning this week, 30 British tech companies will participate in a nine-month programme that will provide a package of support to help them expand and grow their businesses in the Asia-Pacific region.
Smart cities capabilities
More than 100 companies applied for the programme across smart cities capabilities, ranging from smart mobility and infrastructure to smart buildings and cybersecurity.
The programme will also include opportunities for the businesses to meet investors, undertake pitch training and learn about UK Export Finance (UKEF) support as well as participate in virtual trade missions to the Asia-Pacific region.
"Smart cities technology is a key area of interest across Asia-Pacific," said Natalie Black, Her Majesty's trade commissioner for Asia-Pacific.
"Governments and corporate businesses are keen to collaborate so I am delighted the Tech Export Academy has chosen to focus on this region first and look forward to supporting the first 30 selected companies in growing their business in this part of the world."
An independent panel selected the successful companies based on the strengths of their products and services, their focus on exporting to the Asia-Pacific region and their commitment to diversity and inclusion, a key priority for DIT and the tech sector more widely. The 30 successful companies are based across all four nations of the UK.
"The UK is a hotbed for tech innovation and helping these companies gain the skills and knowledge to access a global marketplace will be vitally important to the UK's future economic success"
The panel consisted of: Dr Mike Short, DIT's chief scientific adviser; Oriel Petry, director of the Technology and Advanced Manufacturing Directorate); Colin Sinclair, CEO of the Knowledge Quarter in Liverpool; and Jane Morrison-Ross, CEO at tech trade body, ScotlandIS.
The programme is being supported by the following companies: PWC, Linklaters, Deloitte, KPMG, BDO, Taylor Wessing, EY, HSBC, Santander Grant Thornton and Clifford Chance.
These partner companies will host bespoke sessions with the cohorts on regulatory, tax, intellectual property and legal issues in the Asia-Pacific region.
Some of the programme participants across the two cohorts include Cascoda, Crowdvision, Datactics, Masabi, Conigital, Space Syntax and Telensa Systems. See the full line-up of those chosen here.
"EY is delighted to be supporting the Department for International Trade and its Tech Export Academy," said Sally Jones, trade strategy and Brexit leader, EY.
"The UK is a hotbed for tech innovation and helping these companies gain the skills and knowledge to access a global marketplace will be vitally important to the UK's future economic success."
She continued: "EY has worked with and supported many fast-growth, innovative companies through its Entrepreneur of the Year programme and we're relishing the opportunity of helping many more through this new initiative."
You might also like: