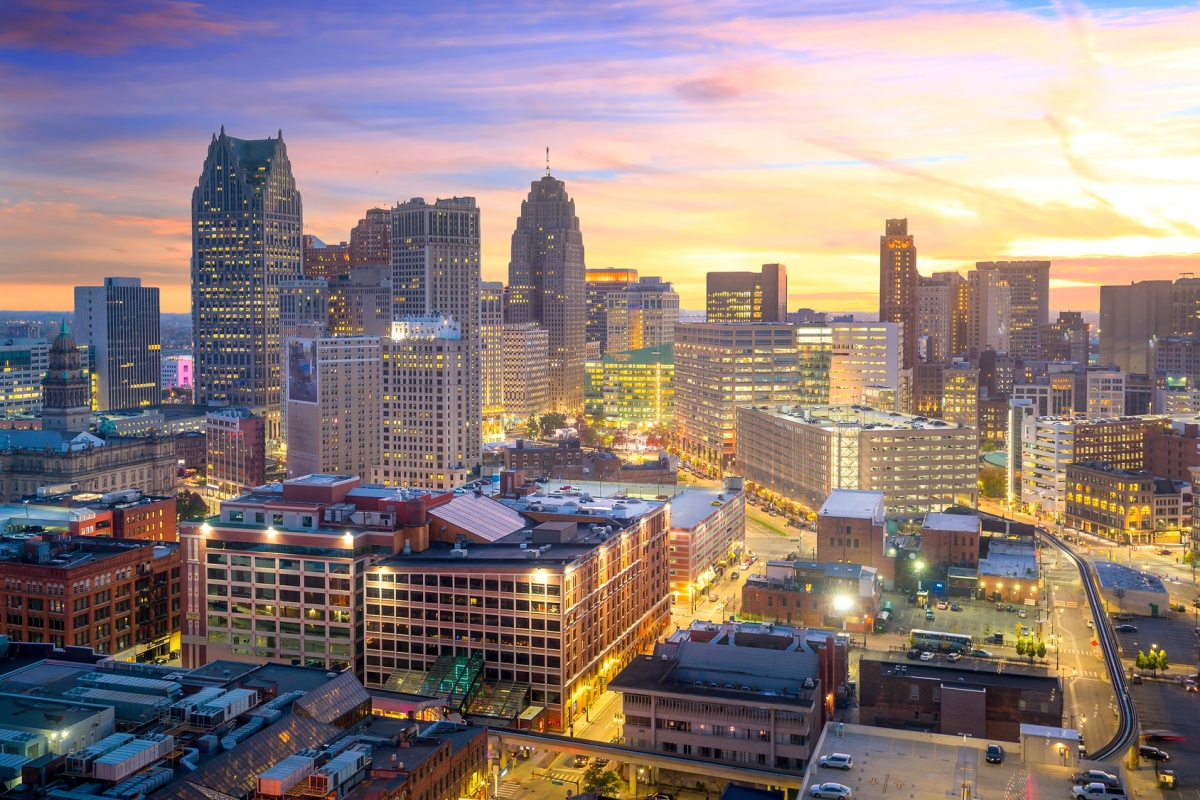 Citizens in Detroit will be able to experience future transport solutions first-hand next year
Five self-driving technology firms have been selected to provide autonomous vehicle rides for visitors to the 2020 North American International Auto Show (NAIAS) in Detroit.
The Michigan Mobility Challenge participants (listed below) will operate a variety of fixed-route shuttle services as well as fleets of robo-taxis with fixed stops around the downtown area and between show venues during preview week and public days from 6-21 June.
Detroit Metropolitan Airport
An additional route serving as a shuttle between Detroit Metropolitan Airport and downtown Detroit will also be announced soon.
Michigan governor Gretchen Whitmer launched the mobility challenge in May 2019, calling on industry innovators to propose dynamic technology deployments that show how automated and connected vehicle technology can deliver transformational change to the city.
"We are committed to our role as a global leader in transforming mobility technology and the automotive landscape while improving the lives and safety of Michigan residents and visitors, through unique and innovative partnerships," said Whitmer.
"The providers selected through this mobility challenge have the opportunity to put the future of automotive technology on display in the heart of Motor City for visitors and residents alike."
The public will be able to witness the technology and book rides through a NAIAS 2020 Michigan Mobility Challenge app being developed by mobility-as-a-service (MaaS) platform provider Moovit.
"The providers selected through this mobility challenge have the opportunity to put the future of automotive technology on display in the heart of Motor City."
This MaaS app will aim to provide an "integrated, seamless user experience" across all of the mobility challenge demonstrations, including multi-modal trip planning, combining automated vehicles with public transit and micro-mobility service providers, step-by-step directions and real-time arrivals using a single mobility app.
The five downtown Detroit providers selected are:
Continental: teaming with EasyMile, Nexteer Automotive, 3M, CNXMotion and Oakland University, Continental will provide a fixed-route shuttle, utilising three automated 15-passenger vehicles. There will also be capacity for a "shuttle train", carrying groups of up to 45 people at one time. Continental will also be piloting technology relating to interior sensors, intelligent intersections and smart signage.
Navya: teaming with Wayne State University, Navya will offer a fixed-route shuttle with 15-passenger capacity, piloting technology to improve accessibility options, including an automated ramp and restraints for paratransit riders, shuttle suspension kneels at the kerb and interior machine vision research.
Yandex: teaming with Hyundai Mobis and Lawrence Technological University, Yandex will deploy 10 four-passenger sedans as a fleet of automated robo-taxis operating with fixed stops. This is set to be the largest demonstration of the Yandex robo-taxi fleet to date in the US.
Local Motors by LMI: teaming with Robotic Research, Local Motors will deploy two self-driving Olli shuttles along a fixed route. Each shuttle is 80 per cent 3D-printed, has automated ramps and wheelchair restraints and holds eight seated passengers.
AutoGuardian: teaming with Aurrigo, AutoGuardian by SmartCone will provide a unique shuttle service along a fixed route with six stops, including intelligent infrastructure and monitoring along the route. SmartTorches will alert pedestrians of oncoming shuttles through visual and audible cues and interact with the TheSmartCone modular platform. The debut of Aurrigo's new electric shuttle bus, featuring two 12-passenger shuttles, features adaptive autonomy, meaning the shuttles can drive on roads today as an electric vehicle and "switch on" autonomous features as regulations and policy changes allow for greater use of automated vehicles on roadways.
These experiences, and the mobility solutions being demonstrated, showcase a high level of automation (level 3 or above), with several featuring accessibility solutions and electrification.
"We continue to be amazed at the entrepreneurial spirit and creative genius of our private-sector mobility partners," said Paul Ajegba, director, Michigan Department of Transportation (MDOT).
"More than ever, the 2020 North American International Auto Show will demonstrate the benefits of Michigan leaders, emphasising collaboration among private industry, government and academia."
You might also like: