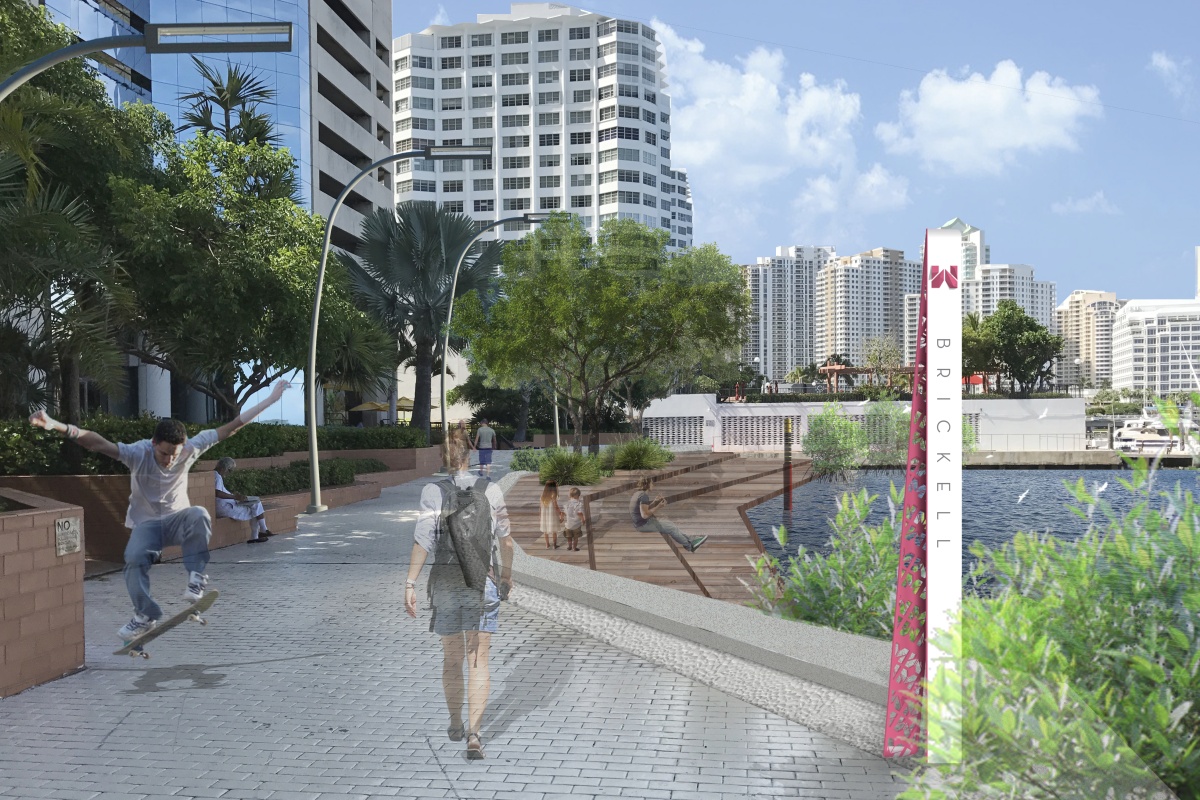 Recommendations include creating a living shoreline. Picture courtesy: Savino & Miller Design Studio
Business and civic leaders in the city of Miami have announced a set of recommendations for adapting to and mitigating the long-term impacts of climate change.
Additionally, the recommendations seek to preserve and enhance quality of life along the Downtown Miami waterfront, as well as encourage smart growth in and around Florida's largest urban district.
Urban Land Institute
Through a partnership between the city and Miami Downtown Development Authority (DDA), the Urban Land Institute (ULI) convened a panel of 10 experts from across the US to study climate-related threats within the city's urban core.
Recommendations for hardening the neighbourhood's infrastructure and protecting its natural and manmade assets were formulated by the panel and to identify potential funding solutions for bringing resiliency projects to life.
As part of the ULI assessment, panelists toured Downtown Miami's vulnerable areas by land and water and interviewed more than 80 local stakeholders, producing a suite of recommendations that were unveiled to the public.
The panel focused on strengthening the Biscayne Bay waterfront as Downtown Miami's first line of defence against rising seas. This would involve transforming the Miami River into a mixed-use district that bridges the gap between the water and surrounding neighbourhoods such as Little Havana and Allapattah and incentivising responsible development.
"Transforming Miami into a more resilient community means shifting our perception – from viewing the water as a threat, to thinking of the water as a natural asset that we should embrace," said Ken Russell, chairman, City of Miami Commission, who also chairs the Miami DDA.
"The Urban Land Institute's preliminary findings provide us with a roadmap for enacting design, infrastructure, zoning and financing strategies that will ensure Miami sustains its growth as a world-class city – not for years, not for generations, but forever."
"Transforming Miami into a more resilient community means shifting our perception – from viewing the water as a threat, to thinking of the water as a natural asset that we should embrace"
The following is a summary of the panel's recommendations:
update zoning and building guidelines to incorporate resilience principles, including adapting the code to meet minimum thresholds for insurance coverage and real estate market demand
refine and adopt proposed design guidelines for the Miami Baywalk, to include resilient design features for a five-mile stretch of shoreline along Biscayne Bay and the Miami River
promote the use of living shorelines across key regulatory agencies at all levels of government – city, county, state and federal
install green infrastructure to reduce flood and heat impacts along the waterfront and in Miami's urban neighbourhoods
create a place-based organisation or conservancy to facilitate private investment and management for the urban waterfront
build consensus among community stakeholders through demonstration projects, such as creating a living shoreline along the Museum Park waterfront
explore resilient financing tools that leverage Downtown Miami's real estate market, including tools like transferable development density, tax increment financing, and new property taxes that generate dedicated revenue for resilience initiatives
Develop a long-range, comprehensive master planning document that incorporates resilience as a key element to guide development in Downtown and along the waterfront
Strengthen community preparedness in vulnerable locations through neighbourhood outreach, emergency management, and local partnerships.
The panel's recommendations coincide with a surge of development, investment and in-migration within Miami's urban core and along the Miami Riverfront. Home to a daytime population of more than 250,000 people and more than 92,000 full-time residents – representing a 40 per cent increase since 2010.
"Miami is already making strides toward becoming a stronger community in the face of a changing climate through collaborations like Resilient305 strategy, and now the city must learn how to protect from, live with and create value from the water," added Ladd Keith, chair of the sustainable built environments programme at the University of Arizona, and panel chair.
"That process begins with ushering in built and living infrastructure and quality of life upgrades along the waterfront, exploring forward-looking regulatory, zoning and policy changes, identifying creative financing solutions, and prioritising community education and preparedness."
You might also like: